Today, I will introduce one of the best baseball cap manufacturer —— New Era Cap, Let us get started.
After reading the article, you will know:
1. What is a New Era?
2. Who Started a New Era?
3. Basic Statistics
4. Why is New Era Cap Famous?
5. Types of New Era Cap
6. Manufacture of New Era Hat
7. How do I Choose a New Era Hat?
8. Can you Wash a New Era Hat?
9. What is the Difference between New Era 59Fifty and 39thirty?
1. What is New Era?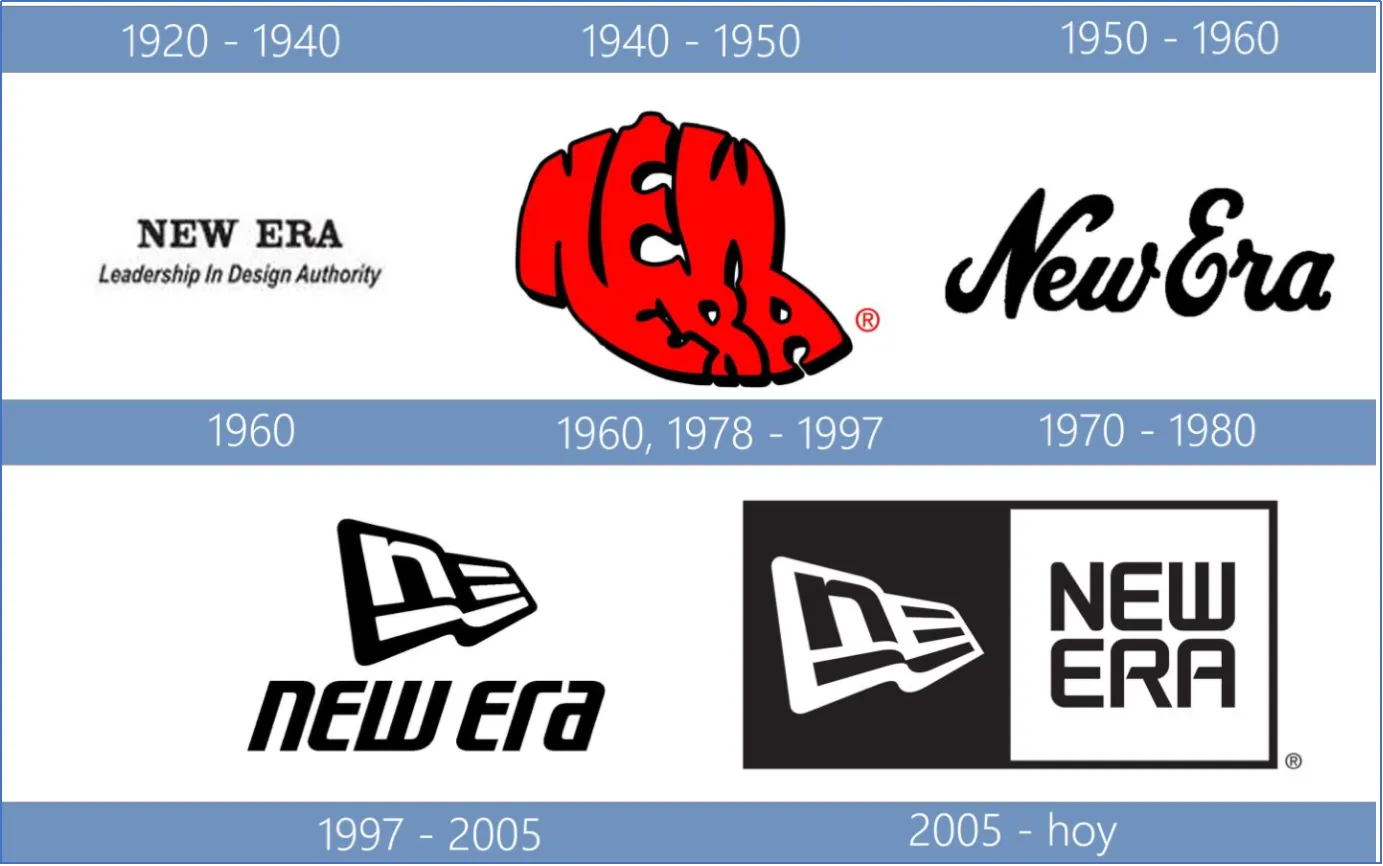 New Era Cap Company, Inc. New Era is an American company founded in Buffalo in 1920, specializing in manufacturing caps, clothing, and accessories.
Today, New Era is the official brand of caps from the National Football League, Major League Baseball, National Basketball Association, Liga Mexicana de Beisbol, and Liga Mexicana del Pacifico. It has even blended into urban culture thanks to figures like Spike Lee.
Source: New Era Caps
2. Who Started New Era?
The story of NEW ERA began with Ehrhardt Koch, whose parents come from Germany to New York in the late 1990s, where Mr. Ehrhardt and Mrs. Ehrhardt are settled in an established German community on the east side of Buffalo.

In 1902, at sixteen, Earhart got his first job at the Miller Brothers Cap Company in Buffalo, where he began learning the hat-making trade. 18 years later, he got promoted to the tailoring department manager.
At age 34, he convinced his aunt to loan him $5,000 to start the E. Koch Cap Company. He started his own company with 14 employees, including his sister Rose and fellow Miller Brothers Hat Company employee Joe American.
Source: Zhihu
3. Basic Statistics
New Era Cap has 1051 employees.
Annual revenue: 375Million$-1billion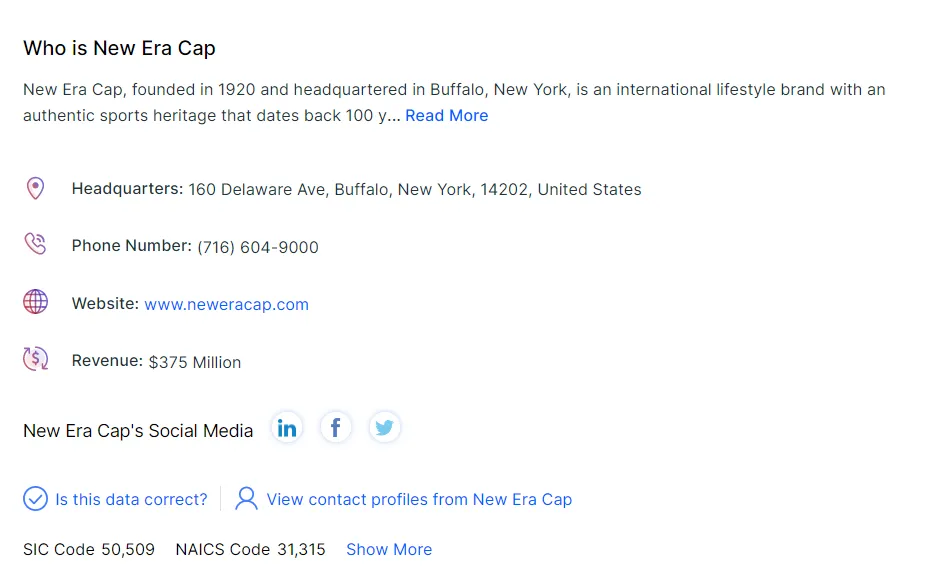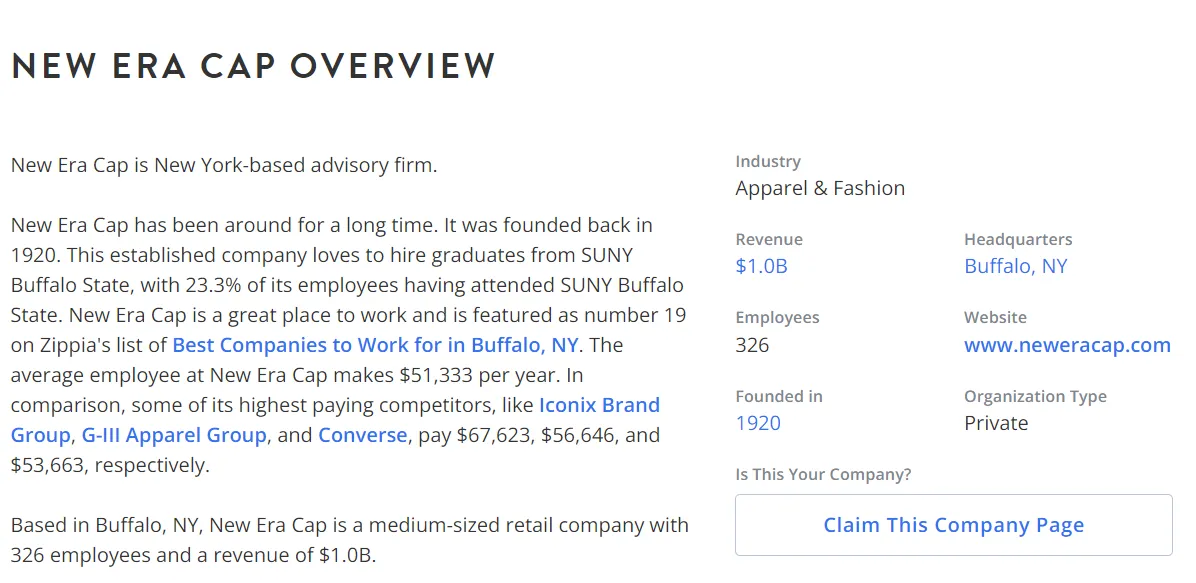 data from:
https://www.zoominfo.com/c/new-era-cap-company-inc/56624049
https://www.zippia.com/new-era-cap-careers-32708/
Since 1993, New Era has been the exclusive supplier of hats to MLB in the United States. It also makes the caps worn by approximately 300 college and minor league baseball teams in the United States.
Currently, this company launched in a rented office space in downtown Buffalo and employs about 1051 people worldwide.
New Era has also recently diversified, partnering with other powerhouse companies such as Marvel Comics and DC Shoes, opening flagship stores, and producing hats other than apparel and baseball caps.
4. Why is New Era Cap Famous?

Products are famous for reason. Here, we listed 2 reasons why the New Era hat brand is so renowned.
· New Era's brand is historic. The historical heritage gives value to the brand and brings fans to the product. New Era started selling "Gatsby style" hats in the 1920s and has been around for over 100 years.
· New Era is designed with excellent quality. After 100 years of practice, New Era has quality down to a science. Durable and comfortable, people can choose between wool and polyester blend hats.
5. Types of New Era Cap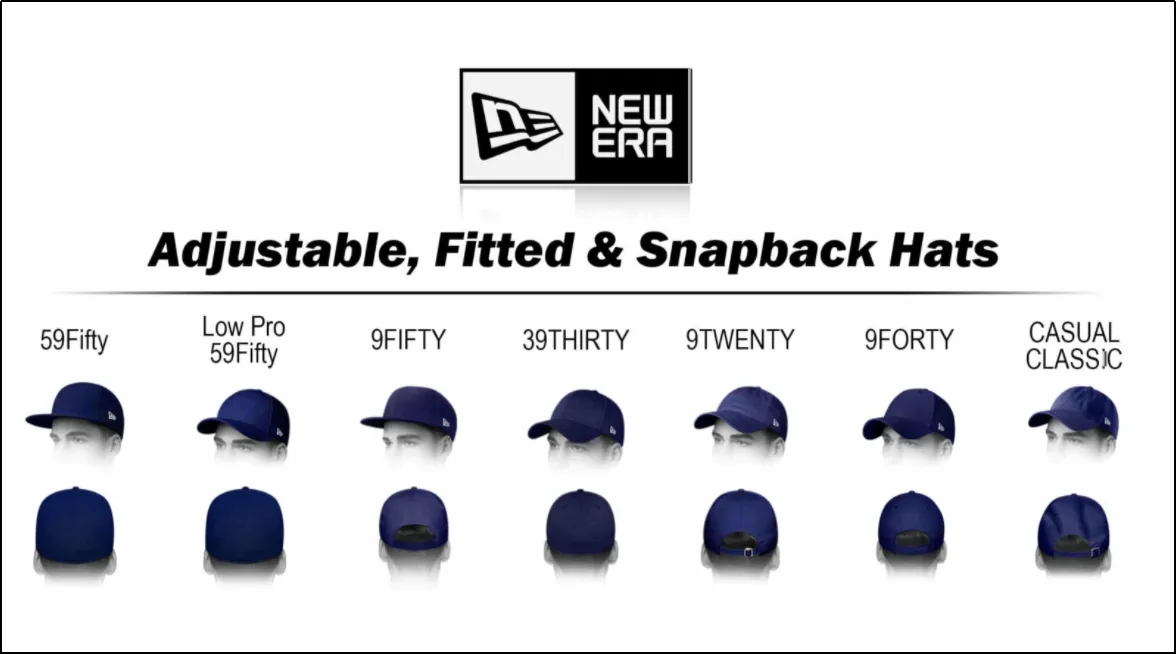 New Era has many excellent products and classic models. Fitted flat peaks like the 59Fifty, more relaxed style like the 39Thirty or 9Forty.
· 59 fifty:
A staple of New Era's line of hats since 1954.
When it comes to New Era, the first thing that comes to mind is 59Fifty, a flat visor, and the cap size is not adjustable. Including the head circumference of 19-25, there are several large, medium, and trim sizes. You can directly choose the size that suits your head circumference and is more comfortable to wear. Many trendsetters and idols love it.
Its layout features a reinforced front panel. The added materials in the front produce a rigid body.
New Era's flagship style and a true icon in sport and street culture is one of the few style items which transcend style genres and is enjoyed by different groups.
· Low Profile 59fifty:
What Low profile 59fifty and 59fifty have in common is the fully enclosed design without an adjustment buckle. The difference is that the forehead of the low profile 59fifty will be lower, and the visor is curved.
· 9 fifty:

A snapback cap. Its layout is more casual. Its design cap features an open back area. The open spot features a plastic snap back closure. Size can be adjusted, and one size fits most. Compared with 59fifty, it can be worn in a variety of ways and is loved by many fashion people and hip-hop culture lovers.
The layout uses a few pegs on one end. The other part has holes that secure the pegs.
Some 9fifty models come with back strap designs, with the same open back, but it features a cloth-based strap that you would adjust. The strap will go through a buckle that would keep the part in its place. The strap body should fit in with the rest of the hat or at least have a similar color.
· 39thirty:

The New Era 39Thirty is a stretch-fit hat. The shape and fabric are designed explicitly for the 39Thirty to create the ultimate stretch hat. One of the first "New Styles" from the New Era, taking them out of the comfort zone of 59Fifty and 9Fifty into new styles and territories.
It has a structured crown and closed back, but has a pre-curved visor and an internal sweatband. These caps hold a good amount of stretch and feel snug but not too tight for your size.
Patented materials that are breathable, have fast perspiration, and are easy to dry are often used.
The difference between it and the low profile is that the visor is more curved, the front visor is lower and narrower, and it is made of elastic fabric. The production cost will be relatively higher, but the retail price is lower than the low profile 5950.
· 9twenty:
A relaxed fit adjustable hat style. An unstructured, low profile adjustable hat, soft and not firm like the 9forty caps.
9twenty has both structured and washed unstructured. At first, it was the same series as 9forty. The cap shape is the same, and there is little difference. Later, with the expansion of business in Asia and Europe, they are separated and the styles will be different according to designers.
One Size Fits Most and can have a variety of different closure types (snapback, strap back, velcro back). The styling of the 9TWENTY is a homage to old baseball cap styles worn in the early and mid-20th century and is often used for throwback designs for a vintage style.
· 9forty:

The New Era 9Forty adjustable hat is a mixture of the 39Thirty and the 9Fifty styles. Similar to the 39Thirty Flexfit cap with its low-profile structured crown and pre-curved visor. This hat has an open adjustable back with a variety of closure types (Snapback, strap back, Velcro back).

Similar to the 9Fifty, it's the best fit for larger head sizes. If you wear a size 7 5/8, you are borderline in having a good fit in the 9Forty.
· Casual Classic:
Comfort makes eternity. The same goes for the casual classic of the New Era. The front section of the trucker hat above the bill is foam, and the rest is plastic mesh for breathability. The foam front of the hat stands up straight and stiff, which makes the trucker hat taller than most baseball caps.

· New era sticker meaning
The New Era hat sticker summarizes the basic information about the hat, such as style, hat shape, and size.
6. Manufacture of New Era Cap
https://www.youtube.com/watch?v=mJD0w3LL3M4

1)cutting
2)bundling
3)sew front back
4)tape front back
5)haircloth covers
6)haircloth tape
7)peak made
8)peak stitch
9)embroidery
10)fusing
11)eyelets
12)covers
13)complete tape
14)sizing
15)attatch peak
16)attatch sweat band
17)bartack labels
18)top stitch
19)buttons
20)blocking
21)packaging
7. How do I Choose a New Era Hat?
Key is Size. In order to find your perfect fit, take a measuring tape and measure around your head, about a half-inch above your eyebrows and ears. Consult the table below to find the right cap size depending on the style .

Baseball cap is a part of the clothing industry. Measure the head and tail manufacturing hat to achieve the just right product manufacturing.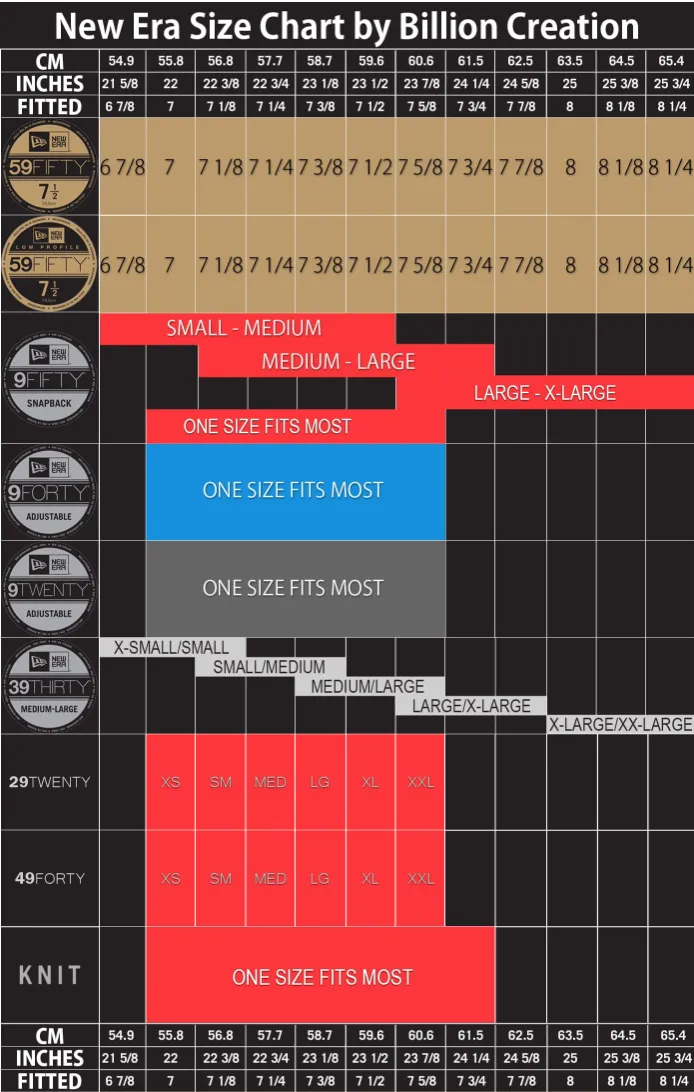 Source: billioncreation
8. Can you Wash a New Era Hat?
Keeping products clean is incredibly important. The same goes for the relatively expensive New Era Caps, for they're subject to dirt and sweat, improper cleaning can lead to faded colors and misshaped brims.
Here, 3 cleaning solutions are listed as follows:
Pick Clean Container and Brush. Pick up a clean container and brush you only use for cleaning hats. A clean toothbrush will work, or New Era sells a cap cleaning brush.
Towel Dry. Use a lint-free clean towel to get rid of extra moisture.
Air Dry. If you want the hat to retain its shape while drying, you will need a hat shaper or a head-shaped object to place the cap on for drying.
9. What is the Difference between New Era 59Fifty and 39thirty?
Talking about the differences can help to understand the product better. You define, produce, manufacture the product, and differentiate between the two. That's a beautiful way to know them.

Here, let's look at New Era 59Fifty and 39thirty.
New Era 59Fifty: it features a constructed crown, a fancy way of saying it keeps its shape well thanks to the reinforced panels.
New Era 39thirty: its crown is still structured, but a spandex sweatband is found inside the hat and has a pre-curved brim.
· Summary
If you have anything you want to know or are interested in, please comment and let us know all about the ideas you have, and hopefully, you genuinely enjoy them and like them. All the best and happiness from us, and do let us know if you have any ideas!!
Reference:
https://www.zippia.com/new-era-cap-careers-32708/
https://www.comparably.com/companies/new-era-cap
https://www.billioncreation.com/new-era-hat-styles-the-ultimate-new-era-style-guide/
https://www.zoominfo.com/c/new-era-cap-company-inc/56624049
https://www.encyclopedia.com/history/dictionaries-thesauruses-pictures-and-press-releases/new-era