Whether you're fighting cold weather or just heating up your street style in winter, you can trust a beanie to get the job done.
From the classic cuffed beanie to one with pom-poms on top, there's a type for whatever story you want to tell.
Fisherman Beanie: Inspired by the woolly hats worn by dock-working fishermen, the fisherman beanie is the most popular knitted hat. It has a shallow top and is located on the top of your head. It may not cover your ears and give you supper warm. This short beanie has become a favorite of hipsters and fashionable guys everywhere.
Cuffed Beanie: Cuffed beanies are the most classic and traditional style available. The cuff around the edge (2.5" - 3" folded cuffs) gives double protection to your ears and forehead. When the wind picks up, pull it down for extra heat.
Pom Pom Beanie: One of the most iconic winter beanies is the pom pom beanie, also called bobble hat. You've probably seen these hats everywhere, from kindergartens to ski slopes. The pom-pom has roots in military history and was first used to protect sailors. One pom and two poms are the most choices. Also, they can be removable.
Slouchy Beanie: A super baggy beanie, often associated with super chic, hippie, or boho-inspired clothing. No foldback. It has a longer style that wears over your ear and has some extra material that slopes towards the back of the ear. Many young fashionistas love it.
Acrylic - synthetic fiber commonly used to make beanies. It's a less expensive alternative to wool and easier to clean. It holds dyes exceptionally well, so even the most vibrant patterns will last.
Cotton - a natural, versatile fiber that's machine-washable, durable, affordable, and easily dyed.
Wool - thick, natural fibers from sheep, goats, alpaca, camels, or rabbits (angora). It has an unmatched ability to retain heat and is static-resistant but requires special laundering.
Cashmere - incredibly light, soft, and extremely warm. Cashmere retains heat several times better than sheep wool. At the same time, it's not itchy. In addition, such a cashmere knit cap will be hygroscopic, breathable, and airy. Moreover, cashmere doesn't crease, which is why it is often added in a smaller or larger percentage to other sheep's wool products.
In addition, you can also choose recycled materials, which are eco-friendly and able to achieve fewer pollutant emissions. We use recycled materials and participate in environmental protection, your brand will receive the attention and favor of environmental protection enthusiasts.
You can choose any Pantone color for your brand. Our supply chain provides high-quality fabric dyeing service

We offer you custom beanie hats in many sizes, from kids to adults.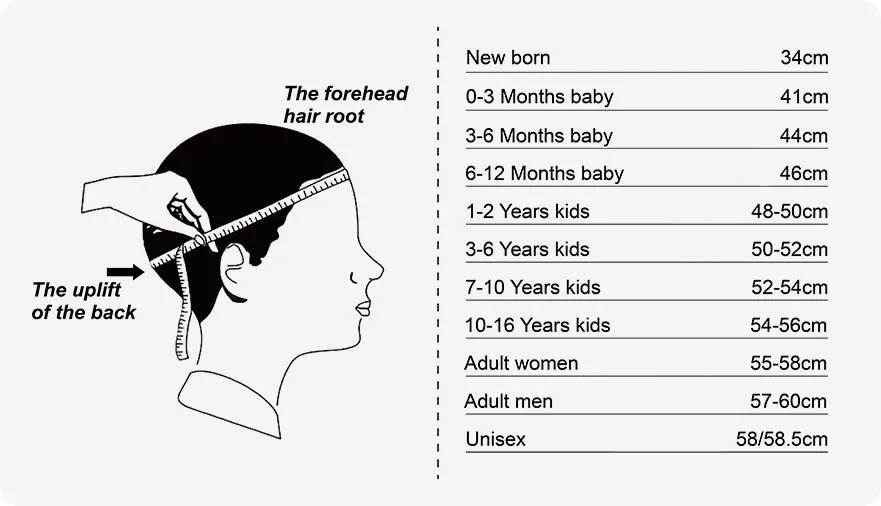 Custom logos can make your beanie more personal with embroidery and patch labels. Embroidery can make your logo last longer and is usually suitable for knitted hats with tighter yarns. Patch label is also an ordinary way, and you can choose leather labels, woven labels and rubber labels, ideal for all knitted caps, whether the yarn is sparse or tight. The patch label can be large or small. You can customize the logo on a rectangular or square label and then sew it on different parts of the hat, such as the center of the cuff, the edge of the cuff, etc.
Customize your packaging to sell the beanie immediately after receiving it, without extra time and money. Also, custom plastic bags and boxes will protect your beanie well from being damaged by water vapor and dust during transport.