Introduction
Tittles, a golf equipment and apparel brand under the Acushnet Company, was established in 1932 and headquartered in Fairhaven, Massachusetts, USA. It has been owned by Fila since 2011. Titlis's Pro V1 golf ball is recognized as the best golf ball, produced with more than 65 patents, and its market share has always been higher than that of other companies.
Product
Titleist is a high-end golf equipment brand whose products include golf balls, clubs, bags, gloves and more. Known for their high quality, performance and reliability, Titleist products are loved and trusted by golfers. Titleist's golf balls are known as "the best golf balls in the world", and its clubs are known for their accuracy and stability.
Titleist products are popular not only in professional golf, but also with amateur golfers. Titleist's products not only meet the needs of golfers, but also contribute to the development of golf.

Product Features
Titleist is a professional high-end golf equipment brand, its product features include:
1. High Quality: Titleist's products are carefully designed and manufactured to ensure high quality and superior performance.
2. Innovative technology: Titleist continues to introduce innovative technologies, such as SureFit Hosel and Active Recoil Channel, to improve the adaptability and stability of the club. 3. Personalized customization: Titleist provides personalized customization services to ensure that each golfer can get the most suitable clubs and balls for them.
3. Wide range of product lines: Titleist provides a wide range of product lines, including golf balls, clubs, bags, gloves and accessories, etc. to meet the needs of different golfers.
4. Professional recognition: Titleist is the preferred brand of many professional golfers, and its products have performed well in various competitions and won wide recognition and praise.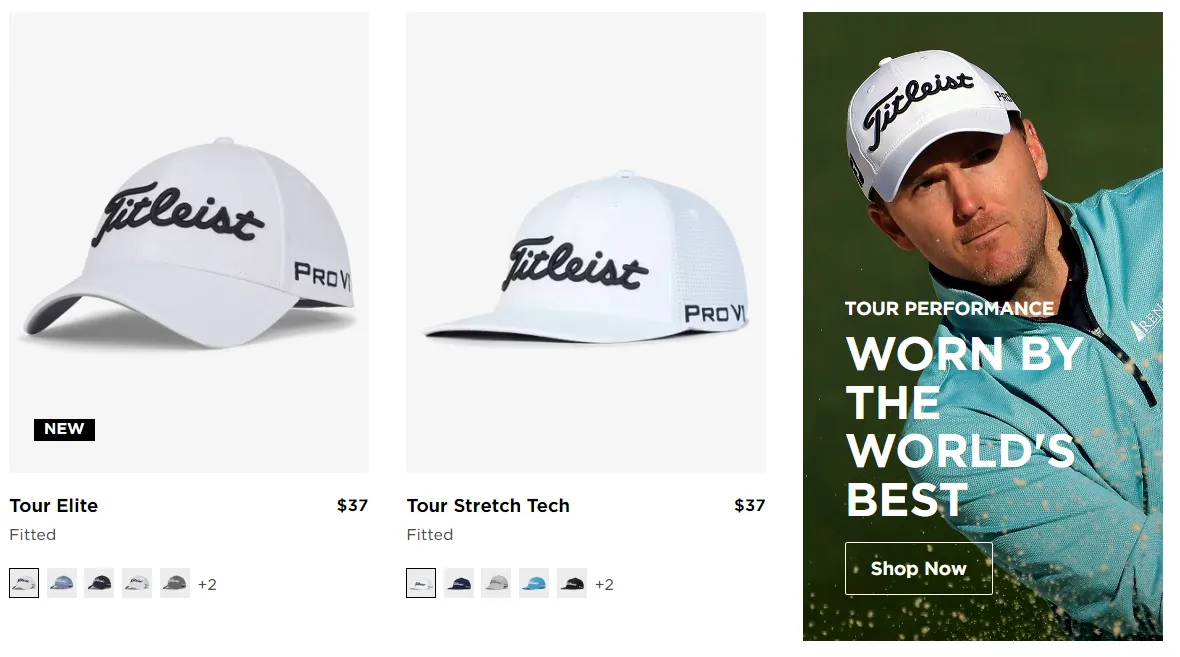 Titleist hat
The Titleist Hat is a high quality golf hat made by Titleist. These hats are made from high quality materials including cotton, polyester and nylon for excellent breathability and comfort. The simple and elegant design of the Titleist hat is suitable for various occasions, whether it is on the golf course or in daily life. In addition, Titleist hats are available in a variety of colors and styles to meet the needs of different groups of people. All in all, the Titleist hat is a high-quality, comfortable, stylish hat that is the perfect choice for golfers and fashionistas alike.

History
In 1910, Phillip E. Young and two business partners founded Acushnet Corporation, which had become the world's largest supplier of recycled uncured rubber before World War I. The company originally only supplied raw materials, and later began to manufacture rubber products, such as water bottles and shower caps.
In the 1920s, the company transformed to focus on the manufacture of molded rubber products. Finally, because of Phillip E. Young's fascination with golf and the uneven quality of golf balls on the market, he started the business of golf supplies.
In 1930, Phillip E. Young developed a machine for making golf balls that wound a rubber cord around a rubber core so that the core of the golf ball could be aligned accurately. He called the golf ball "Titles."
In 1935, Acushnet's golf division began producing golf balls.
In 1949, Tittles became the most widely played golf ball in the U.S. Open.
In 1976, Titlis was acquired by American Brands (now Fortune Brands).
In 2002, Tittles had annual revenues of $1 billion.
In 2011, Fortune Brands sold Tietlis to a consortium led by Fila for $1.23 billion in cash.
Data