Lululemon is a Canadian activewear brand that designs and sells high-quality yoga, fitness, and running apparel. Known for its high quality, performance, and stylish designs, the brand's products are loved by sports enthusiasts around the world. Lululemon's mission is "to inspire people to live healthier, happier lives by providing high-quality products and community support."
The brand's product line includes yoga wear, sports shirts, sweatpants, sports underwear, and more. Lululemon's goal is to become the world's leading sportswear brand, providing people with high-quality, high-performance sportswear to help them achieve a healthier and happier lifestyle.
Official Website: https://shop.lululemon.com/
Product
Lululemon is a Canadian sportswear brand that mainly produces and sells high-quality yoga, fitness, running, and other sportswear and accessories. Its product line includes yoga pants, sports bras, sports tops, sports pants, sports shorts, sports socks, sports shoes, and more.
In addition, Lululemon has also launched a series of accessories, such as yoga mats, yoga blocks, yoga belts, yoga towels, water bottles, etc. Known for their high quality, high performance, and stylish designs, Lululemon's products are loved by sports enthusiasts and fashionistas alike.
Features
1. High quality: Lululemon's products are made of high-quality materials, such as Luon, Luxtreme, etc., which have excellent breathability, sweat absorption, and comfort.
2. Design sense: Lululemon's product design is simple and stylish, paying attention to details and functionality, which can meet different sports occasions and needs.
3. Diversity: Lululemon's product line covers a variety of sports types, such as yoga, running, fitness, etc., as well as casual clothing and accessories.
4. Sustainability: Lululemon is committed to promoting sustainable development, using environmentally friendly materials and production methods, and also encouraging consumers to recycle and reuse products.
5. Brand culture: Lululemon focuses on brand culture and community building, and establishes close ties with consumers through various activities and social media interactions.

Hats and features
Lululemon hats are high-quality sports hats for a variety of outdoor sports and fitness activities. They feature premium fabrics and designs with excellent breathability and comfort to help keep you dry and comfortable.
Lululemon hats also have a stylish look and are available in a variety of colors and styles to match a wide variety of active clothing and accessories. Plus, they come with SPF and UV protection to protect your skin from the sun's damaging rays.
All in all, the Lululemon hat is a high-quality, comfortable, stylish, and practical sports hat, which is one of the must-have accessories for every fitness enthusiast.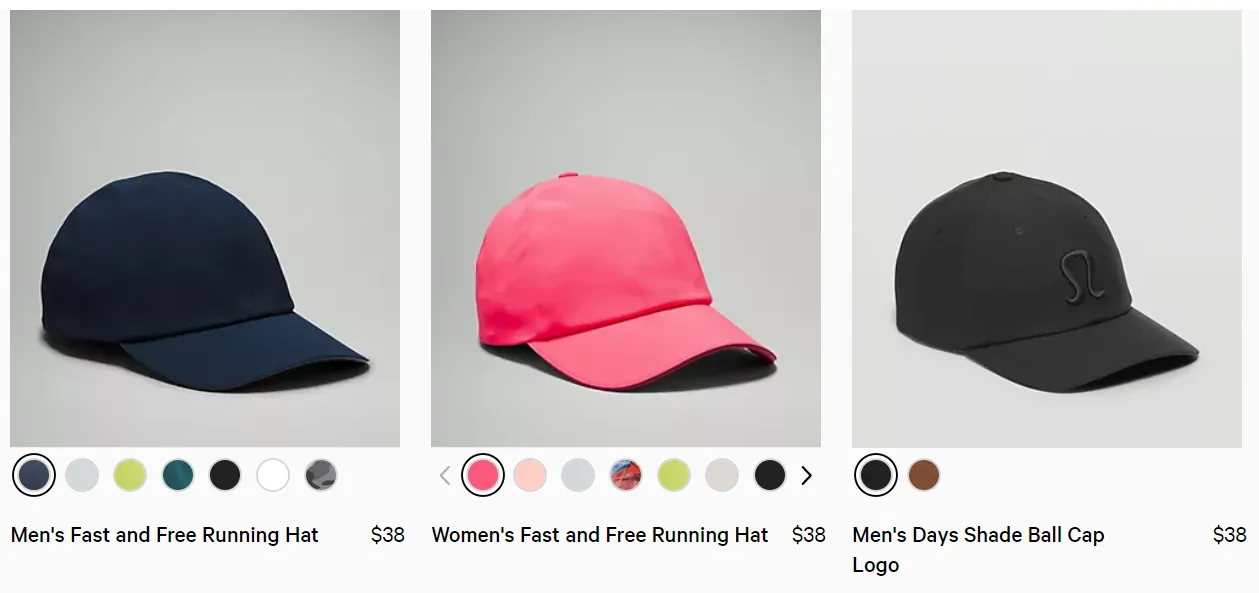 Data
According to lululemon athletica's latest financial reports the company's current revenue (TTM) is $8.11 B. In 2022 the company made a revenue of $7.46 B an increase over the years 2021 revenue that were of $5.85 B.The revenue is the total amount of income that a company generates by the sale of goods or services. Unlike with the earnings no expenses are subtracted.