Life is a series of wonders. In this article, we would introduce some knowledge related to Bailey, as for its brands, history, customer service, glossary of terms, other knowledge as well, so let's get into it!!
Source: official website
1. Introduction
Story began in 1922, George S. Bailey, a mid-western man with a penchant for hats, founded the Bailey Hat Company in Los Angeles, California. Bailey saw the emerging need for a hat company that not only catered to the West Coast market, but one that also catered to the Western wear market. George Bailey saw a vast and as yet, untapped customer base in southern California and dedicated himself to providing those customers with fine quality hats and great styling.
After years of trial and error. Today, Bailey design explores the juxtaposition of Hollywood elegance and Western toughness and is influenced by both directional culture and fashion that serves as a unique framework for original design. The collection consists of timeless products that customers buy again and again as well as cultural statement pieces that are unique and packed with style.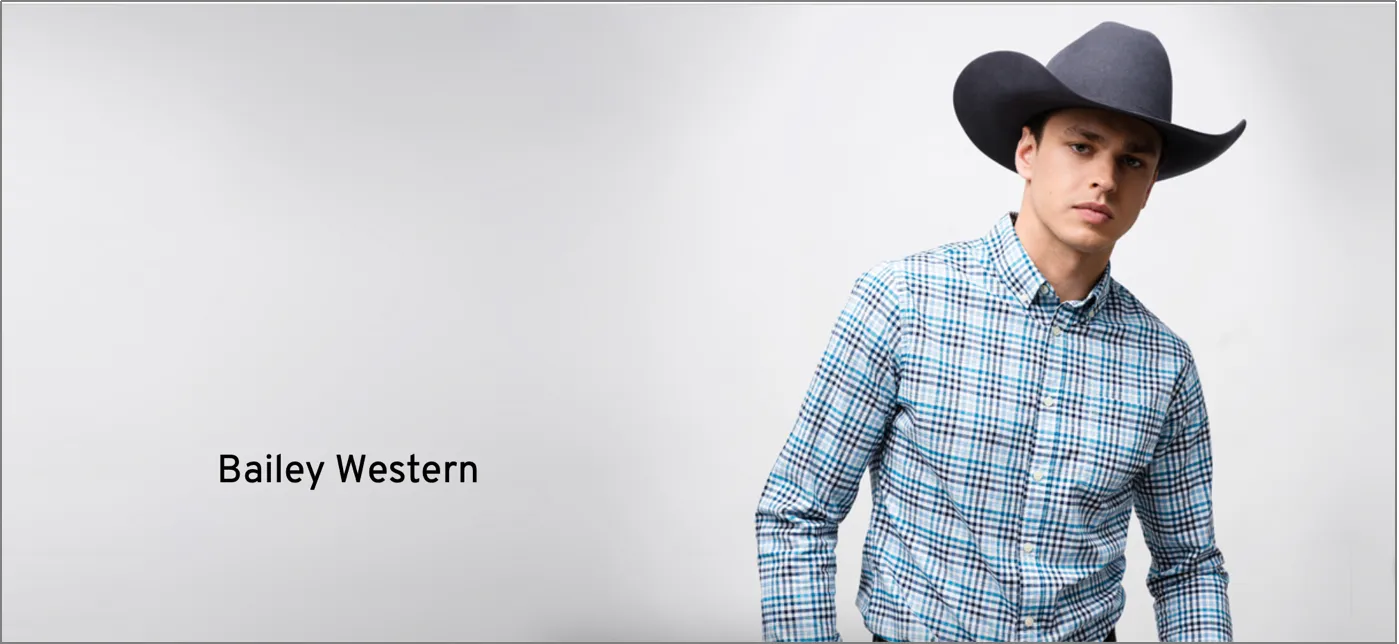 2. On Bailey History
· The Beginnings: The founding of the Bailey Hat Company is the story of a great American who had a vision and possessed the pioneer spirit, an indomitable will, skill, and the determination to succeed.

George S. Bailey was born in Salina, Kansas, in 1897. Even as a youngster, George was interested in hats. He was determined at a young age to get into the hat business.
· Listening to the Customer: A Great Business Practice: Just like other business entrepreneurs with vision, Mr. Bailey stood up to every challenge that came his way, and in most cases, he exceeded them.
His desire to "make the best hat possible" was realized not only through his skills as a hat maker but also through his ability to listen to and draw wisdom from his customers. George Bailey always encouraged his customers to discuss, and in precise detail, the kind and quantity of work they did so that he could better satisfy their needs.
· Expansion and New Product Development: In 1927, Bailey purchased the Cohn-Asher Hat Company and expanded their felt hat line. In 1928, Bailey designed another new hat, the Santa Barbara Sombrero, especially for the grand-old Fiesta, which was held annually in Santa Barbara, California.
Seeing the need for hats made from cloth and not just felt and straw, George Bailey pioneered the Western cloth hat in 1941, giving his company a complete and diversified line of headgear.

· New Hat Designs for an Evolving Customer Base: In 1949, the Bailey Hat Company added another milestone to its success story by acquiring the rights to make the Hopalong Cassidy Hat — the hat that William Boyd, the Hopalong Cassidy himself, had made famous in his Western movies. The hat was an immediate success and gained huge notoriety from virtually one minute to another.
Continuing with his expansion, in 1963, Bailey bought the Bandera Hat Company of Fort Worth, Texas, and moved all of their felt hat–making equipment there. Good steady growth in felt hat sales forced Bailey to move its Fort Worth factory into a new and larger location and once again doubled its space in the new building.
In 1969, the Bailey Hat Company outgrew its Los Angeles facilities at 716 S. Los Angeles Street and moved to a modern and highly efficient 70,000-square-foot plant in California's San Fernando Valley.
· A Succession Plan: Key to a Successful Business: The success of any great business requires passing the business down from one generation to the another, and the Bailey Hat Company was no exception. George Bailey's son, Charles "Chuck" Bailey, had learned the ropes of hat making since childhood, having started his work in the factory as a schoolboy.
3. On Glossary of Terms
Bailey offers glossary of terms, related to different hats it sells online. Some are listed as follows:
8-QUARTER CAP: Classic heritage baggy cap, rounder than the contour 8 panel cap, with a button and the feeling of the Dockman cap, only closer-fitted to the head. Often designed with a fillet in the back, which truly helps create a deeper, snugger fit, resulting in a slight exaggeration of the slouch.
ARMY CAP: Close fitting shape, usually with a short rounded peak in front, an alternative to a baseball cap, inspired by military uniforms throughout the 1900's. One of the many types of hats for men that women enjoy wearing, too.
ASCOT: Round formed cap, made from one piece of material, generally not lined inside, with a small bill that gives it a rounded shape. Resembles a flat cap.
ASYMMETRICAL CLOCHE: Cloche style shape with a round crown and an asymmetrical brim, made famous during the 1920's.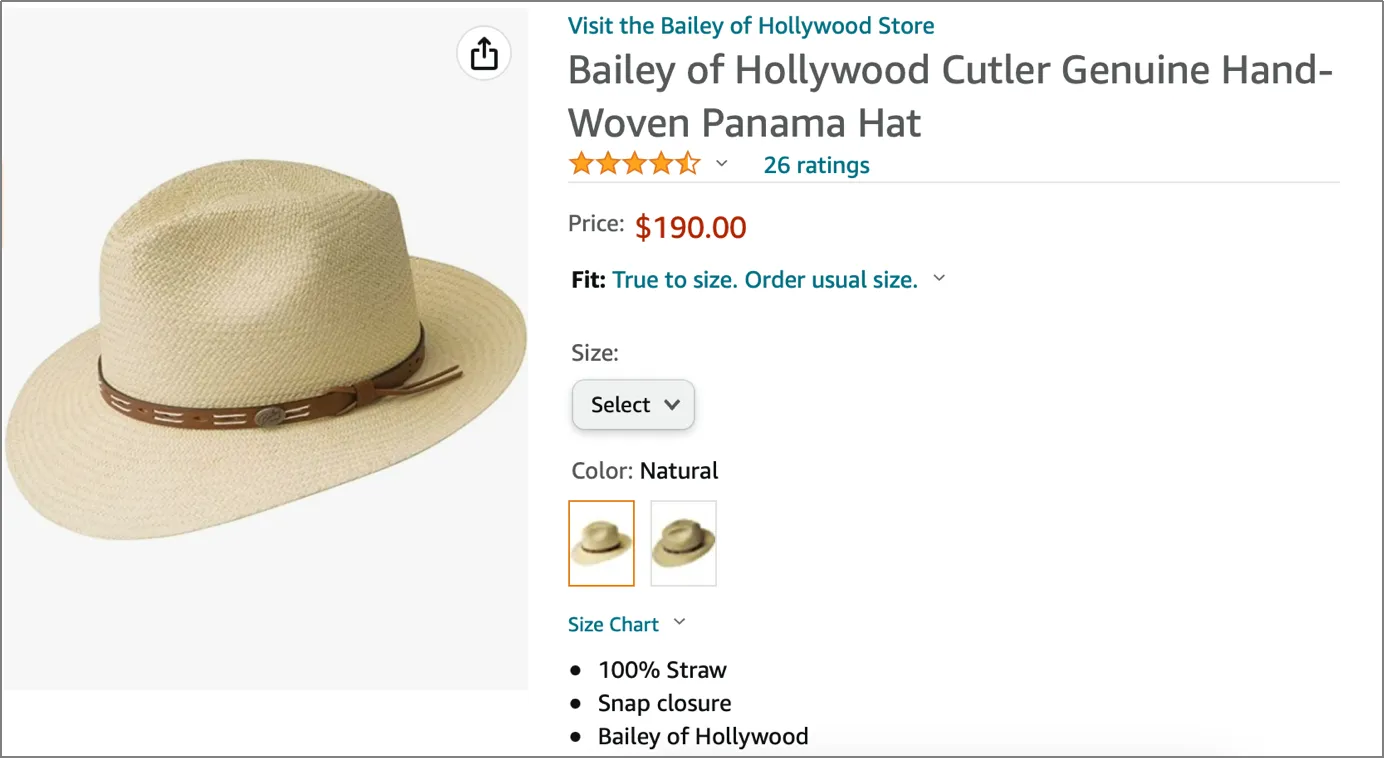 BALACLAVA: Close fitting garment covering the whole head and neck, except parts of the face. Typically made of wool.
BASEBALL CAP: Fabric cap worn by baseball players, with a large brim and often with an adjustable strap at the back of the cap. One of the most versatile of all types of hats.
BEANIE: Small, round skull-cap, well fitted and made from many fabrics, often from wool.
BELLBOY: Small, stiff cap often in a pillbox shape, sometimes with button trim, or a chin strap, originally worn by hotel bellhops.
BERET: Round flat crown cap, with a short brim or no brim, often made from wool but also made from other fabrics, first popular in the 20th century in England by Kangol®.
For more, see bailey.
4. Price
Bailey of Hollywood Cutler Genuine Hand-Woven Panama Hat price is $190.00
5. Data of Bailey Hat
Source: Official Website
Headquarters: 131 Thompson St, New York City, New York, 10012, United States
Revenue: $16Million
Phone Number: (212) 981-9845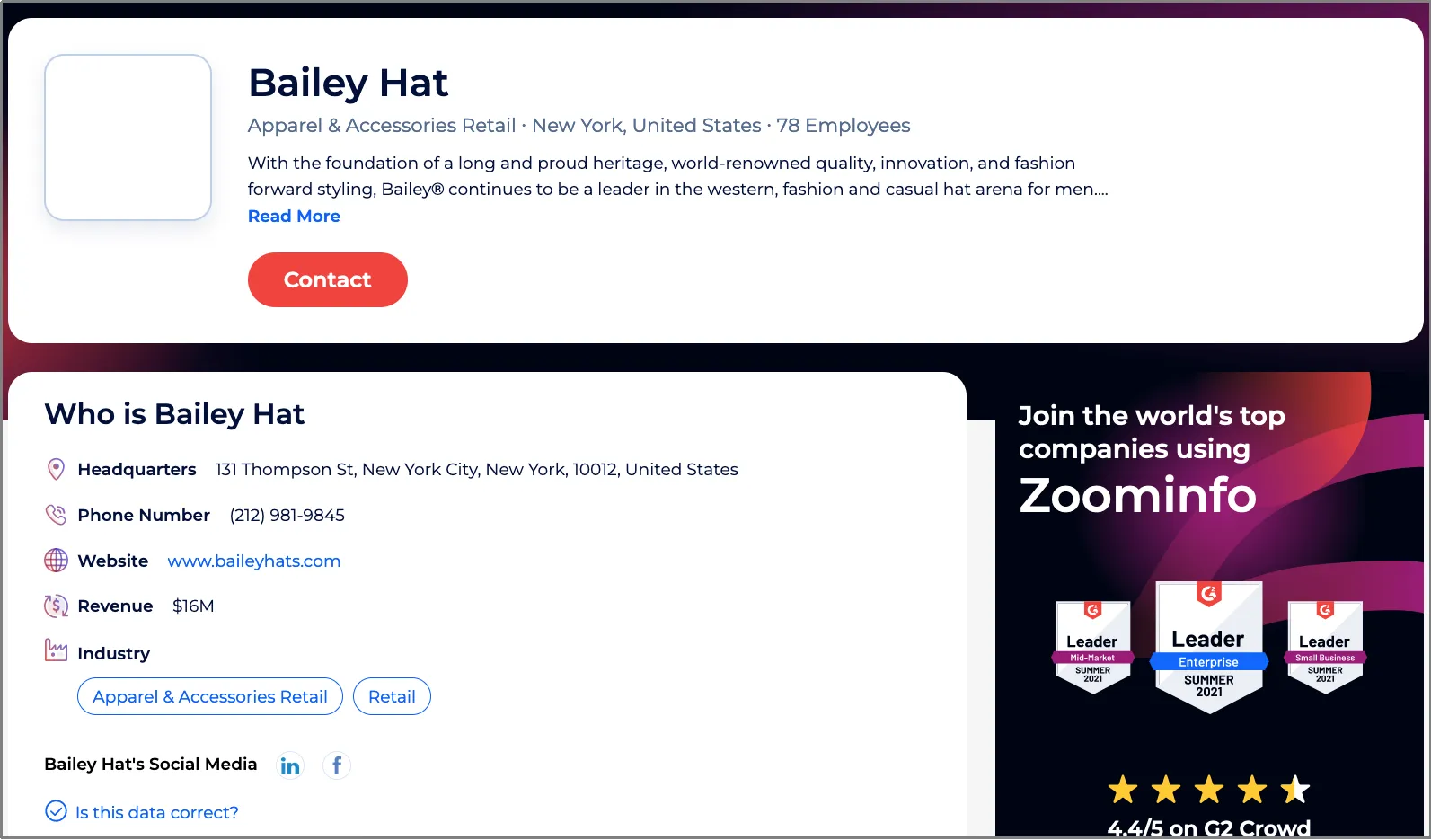 There're a lot more related to this brand, for more information, just visit the website, and you can get more information related to this brand, its history, customer service and the rest.
Any new ideas, let me know.