Life is a series of wonderful things. In this article, we would introduce some knowledge related to Mitchell & Ness, as for its brands, products, origin, history, and price as well, so let's get into it!!
1. Introduction
Nostalgia is the garnish de jour whether it comes to music, movies, or fashion. No company understands this better than Mitchell and Ness. The brand feeds fans' desire for throwback sports memorabilia likejerseys, jackets, and shorts. Seeing as how fashionistas have sunk their teeth into vintage athletic apparel over the past few years.
As for its highlights, this brand sells merchandise for vintage MLB, NBA, MLS, NCAA, and NFL players. Also, they previously made uniforms for professional sports teams. What's more, clearance items are easily accessible on their website, international shipping is also available.
2. Products

Source: Official Website
Mitchell & Ness specialise in crafting official throwback jerseys, perfect for building customers' collection or adding a touch of sporting legacy to customers' outfits. They have 3 product series in total.
As for Jerseys series, they have NBA Jerseys, NFL Jerseys, NFL Jerseys, NCAA Jerseys, Youth Jerseys.
As for the Apparel, they have tops, vintage tees, muscle tees, hoodies and crews, bottoms, women's apparel, youth apparel, sale apparel.
As for headwear, they have snapbacks hats, fitted hats, dad hats, sale hats.
Fitted hats. A fitted hat is simply a modern day baseball cap that is created in specific sizes such as a size 7, 7 1/4, 7 5/8 etc. to fit your head perfectly.
Snapback. a baseball cap with a large flat brim and an adjustable strap at the back consisting of two pieces of plastic that snap together.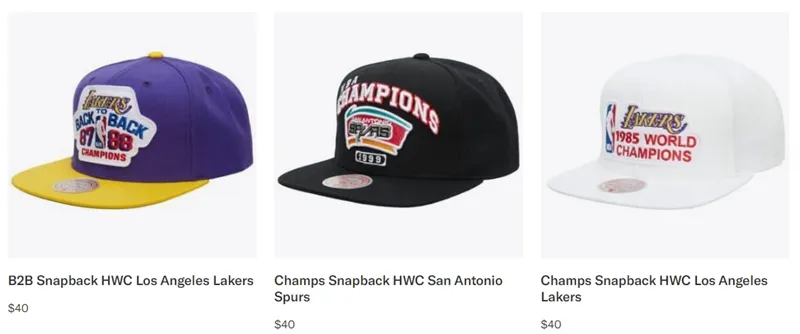 Knitting caps. knitted caps are the ones made by a wool knit material. The use of knit caps dates back to the 17 th century. Back then, knit hats were quite popular among the seamen, fishers, hunters, and other outdoor workers. It was dominantly in use around the colder parts of the world.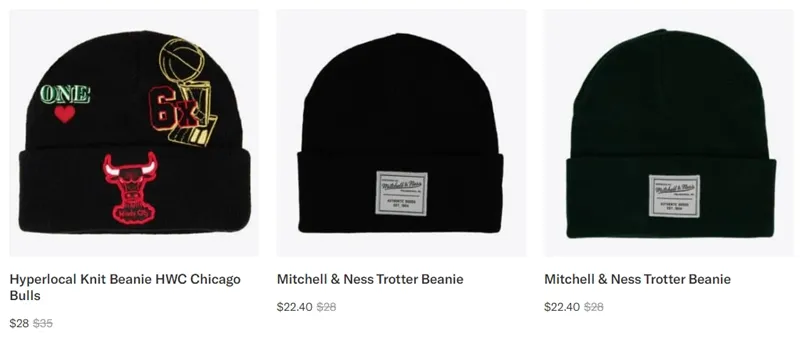 3. On its Origin
Source: official website
In 1904, Frank Mitchell and Charles Ness set the future of authentic in motion when they met up in Philadelphia to establish Mitchell & Ness Sporting Goods. At first, they specialized in stringing tennis racquets, constructing custom-made golf clubs and making uniforms for local Philly baseball and football teams.
In 1933, the Mitchell & Ness label made their NFL debut when they started making uniforms for the Philadelphia Eagles, a partnership that would continue for 30 years. Not long after, in 1938, Mitchell & Ness entered professional baseball, producing uniforms for the Philadelphia Athletics, as well as outfitting the Phillies a few years later.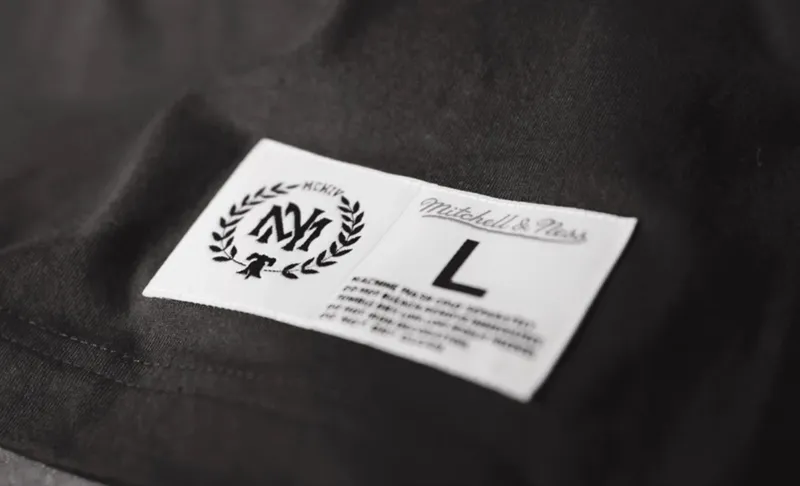 In 1985, Mitchell & Ness received a request that helped them pivot in a new direction. A customer inquired about making repairs to his game-worn 1960 Pittsburgh Pirates vest and his game-worn 1949 St. Louis Browns jersey. This sparked an idea that would change everything. Craft historically-accurate, vintage, authentic baseball jerseys and apparel. Hence, Mitchell & Ness Nostalgia Co. was born.
Today, Mitchell & Ness Nostalgia Co. offers authentic vintage jerseys and apparel collections for the MLB, NFL, NBA, NCAA and MLS.
4. On its History
· 1904 - Take the Street.
In 1904, former tennis and wrestling champ, Frank P. Mitchell partners with Scottish golfer Charles M. Ness to form a sporting goods store on Arch Street in Philadelphia, PA. Mitchell & Ness sporting goods specialized in handcrafted tennis racquets, golf clubs and other equipment.
· 1917 - Meet the Clerk
In 1917, a teenage boy named Sisto Capolino travels from Italy to Philadelphia in need of work. At age 13, he begins working as a store clerk, sweeping floors, cleaning up and living above the Mitchell & Ness store. Along the way he learns English and becomes an apprentice.
· 1925-1933 - Make the Pros
By 1925, Mitchell & Ness begins designing and manufacturing uniforms for high school, college and semi pro teams in Philadelphia and the surrounding areas. In 1933, the company goes pro when the newly formed Philadelphia Eagles employ Mitchell & Ness as their official on-field outfitter.
· 1938-1955 - Own The Shop
Mitchell & Ness' success and reputation grows as the business expands to include two local Major League Baseball clubs, the Philadelphia Athletics and the Philadelphia Phillies. Sisto goes from shopkeeper to shop owner. And the Eagles begin to sport Mitchell & Ness apparel both on and off the field in fashionable new sweaters and jackets.
· 1983 - Roll the Wool
In 1983, a man walks into Mitchell & Ness to have two game-worn baseball jerseys repaired. In attempting to do so, Peter discovers thousands of yards of discarded wool flannel, which inspires him to recreate vintage jerseys.
· 1987-1988 - Get the Numbers
On July 6, 1987, Sports Illustrated features Mitchell & Ness in the article "Baseball Flannels are Hot." The article chronicles the growing popularity of sportswear as fashion, as well as Peter's research methods. In 1988, Major League Baseball creates the Authentic Collection license, giving Mitchell & Ness exclusive rights to make player number jerseys.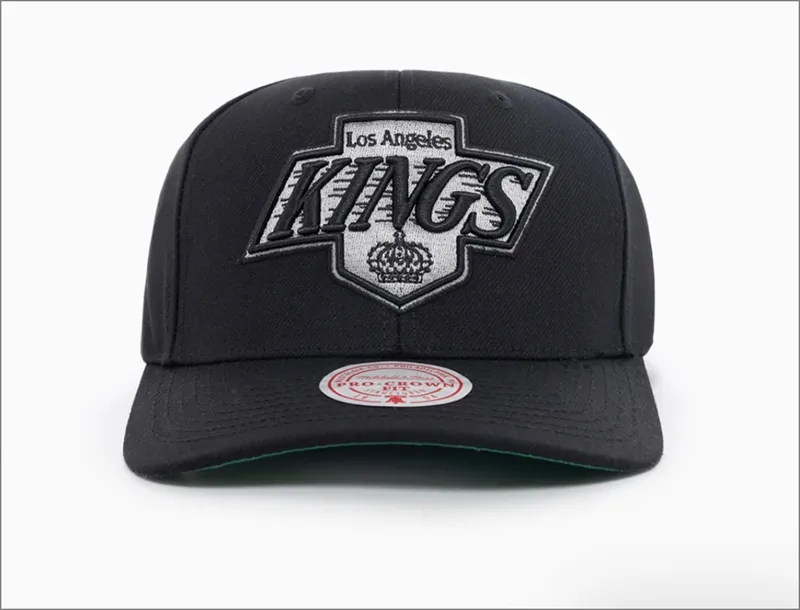 · 1998-2000 - Expand the Leagues
The jerseys become increasingly popular among entertainers and athletes, making frequent appearances in music videos and magazines. After the widespread success of the Cooperstown Collection, the NBA, NFL and NHL grant Mitchell & Ness licenses.
· 2005-Present - Lead the Pack
While trends come and go, Mitchell & Ness jerseys remain popular among sports' greatest enthusiast: the true fan. In 2005, after the numerous requests from collectors, Mitchell & Ness acquires its most recent license, the CLC college Vault label.
· 2012 - International Expansion
Mitchell & Ness expanded internationally in Australia/New Zealand & UK in 2012.
5. Data and Price
Chicago Blackhawks Team Ground 2.0 Pro Crown Price is $59.99
Featuring a 6-panel design with a rounded crown, embroidered team logos and constructed from a sturdy polyester.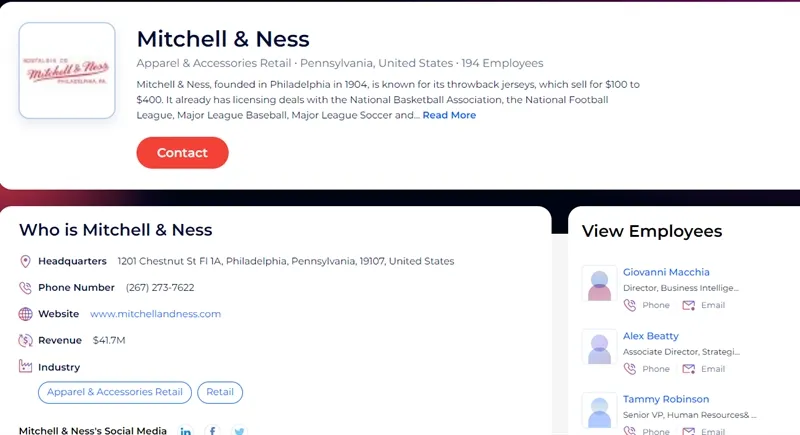 6. Conclusion
Mitchell & Ness is a company that specializes in creating and selling authentic vintage sports apparel. The company was founded in 1904 in Philadelphia, Pennsylvania, and is known for its high-quality and authentic jerseys, hats, and other sports merchandise. They are especially popular among sports fans who are looking for vintage or retro sports gear of their favorite teams. Mitchell & Ness has licensing agreements with all major sports leagues, including the NFL, NBA, MLB, and NHL.
Any new ideas, let me know.