l Intro
In the past, only privileged ones could start their businesses because of the handsome investment needed. Thankfully, things are changed in 2022.
You are free to create your hat brand online. After reading this article, you will know how to start your own hat brand from 0.
After reading, you will get:
1. 3 market analysis tools and one selection method
2. Product design ideas
3. Logo customization method
4. How to find reliable suppliers
5. How to select the appropriate platform
6. How to promote your product
Let's get started!!
1. Market Analysis
Market analysis and research is the first step to establishing your hat brand. It is not advisable to enter a highly competitive hat category. You need to find the customer needs that have not been explored yet and the market with relatively low competition so that you can quickly establish your brand. Small markets for wholesale hat supplier are not necessarily bad.
With the following three tools, you can easily find products with relatively low competition.
1) Google Keywordplanner
The Keyword Planner tool is designed to help marketers discover important keywords and find data for certain keywords like search numbers, competition, and ad pricing.
If you are new to search engine marketing, know that keyword research is arguably one of the most important steps in optimizing your website to perform better in the SERP.
They have functions such as discovering new keywords, where you can find broad items, see average monthly searches, where you can find the research data, you can also create new campaigns, and try to optimize your research volume.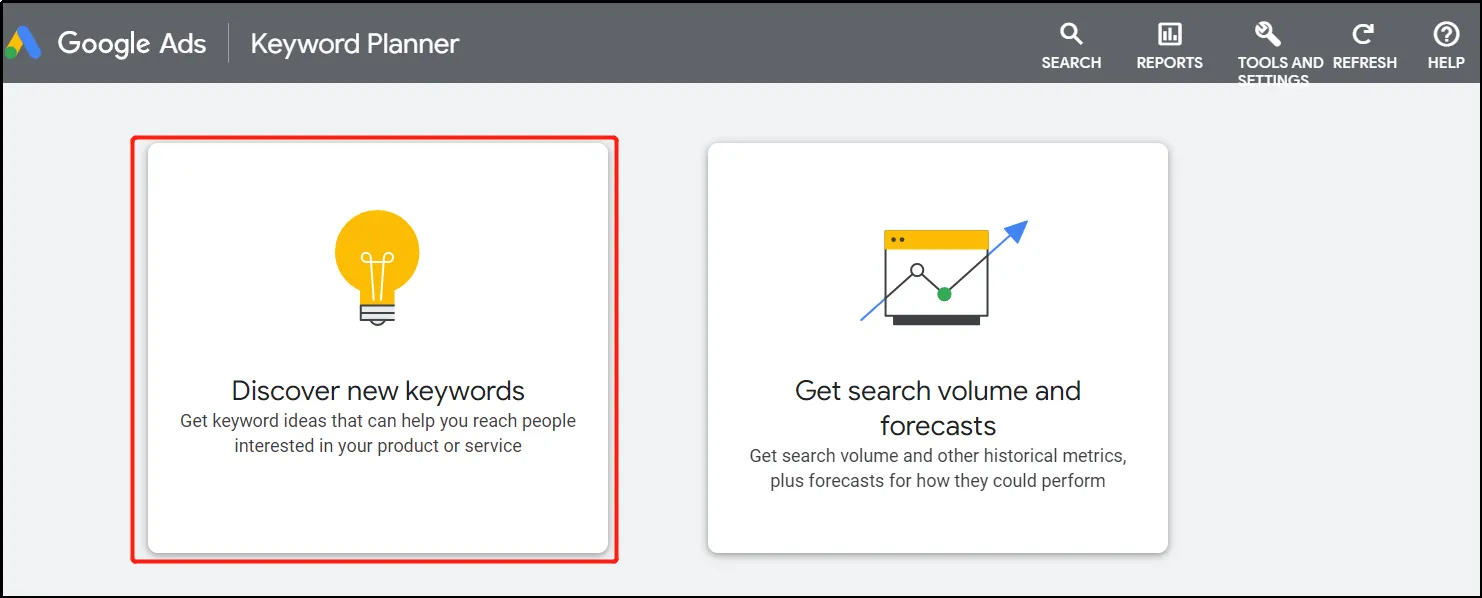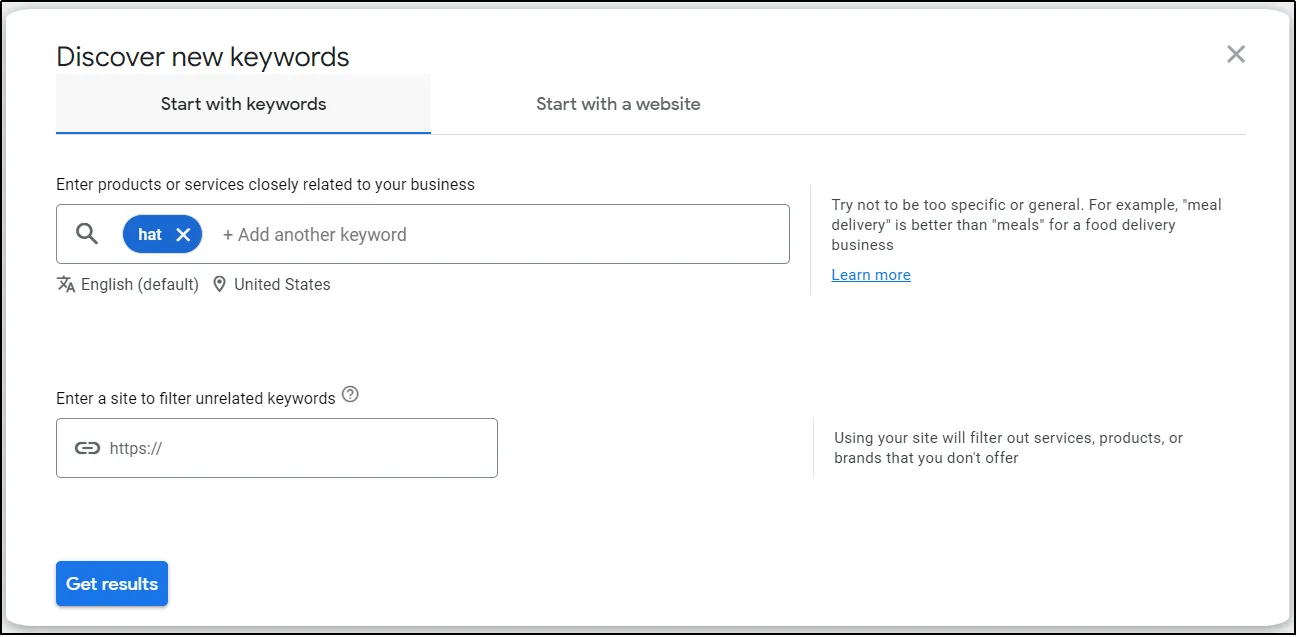 2) SEMrush
Semrush is an all-in-one tool suite for improving online visibility and discovering marketing insights. Our tools and reports can help marketers or custom hat manufacturers with the following services: SEO, PPC, SMM, Keyword Research, Competitive Research, PR, Content Marketing, Marketing Insights, and Campaign Management.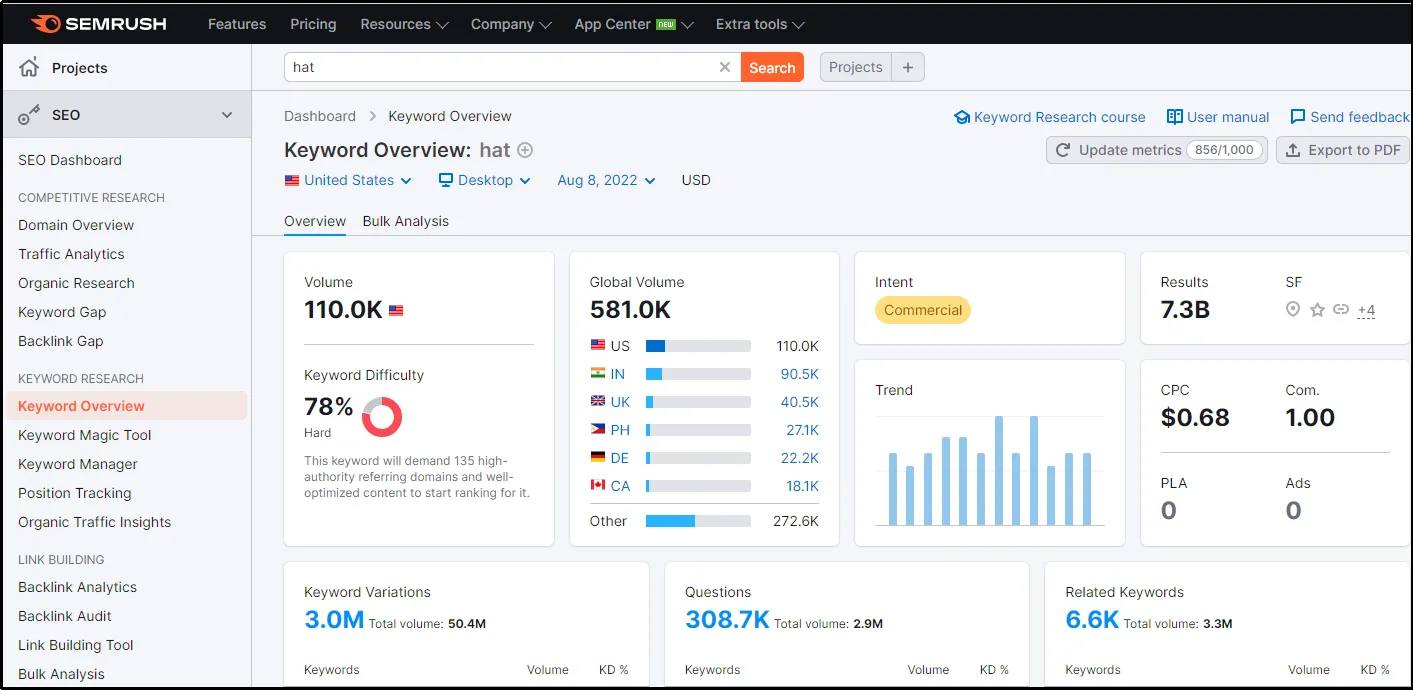 3) Google trend
Google Trends is a website by Google that analyzes the popularity of the top.
search queries in Google Search across various regions and languages. The website uses graphs to compare the search volume of different questions over time.
Advantages
-Convenient to use & easily available.
-Useful in finding balance in the data collection and easy transportation of data.
Disadvantages
-Provides only relative numbers and not exact figures.
-Needs internet access, no presence of validated content, and low search quota.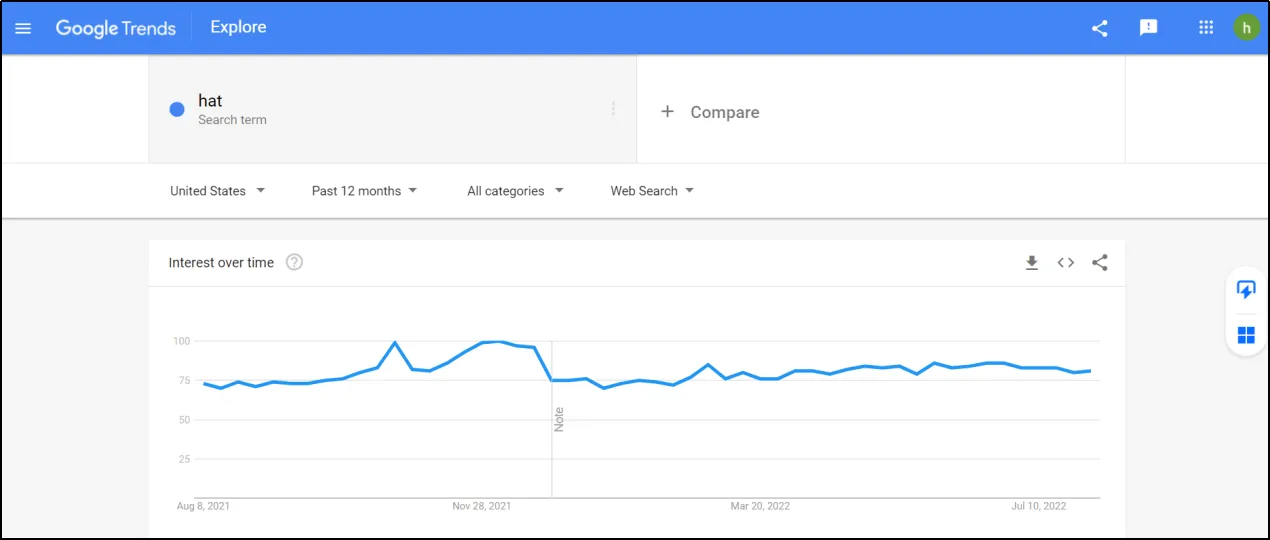 4) Choose products through keyword research
a) A SEMRush account (free version also works) with the keyword tool
b) Open SEMRush's keyword tool Organic Research. SEMRUSH Keyword Tool
c) Enter hat/cap as your keyword
d) After the keyword benchmark, set the keyword difficulty KD to <40 and the search volume to >1000.
e) You get a series of keywords as the potential blue ocean product words. More rigorously, the competition is < 40, and the search volume is > 1000 per month.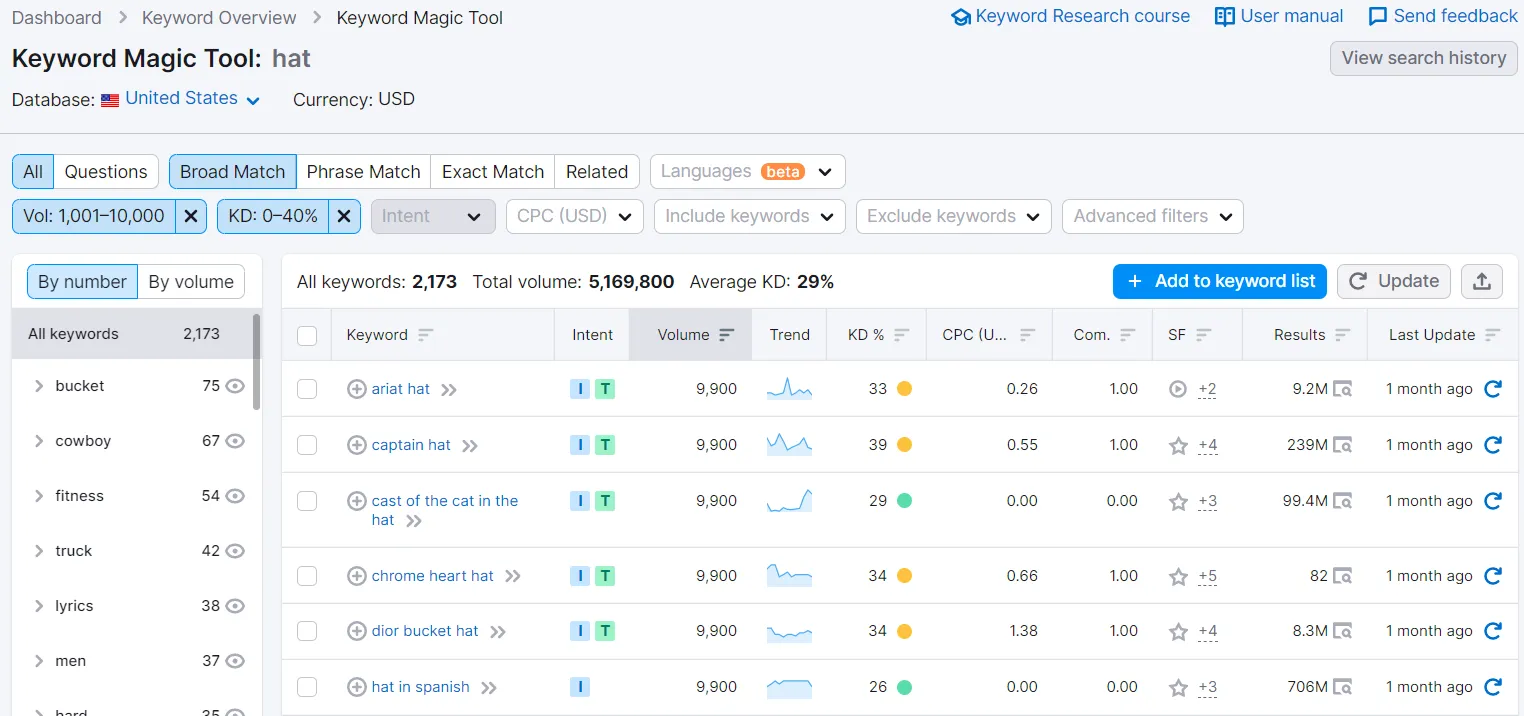 2. Consider the Product Design
After the market research, find suitable products.
Design is essential. You can start your hat business with two choices: a fully customized hat or a custom logo on a classic blank hat.
Fully customized hats can make your hats completely personalized. But it has relatively high risk and high MOQ, which is unsuitable for people just starting the hat business.
Customizing your logo on the blank hat can reduce your inventory pressure with low MOQ and fast delivery.
3. Logo Customization
For hat manufacturing companies, an attractive and widely spread logo is important.
1) Principles for logo designing: clear style
Simplicity/profundity/brand identity: reduce the complexity or use fewer colors. You can make the logo with lines. A logo can be a pattern or plain text. Just choose your brand color.
2) Tools for logo customization:
Hatchful, Canva, Namecheap, Logomaker, Logaster, Ucraft, Online Logo Maker, Hipster Logo Generator, Mark Maker, Free Logo Design, Vector, Logo Garden, Logo Genie.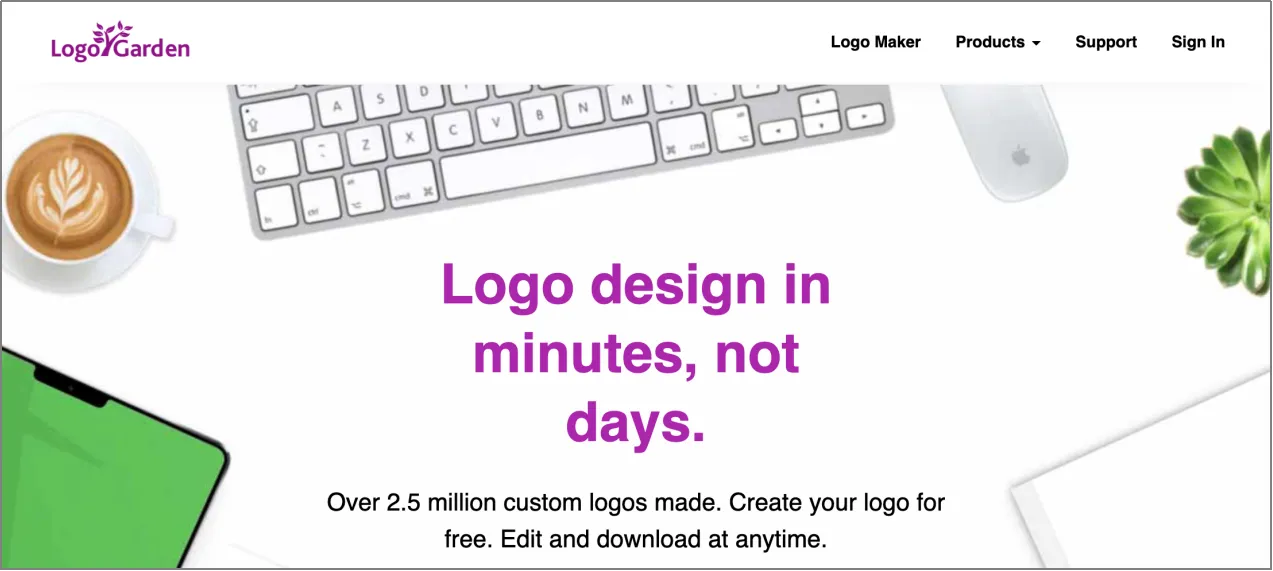 Suppose you need a professional designer for logo design. With budgets, hire a designer to design the logo on Fiverr at a minimum price of $5, or you can log in to Shopee for a Freelance designer.
4. Source Supplier
1) How to choose the right supplier for your business
To find a reliable hat supplier, you need to consider the following factors:
Scale, quality, certificate, customer care, design capability, delivery time, sample, MOQ.
Low MOQ, a high quality hat manufacturer with design capabilities and fast shipping, is the first choice for those just starting in the hat business.
2) Research channels
Website, local product wholesalers consider the company partners of similar products.
3) Tips to check for the supplier's credibility
l Ask for a list of customers from your potential supplier and contact them.
l Physically meet them to inspect their plant and the quality of their products.
l If visiting is not possible, ask them for samples.
l Find a representative, like a Chinese sourcing agent, to check and inspect.
Know more: How to Choose a Reliable Hat Manufacturer in 2022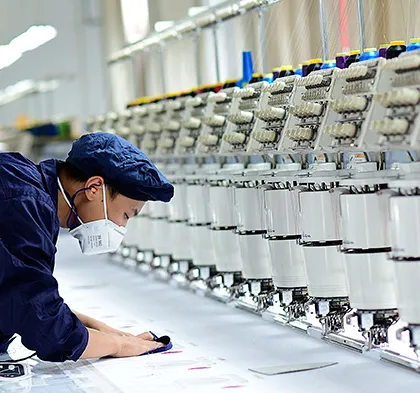 5. Online Selling Platforms
Finding the right platform is the key to success. You can sell on Amazon, Shopify, and other social media platforms. Personal websites have less price competition.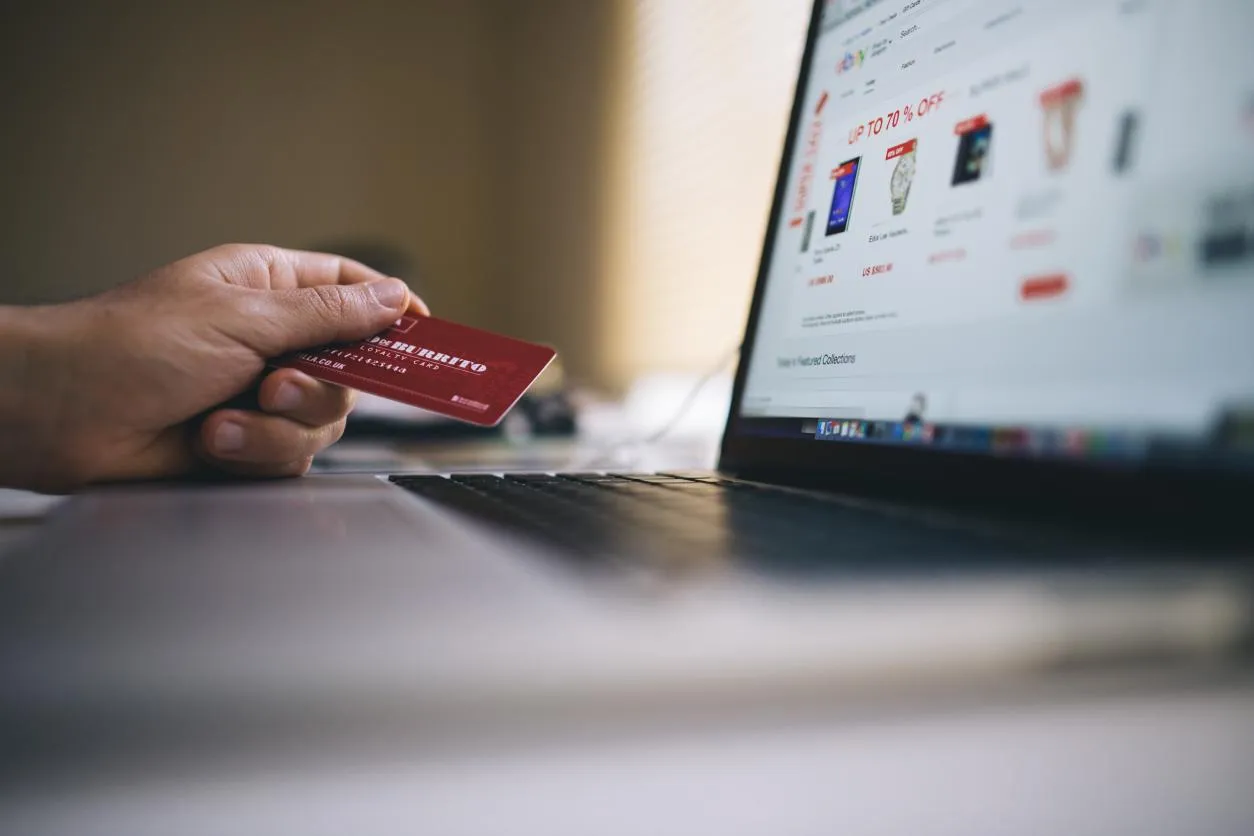 1) Amazon
Amazon.com, Inc. is an American multinational technology company focusing on e-commerce, cloud computing, digital streaming, and artificial intelligence. It has been referred to as "one of the most influential economic and cultural forces in the world" and is one of its most valuable brands.
Pricing:
To launch a sustainable Amazon business, sign up for a Professional Seller account: $39.99 per month
~ $120.00 needed for a startup (assume ~ 3 months required to get the biz up and running)
2) Shopify
Shopify is a complete commerce platform that lets you start, grow, and manage a business. Sell in multiple places, including web, mobile, social media, online marketplaces, brick-and-mortar locations, and pop-up shops.
Pricing:
Basic Shopify: $29/month
Shopify: $79/month
Advanced Shopify: $299/month
3) Tiktok
TikTok is a popular social media app that allows users to create, watch, and share 15-second videos shot on mobile devices or webcams. With its personalized feeds of quirky short videos set to music and sound effects, the app is notable for its addictive quality and high levels of engagement.
Pricing:
It can cost brands $50,000 to $100,000 to take over a popular TikTok channel, for instance, and the cost of a hashtag challenge has a flat fee of $150,000 for six days, with firms spending additional dollars on promoting the challenge.
4) Aliexpress
An online retail service based in China and owned by the Alibaba Group. Launched in 2010, it comprises small businesses in China and other locations.
Pricing:
On AliExpress there is no fixed cost for sellers. Aliexpress makes money by charging commissions as a percentage of the transaction value of goods sold.
The commission range from 5% to 8% of the transaction value.
5) Shopee
Shopee is a leading online shopping platform that originated in Singapore in 2015 before expanding internationally. It is the largest eCommerce platform in Southeast Asia, serving sellers and consumers and offering goods by major retailers and local merchants.
Pricing:
Shopee charges a 2% commission fee per completed order from sellers. To help marketplace sellers build their business, new sellers enjoy a 0% Commission Fee for 90 days! Plus, registering as a seller on Shopee Singapore is also free.
6) WordPress
WordPress is an open-source content management system (CMS), a popular tool for individuals without any coding experience who want to build websites and blogs.
Pricing:
Small/Medium-Sized Business: You're likely to spend between $3 and $5 monthly.
Ecommerce Business: You can expect to pay between $800 - $1500 per month.
Enterprise Business: Your costs could be about $3K per month.
7) Facebook
Facebook is a social networking website where users can post comments, share photographs, and post links to news or other interesting content on the web, chat live, and watch short-form videos.
8) Instagram
Instagram is a free, online photo-sharing application and social network platform acquired by Facebook in 2012.
Pricing:
The overall cost to advertise on Instagram is calculated in terms of cost-per-click (CPC).
The average CPC ranges between $0.5 to $1 but can go as high as $3 for more competitive businesses, such as clothing.
9) Pinterest
Pinterest is a social site where you can collect and share images of anything you find interesting. You can also visually discover new interests by browsing the collections of other Pinterest users.
Pricing of advertising:
$0.10 – $1.50 per click
$2.00 – $5.00 per thousand impressions
$6.00 – $10.00 per conversion
6. Promotion
1)SEO
SEO, search engine optimization, is the process of improving the quality and quantity of website traffic to a website or a web page from search engines. SEO targets unpaid traffic (known as "natural" or "organic" results) rather than direct traffic or paid traffic.
How to learn SEO: https://backlinko.com/hub/seo
2)4 Best Social Media Platforms For Business
Platform #1: Facebook
Facebook is not the newest and coolest social media platform, but it is still the largest social media platform in terms of users. It has over 2 billion monthly active users; 3/4 of Facebook users visit the site daily. Half of Facebook users visit the site several times per day.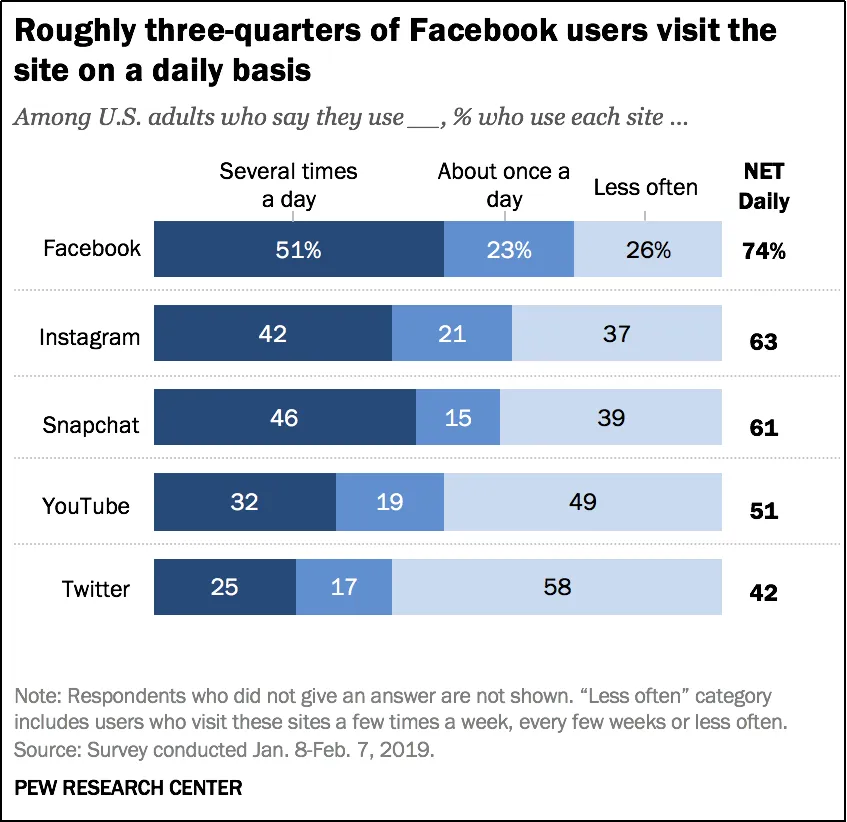 Platform #2: YouTube
YouTube is arguably the best social media platform that exists. For one, over 1.9 billion people use YouTube regularly. In terms of age, people of all ages use YouTube. 85% of teenagers and even 38% of people over 65.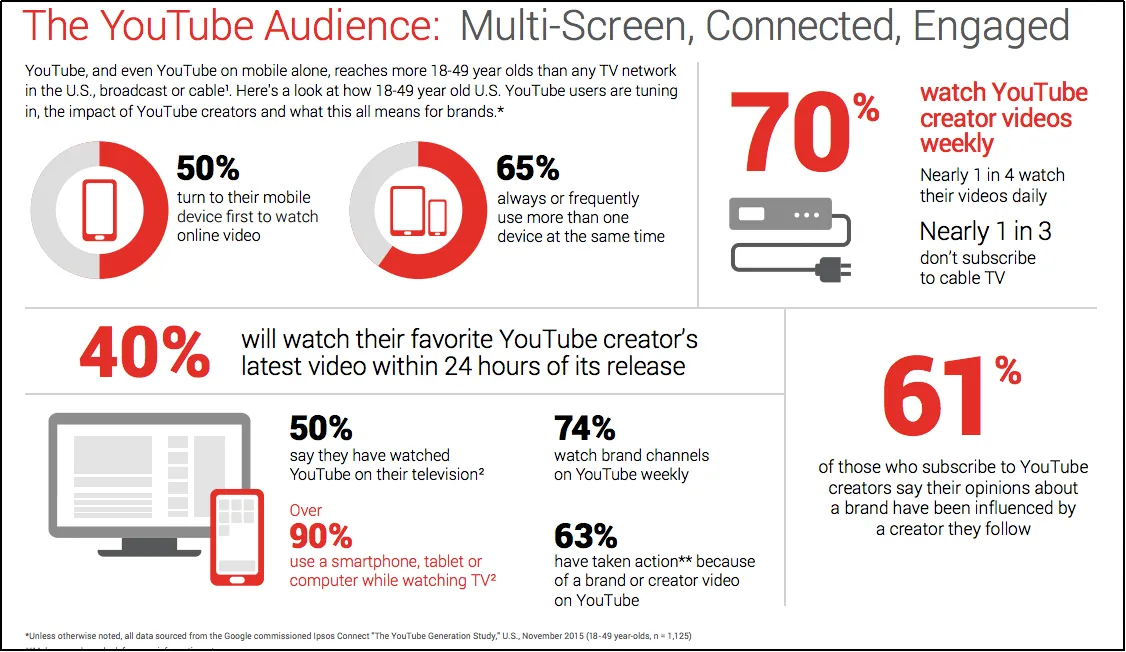 Platform #2: Instagram
Instagram is another platform owned by Facebook, with 1 billion users. It has a younger demographic, with 72% of all teenagers and 67% of all young adults under the age of 30 using Instagram.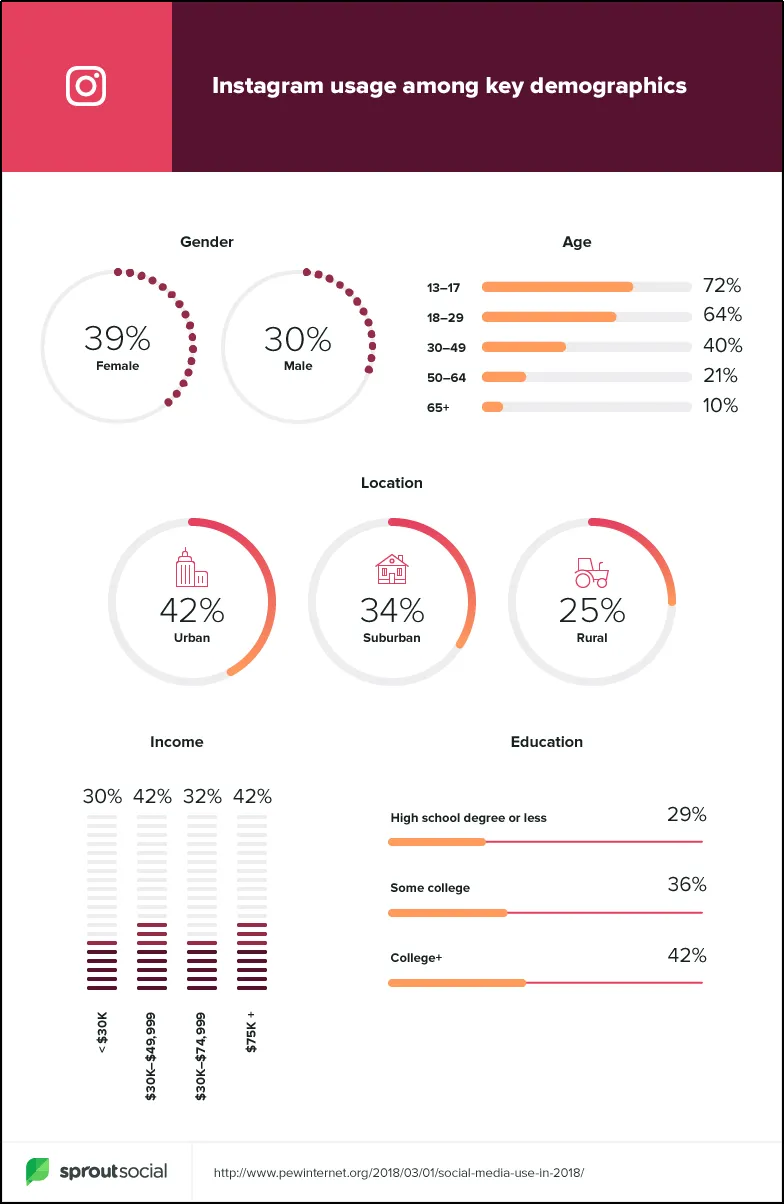 Platform #4: Pinterest
Pinterest is a great social media platform with significant search engine capabilities. Pinterest has over 322 million monthly active users. 41% of people with high incomes use Pinterest regularly.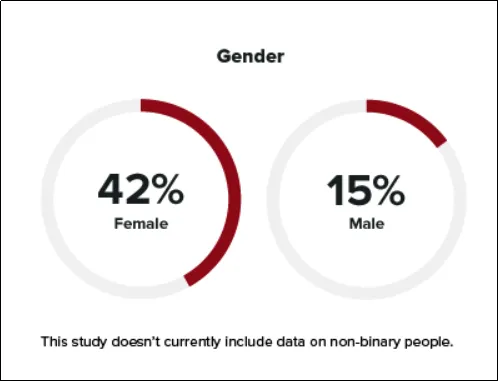 3) 3 Social Media Platforms for Live Broadcast
Platform #1: Youtube
There're 1.3 billion people who use YouTube. 300 hours of video are uploaded every minute, and 5 billion videos are watched daily. The Youtube platform continues to host videos for more and more businesses, but it's not for everyone.
Platform #2: Instagram
Like many other social media platforms (Facebook, YouTube, etc.), Instagram lets you interact with your audience in real time through its Instagram Live functionality. It also helps you build brand affinity apart from awareness. First, open the app and tap the Live option, then scroll to "Live" at the bottom of the screen. Then you click the "+" icon on the top right, choose "Live" from the menu, and give the title and schedule.
Platform #3: Tiktok
TikTok is the fastest-growing social network and video platform, surpassing the one-billion-user mark in September 2021. Its popularity is due to how easy the app is to use — anyone can create an account and start uploading videos with their smartphone, which is also suitable for business.
Also, you can put advertisements on Facebook, Instagram, Twitter, LinkedIn, and Pinterest.
7. Tools
| | | |
| --- | --- | --- |
| Name | Characteristic | Use |
| Later | Social Media | Social Delay Publishing Tool |
| Tailwind | Social Media | Integrated social media delayed delivery |
| Sendible | Social Media | Manage multiple social platforms simultaneously |
| Blog Search Engine | Blog | Related blogs |
| Pixlee | Social Media | UGC content marketing platform |
| Buffer | Social Media | Comprehensive social media marketing tools |
| Hootsuite | Social Media | Integrated management of social media accounts |
| SparkToro | Social Media | User group audience analysis |
| iWriter | Blog | Find talents for copy writing |
| Ahrefs | SEO | Comprehensive SEO Data Tools |
| SEMRush | SEO | Comprehensive SEO Data Tools |
| UpPromote | Alliance | Affiliate Marketing Shopify Plugin |
| Goaffpro | Alliance | Affiliate Marketing Shopify Plugin |
| Referral & Affiliate Marketing by Atomizely & Aftership | Alliance | Shopify Plugin for Fission Marketing |
| Refersion | Alliance | Affiliate Marketing Shopify Plugin |
l Summary
I hope this guide can help you. If you want to start your hat business and look for a hat manufacturer, do not hesitate to contact us for more details.