Ecommerce (electronic commerce) is the activity of electronically buying or selling products on online services or over the Internet. For today's article, we will introduce 20 world-renowned e-commerce websites; hopefully, you will learn from them!!

1. Amazon

Established: 1994
Headquarters: Seattle, Washington, USA
Monthly unique visitor: 1.2billion visits
Amazon is the largest e-commerce platform in the world. Mainly in the United States, India, the Philippines, Mexico, Europe, and Southeast Asia. As an online retailer, Amazon allows individuals and businesses to sell and display products online.
Core categories: 3C electronics, clothing accessories, outdoor sports, household kitchen appliances, and pet accessories.
Amazon entry fee: $39.99 per month, 8%-15% commission
Payment cycle and method: 14 days for payment
Logistics: Self-delivery, overseas warehouse, FBA
Advantages
-Vast customer base and traffic advantages.
-Developed warehouse and logistics system
-One account for multi-site operation.
-High profits.
-When opening a store, you can choose the site you want to do. Different sites need to be listed separately. The main sites are North America, Europe, Japan, India, and Australia.
Disadvantages
-Complicated shop opening and strict reviews.
-Strict policies and shop closure problems.
-VAT number problems in Central Europe.
-Fierce competition. It is not the first choice if you are a new personal seller.
2. Shopify
Shopify is a complete commerce platform that lets you start, grow, and manage a business. People can create and customize an online store and sell in multiple places, including web, mobile, social media, online marketplaces, brick-and-mortar locations, and pop-up shops. If you want to do personal branding, etc., Shopify is the best choice.
Website Builder: You can start with Shopify's most basic plan, which costs $29 per month.
Buying a domain name: tens to hundreds of dollars.
Advantages
-Easy to Use.
-A lot of payment processors.
-World-class site performance.
-Boost sales with inbuilt features.
Disadvantages
-Incur extra customization costs if you need to design something specific for your eCommerce store.
-You need to get traffic by yourself and need professional skills.
3. eBay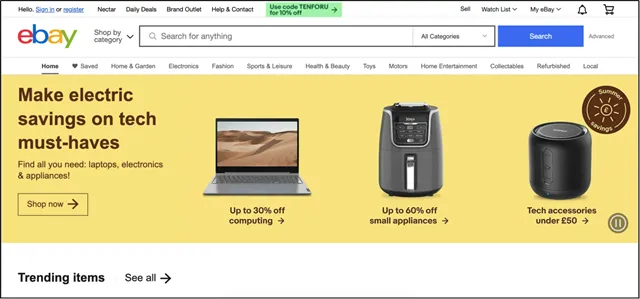 Established: 1995
Headquarters: Bay Area, San Francisco, USA
Monthly unique visitors: 157.8 million visits
As the earliest platform founded, eBay has several sites worldwide, with the United States and Europe as the core markets.
The primary market in the United States and Europe, and the most significant rival is Amazon, but the business model and Amazon are very different. Amazon is a membership system, and eBay is mainly in the form of auctions, a platform feature.
Advantages
-Niche categories: auto parts/motorcycle parts/automobile parts/collectible artwork, etc., have higher sales than Amazon.
-New sellers can rely on auctions to gain exposure.
-The ranking is relatively fair
-Low threshold for opening a store
-Insist on operating. It is not a dream to make money.
Disadvantages
-Overall traffic and buyer numbers lag behind Amazon.
-A starting limit on the number of products, and you need to accumulate a reputation.
-The cost is high. Although it is free to open a store, it costs money to upload products. The commission for product transactions and publication is about 17%.
4. AliExpress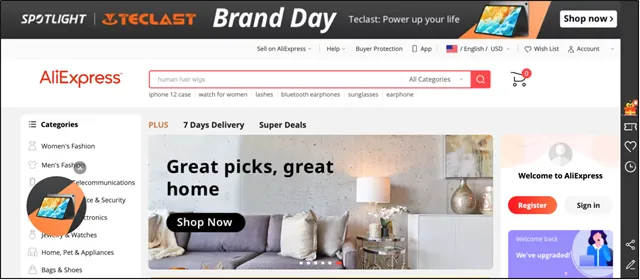 Established: 2009
Headquarters: Hangzhou, China
Monthly unique visitors: 31 million visits
AliExpress is an online retail service based in China and owned by the Alibaba Group. Launched in 2010, it comprises small businesses in China and other locations, such as Singapore, that offer products to international online buyers.
It is Russia's most visited e-commerce website and Brazil's 10th most popular website. It facilitates small businesses to sell to customers all over the world. AliExpress has drawn a comparison to eBay, as sellers are independent and use the platform to offer products to buyers.
Hot-selling categories: clothing, mobile communications, shoes and bags, beauty and health, jewelry and watches, consumer electronics, computer networks, home furnishing, auto and motorcycle accessories, lamps and lanterns
Entry threshold/requirements:
1) Business license 2) Trademark 3) Alipay, a corporate legal person. 4) Category margin ranging from 1-3w

Settlement fee (commission, platform fee): 3%-8% commission

Payment cycle and method: 15 days after receiving the goods (the buyer needs to click on the order to confirm the receipt)

Logistics: Self-delivery and overseas warehouse

Advantages
-A cross-border E-commerce platform of Ali Group
-No.1 market share in Russia, Ukraine, Eastern Europe, Middle East.
-Full Chinese operating system & rules.
Disadvantages
- Entry threshold is 10,000 yuan.
-Require team operation and much effort.
-Strict access to some popular product categories.
5. Shopee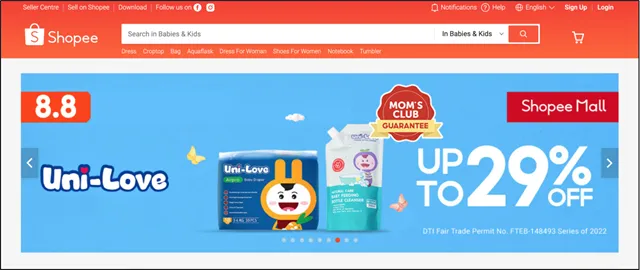 Established: 2015
Headquarters: Singapore
Monthly unique visitors: 21 million visits
Shopee is a leading online shopping platform that originated in Singapore in 2015 before expanding internationally. It is the largest eCommerce platform in Southeast Asia, serving sellers and consumers and offering goods by major retailers and local merchants.
Hot-selling categories: home furnishing, 3C electronics
Entry threshold/requirements: company business license or self-employed business license + other e-commerce platform experience

Settlement fee (commission, platform fee): 6% commission, 2% transaction fee

Payment cycle and method: 2 times a month, support continuous payment, Payoneer and other mainstream payment methods

Logistics: domestic transit warehouse, overseas warehouse

Advantages
-The most recognizable e-commerce app in Southeast Asia.
-Covering Southeast Asia/Singapore/ Philippines/Indonesia/Thailand/Vietnam Market.
-Leading in Southeast Asia & Taiwan.
Disadvantages
-Low overall consumption level in South East Asia.
-Low customer price and low-profit margin for sellers.
-Easy to have returns/bad reviews.
6. Lazada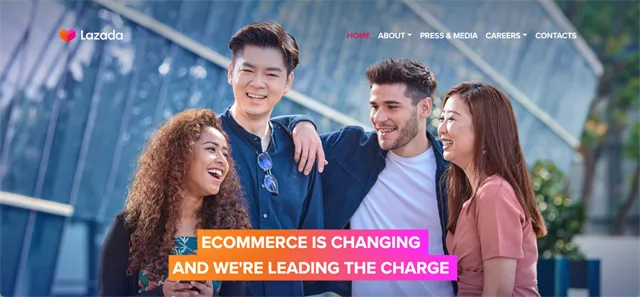 Established: 2014
Headquarters: Singapore
Monthly unique visitors: 4.8 million visits
Lazada Malaysia "(Ecart Services Malaysia Sdn Bhd (983365-K)" is pioneering e-commerce across some of the fastest growing countries in the world by offering a fast, secure, and convenient online shopping experience with a broad product offering in categories ranging from fashion, consumer electronics to household goods, toys and sports equipment.
Popular categories: 3c electronics, shoes and clothing accessories, home furnishing, beauty salons, automobile and motorcycle spare parts, maternal and child toys, outdoor sports goods, etc.;
Platform fee: Tax: 6% in Malaysia, 7% in Singapore, 7% in Thailand, 10% in Indonesia, 12% in the Philippines, 10% in Vietnam Commission: 1%~4%, no annual fee
Platform collection: settlement is made every Friday, and the collection account is Pai Anying, Wanlihui, etc.
Logistics solutions: 1. Lazada official logistics LGS global distribution 2. Self-delivery
7. Wish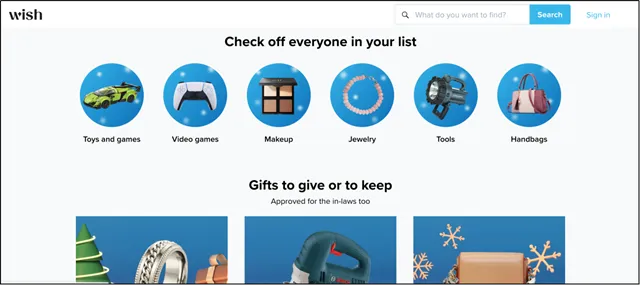 Wish is an American online e-commerce platform for transactions between sellers and buyers. Wish was founded in 2010 by Piotr Szulczewski and Danny Zhang. Wish is operated by ContextLogic Inc. in San Francisco, United States.
The platform personalizes the shopping experience visually for each customer rather than relying only on a search bar format. It allows sellers to list their products on Wish and sell directly to consumers. Wish works with payment service providers to handle payments and does not stock the products themselves or manage returns.
Advantages:
-It does not require many operations.
-It is relatively simple to upload products and can be operated by mobile phones.
-The European and American markets are mainly female users.
Disadvantages:
-The order is canceled, and a fine of 2 US dollars is required.
-The traffic depends entirely on the brush, and the unit price of the customer is generally low.
-The platform frequently changes the rules, which makes people breathless.
8. WordPress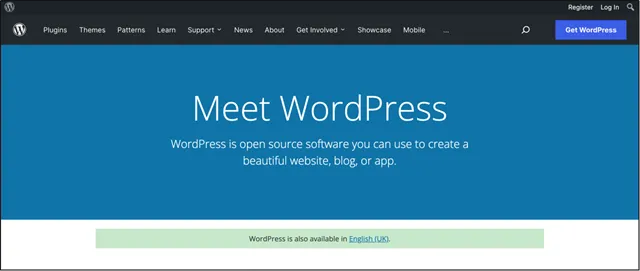 E-commerce website An e-commerce website allows you to sell goods or services online and collect payment via an online payment system. You can download and install a WordPress e-commerce plugin to extend the default functionality of WordPress so you can have an online store on consumers' websites.
9. Walmart
Established: 1994
Headquarters: Bentonville, Arkansas
Monthly unique visitors: 617.19 million visits
Walmart Inc. is an American multinational retail corporation that operates a chain of hypermarkets, discount department stores, and grocery stores from the United States, headquartered in Bentonville, Arkansas.
Advantages
-Save customers time and money.
-Help the economy grow.
-Good quality products.
Disadvantages
-Plastic packaging and containers.
-Anti-employee policy.
-Gender-based discrimination.
10. Qoo10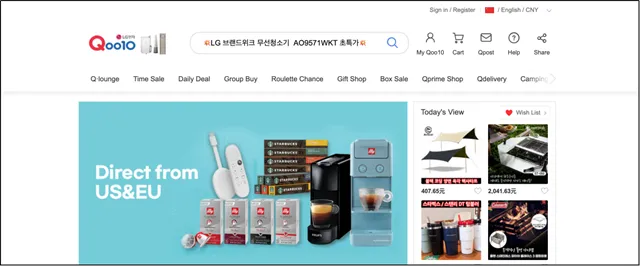 Qoo10 is a Southeast Asian e-commerce platform, formerly known as GMarket, headquartered in Singapore. It operates localized online marketplaces across Singapore, Indonesia, Malaysia, mainland China, and Hong Kong and on one international online marketplace. It optimizes its platform and services for small and medium enterprise merchants.
11. Rakuten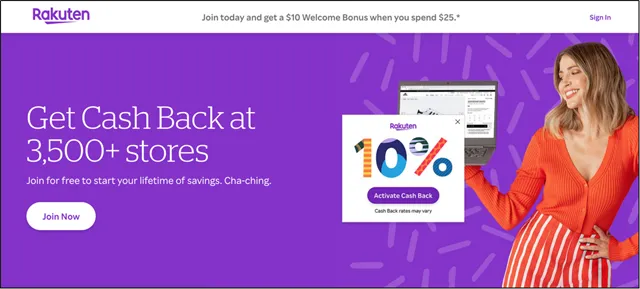 Rakuten Ichiba is a B2B2C eCommerce platform that is the largest in Japan and one of the top eCommerce sites in the world in terms of sales. It's a multi-category online marketplace and aggregator that offers cashback. Among the product, categories are apparel, technological devices, mobile phones, footwear, home décor, and more. It also provides cashback when you shop. Its mobile app is accessible for both iOS and Android devices.
12. Mercado Livre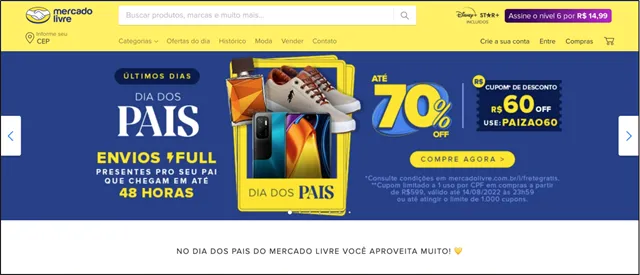 Mercado Livre is the largest online shopping and sales platform in Brazil. Buyers and sellers can meet to exchange information and conduct eCommerce transactions. It also allows sellers to post vehicles, properties, and services in a dedicated section of online classifieds.
13. JD.com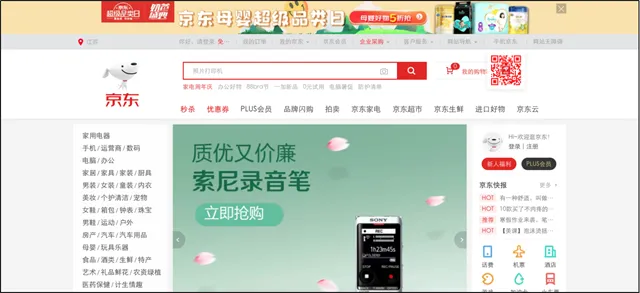 JD.com is a Chinese online retail platform that sells various items such as books, jewelry, electronics, apparel, food, and more. The firm blends its direct sales business model to guarantee that it can maintain stringent quality monitoring. It controls the whole supply chain, with a marketplace that limits the number of vendors.
14. Target.com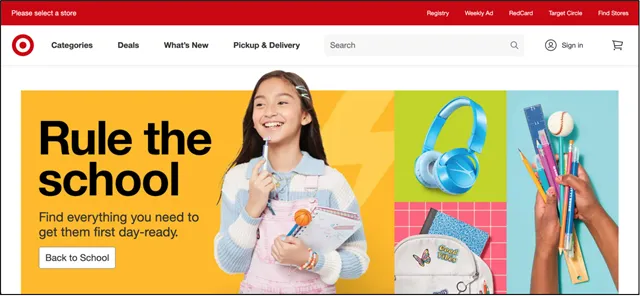 Target is the second-largest retailer. It operates 1,800 stores across the United States as a whole. Target's online shop sells everything from groceries to hygiene goods, clothing, electronics, furniture, and interior design. Its store network and online activities offer shoppers a diverse choice of items at affordable rates while preserving convenience.
15. Newegg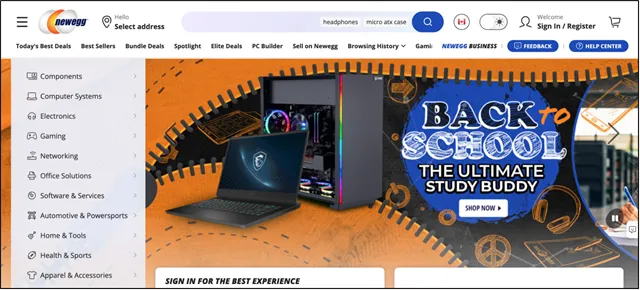 Newegg.com is an online retail company that was founded in 2000. The website offers a variety of items for sale, including books, music, electronics, and apparel. It's one of the world's top 10 eCommerce websites for electronics and computer peripherals.
16. Costco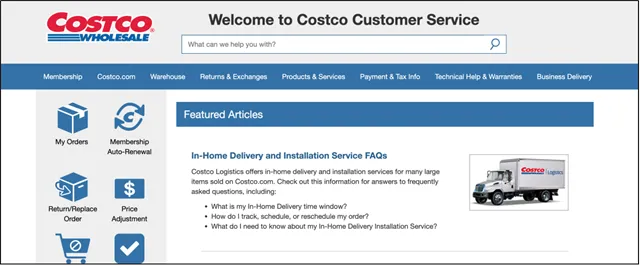 Costco.com is a website that offers a variety of items for sale, including appliances, clothing, electronics, and food. The website also provides various services, including photo printing and online shopping. It has low prices and a wide selection of products.
17. Flipkart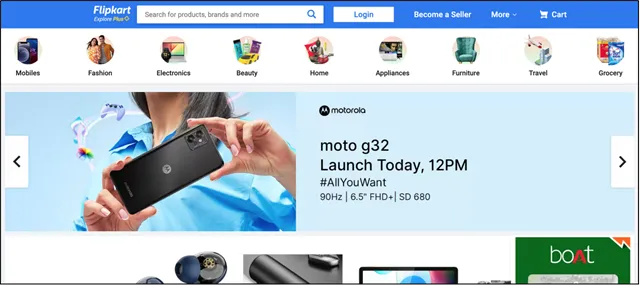 Flipkart is most popular in India and other Asian regions. At first, the site was launched as a bookstore, and after it gained popularity, more things started getting available here. They have clothes, apparel, lifestyle, mobiles, televisions, accessories, laptops, and many other things.
18. Ozon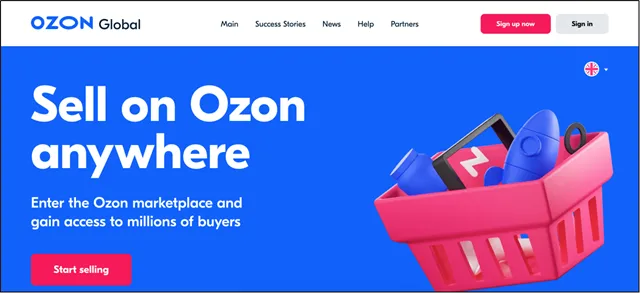 Ozon is one of the first e-commerce companies in Russia, sometimes referred to as "the Amazon of Russia." Established in 1998 as an online bookstore, Ozon was one of the country's three biggest online retail platforms by 2019.
19. Allegro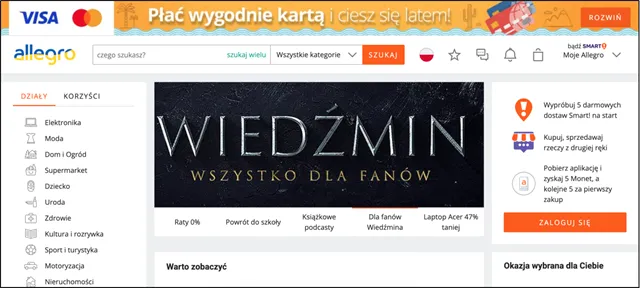 Allegro is a Polish online e-commerce platform. Allegro Sp manages it. z o.o., which was formed in 1999 and purchased by online auction site QXL Ricardo plc in March 2000. QXL Ricardo plc changed its name to Tradus plc in 2007 and was acquired by Naspers in 2008.
20. Emag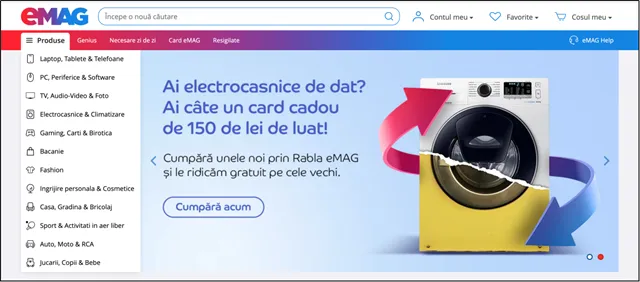 EMAG is Romania's largest marketplace. With 44 million visits per month at the beginning of 2020, it showed year-on-year growth of 50%. The website of this vast marketplace covers all the usual categories. In 2019, the company expanded its services to include its supermarket. eMAG also helps you reach Bulgarian, Hungarian, and Polish online customers.
platform fees
1. No fixed fee
2. Commission from 7%
3. Storage fee
Payment cycle
2 times a month
So, our detailed selected 20 eCommerce websites are listed above. Amazon, eBay, Shopify, AliExpress, Shopee, and Walmart are famous among them. There is a vast range of different types of stores with varying focuses on merchandise categories like women's clothing or men's shoes.
As online platforms become increasingly popular, e-commerce will become the global trade. And that's all for today's article, and I hope you can find some practical knowledge. If you have any ideas, leave the comments below, and Foremost is always here for you!!