Industry standards are voluntary agreements that establish requirements for products, practices, or operations in a given field. Standard and quality control, inspection matters because it helps us to identify what is good, what is bad, and differentiate the bad products from all.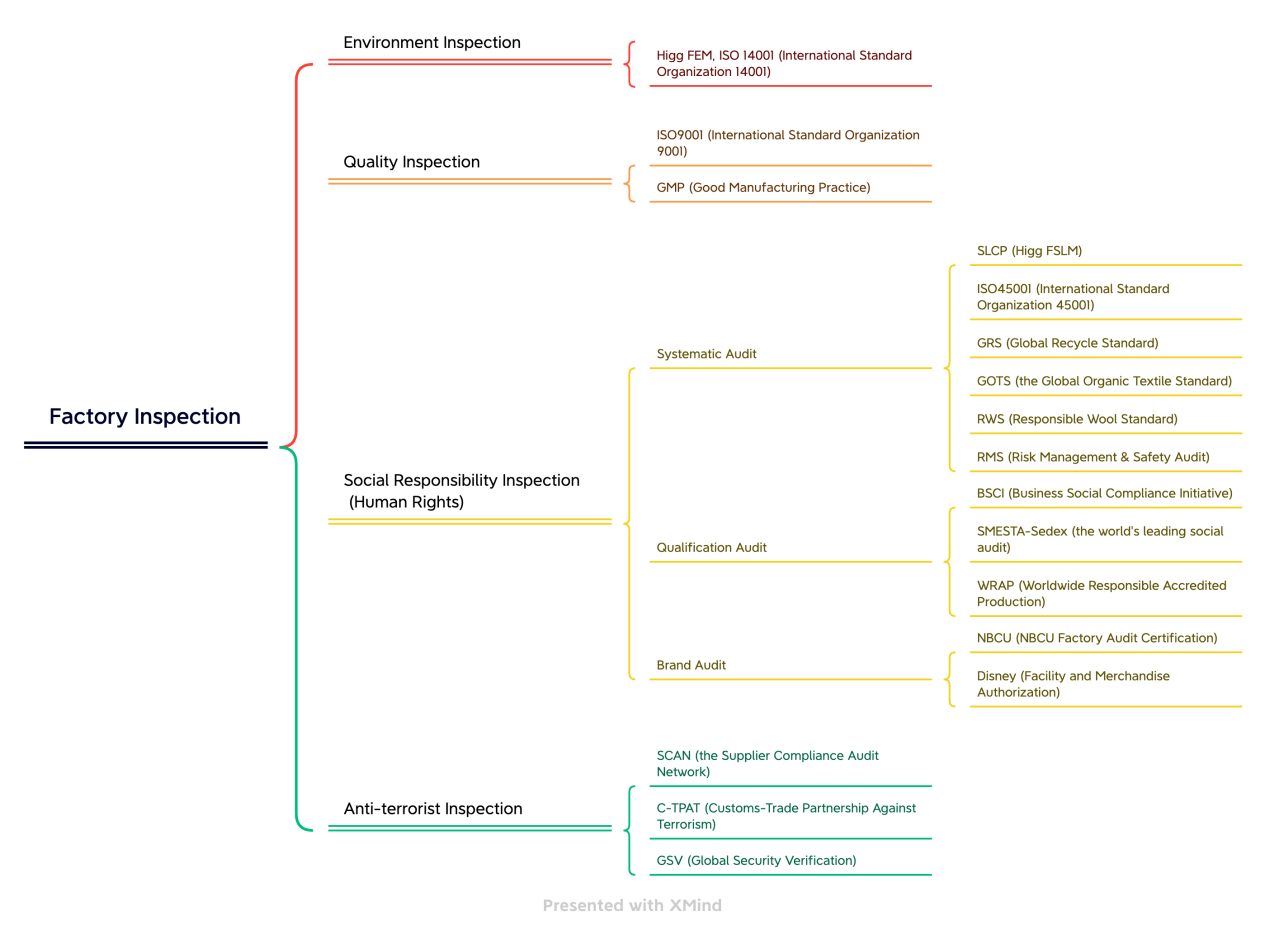 Environment Inspection

Environmental inspection certification refers to a formal recognition or accreditation provided to individuals or organizations that have demonstrated competence in conducting environmental inspections. These certifications are typically awarded by recognized certifying bodies or regulatory agencies and serve as evidence of an individual or organization's expertise and compliance with environmental regulations and standards.
The process of obtaining environmental inspection certification often involves meeting specific requirements, such as completing relevant training programs, acquiring professional experience, and passing examinations or assessments. The certification may be specific to certain types of inspections, such as air quality, water quality, hazardous waste management, or environmental site assessments.
ISO 14001: ISO 14001 is an internationally recognized standard for Environmental Management Systems (EMS). It provides a framework for organizations to establish, implement, maintain, and continually improve their environmental performance.
Quality Inspection

Quality inspection certification refers to a certification program that validates an individual's competence and expertise in conducting quality inspections. These certifications are typically offered by professional organizations or certification bodies specializing in quality management and inspection.
The purpose of quality inspection certifications is to demonstrate that an individual possesses the necessary knowledge, skills, and competencies to effectively perform quality inspections and ensure compliance with established quality standards and requirements.
Here are some common quality inspection certifications:
Certified Quality Inspector (CQI): Offered by the American Society for Quality (ASQ), the CQI certification validates an individual's knowledge and skills in conducting quality inspections, understanding inspection processes, and interpreting inspection results.
Certified Quality Technician (CQT): Also offered by ASQ, the CQT certification covers a broader range of quality-related activities, including quality inspection, quality control, and quality assurance.
ISO 9001 Lead Auditor: This certification focuses on auditing quality management systems based on the ISO 9001 standard. It validates an individual's ability to plan, conduct, and report on quality management system audits.
Six Sigma Certifications: Six Sigma certifications, such as Six Sigma Green Belt or Six Sigma Black Belt, can also include quality inspection components. These certifications focus on process improvement and statistical analysis to minimize defects and improve overall quality.
Vendor-Specific Certifications: Some companies or software vendors offer certifications specific to their products or inspection methodologies. These certifications demonstrate proficiency and expertise in using specific tools or techniques for quality inspection.
The requirements and assessments for quality inspection certifications may vary depending on the certifying body or organization. They typically involve a combination of training, coursework, practical experience, and examinations. Some certifications may require individuals to demonstrate their ability to perform actual quality inspections or complete a designated number of inspection hours.
Obtaining a quality inspection certification can enhance career prospects and professional credibility in roles such as quality inspectors, quality control technicians, quality assurance specialists, or auditors. It demonstrates a commitment to maintaining and improving quality standards and can provide a competitive edge in the job market. It is important to research and choose a reputable certification program that aligns with your specific needs, industry requirements, and career goals. Certifications from recognized organizations or certification bodies carry more credibility and recognition in the quality management and inspection field.
Social Responsibility Inspection
Social responsibility inspection, also known as social compliance auditing or ethical auditing, is a process that evaluates an organization's compliance with social responsibility standards and practices. It involves examining the organization's policies, procedures, and practices to ensure they align with ethical, legal, and socially responsible principles. The purpose of social responsibility inspection is to assess and verify the organization's commitment to social and environmental sustainability, human rights, labor practices, and community engagement.
BSCI: BSCI stands for Business Social Compliance Initiative. It is not a certification but rather a voluntary business-driven initiative that promotes social compliance in global supply chains. BSCI provides a framework and tools for companies to improve working conditions and promote social responsibility in their supply chains.

GRS: GRS stands for Global Recycled Standard. It is a certification standard that sets requirements for the content, chain of custody, social and environmental practices, and chemical restrictions for products made with recycled materials. The GRS is managed by Textile Exchange, a nonprofit organization that promotes sustainability in the textile industry.
GOTS: GOTS stands for Global Organic Textile Standard. It is the leading international standard for organic textiles, covering both environmental and social criteria. GOTS certification ensures that products, such as fabrics, garments, and home textiles, are made with organic fibers and meet strict ecological and social standards throughout the entire supply chain.
RWS: RWS stands for Responsible Wool Standard. It is an internationally recognized standard that ensures the welfare of sheep and the responsible management of land in wool production. The RWS certification covers animal welfare, land management, and traceability throughout the wool supply chain.
ISO 45001: ISO 45001 is an international standard for occupational health and safety management systems. It provides a framework that organizations can use to establish, implement, maintain, and continually improve their occupational health and safety (OH&S) performance.
SLCP: SLCP stands for Social & Labor Convergence Program. It is a multi-stakeholder initiative that aims to simplify and standardize the assessment and verification of social and labor conditions in global supply chains. The program seeks to harmonize existing social and labor standards, reduce audit fatigue, and improve efficiency and transparency in assessing and verifying social compliance.
WRAP: WRAP stands for Worldwide Responsible Accredited Production. It is a nonprofit organization that focuses on promoting ethical and responsible manufacturing practices in the global apparel, footwear, and sewn products industry.
Anti-terrorist Inspection
Anti-terrorist inspections are security measures implemented by organizations, government agencies, or security forces to prevent and respond to acts of terrorism. These inspections are conducted to identify potential vulnerabilities, assess security measures, and ensure compliance with anti-terrorism protocols and regulations. The specific procedures and requirements for anti-terrorist inspections may vary depending on the organization and the country's security framework.
Quality is never an accident. It is always the result of intelligent effort." Quote from John Ruskin. Also, quality is important for customer satisfaction that ultimately results in customer loyalty.
Low-quality products and services deter customers from making a purchase. As a result, it is essential for all businesses to develop and maintain quality standards and insights. And that's why we bring you today for this article, any questions, don't hesitate to comment!!!