I. Introduction
Summer is coming! As we all know, the fashion world is transforming seasonally and every season comes up with its own beauty and couture ideas; similarly, the joyful summer has its own trends and requirements.
As a timeless fashion staple for centuries, straw hats are stylish yet functional, also offer both style and protection from the elements.
Back in the early 1900s, straw hats were first showcased as a style available with a frayed edge. In 1976, the French fashion industry recognized these hats. In the 1990s, they gained immense popularity.
Straw hats offer many benefits, including sun protection, insect repellent, water resistance, and eco-friendly qualities. They are also lightweight, breathable, and fashionable – perfect for summer days!
II. Choosing the Right Straw Hat
Straw hats are a type of headwear made from woven straw material, such as wheat, rye, or maize. They are lightweight and breathable, making them a perfect choice for warm weather.
There're different types of straw hats, such as boater hats, buntal hats, conical hats, Panama hats, Sombreto Vueltiao, salakot, etc.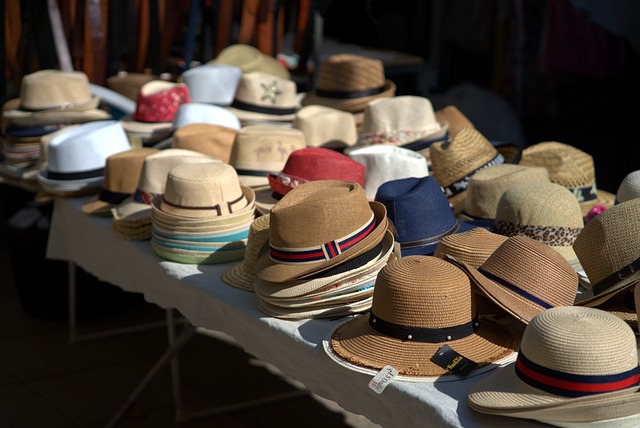 · Panama Hat: This timeless classic has a wide brim, usually around 4 inches, and a flat, round crown that is around 4 inches tall.
· Boater Hat: one of the oldest straw hat styles with a stiff, flat-top, and a wide brim (typically 2 to 3 inches) that is usually made of woven straw, but can also be made of other materials such as raffia and shantung.
· Sun Hat: usually made from straw, and feature a wide brim that wraps around the head, shielding the face and neck from the sun. They come in many styles, from floppy beach hats to more structured fedoras.
· Cowboy Hat: often decorated with feathers or other adornments. They can be worn with jeans, boots, and a plaid shirt for a classic Western look or with a dress for a more formal occasion.
· Conical Hat: also called a 'rice hat' or 'coolie hat' because it is a traditional headwear that originated in Southeast Asia wherein farming (typically of rice) is the main source of livelihood of the locals.
Simply put, choose the right straw hat can help to express your aesthetic and fashion views. Therefore, do consider the occasion and personal style when selecting a straw hat, you might look casually, or formally, also, you can try an outdoor activities' wearing by matching your straw hats with blouse or shorts.
Don't hesitate to try, and details are as follows:
III. Styling Tips for Wearing a Straw Hat
A. Casual and Everyday Looks
A casual dress code is generally considered less formal than business casual. Employees may wear more relaxed, informal clothing but not necessarily what they wear on the street or lounging at home.
For example, a casual dress code may let employees wear jeans every day but still discourages sweatpants. Relaxing and comfortable, that's why casual look matters.
1. Pairing a straw hat with a sundress or maxi dress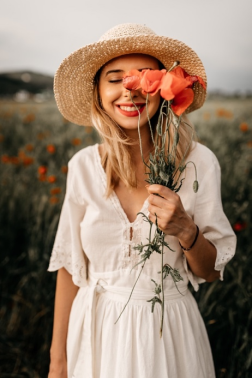 · With Sun Dress: a sundress or summer dress is an informal or casual dress intended to be worn in warm weather, typically in a lightweight fabric, most commonly cotton, and usually loose-fitting. It is commonly a bodice style sleeveless dress, typically with a wide neckline and thin shoulder straps, and may be backless.
· With Maxi dresses: they are long dresses that reach your ankles or sometimes the floor. They are typically form fitting towards the top while the bottom of the dress tends to be flowing and loose.
Whether you work in a corporate office or as your girl boss CEO, a pretty straw hat is a must-have piece in every woman's closet
2. Wearing a straw hat with a t-shirt and jeans for a relaxed vibe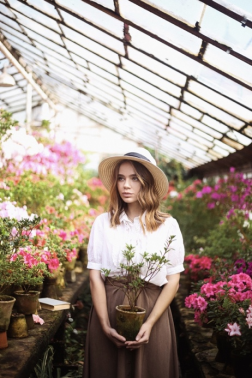 · With White T-Shirt: According to a study conducted at the Nottingham Trent University, women find men wearing plain white tees up to 12% more attractive. This is because a white t-shirt creates an illusion of a v-shaped body as it broadens the shoulders and slims the waist. Pair the white shirt with your straw hat and go to the garden in idyllic girl style!
· With Jeans: a type of pants or trousers made from denim or dungaree cloth. Mid-Rise is the most figure-friendly rise out there; comfortable for all body types, and a bit of a secret weapon for all of us.
Match these two with straw hats can be a pretty cool and chill wearing style, fashionable and comfortable.
B. Beach and Resort Outfits
For a beach or resort, you can comfortably wear straw hats, swimsuit coverups, jeans, capris, and shorts with a t-shirt or polo. Tennis shoes, sneakers, and sandals, are all acceptable as well. You can even wear flip flops with this relaxed dress code.
1. Matching a floppy straw hat with a swimsuit and cover-up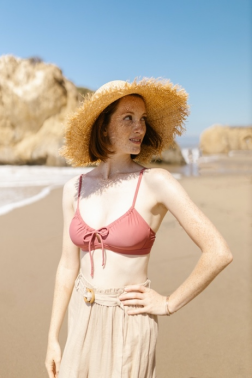 Floppy straw hats are some of the easiest styles of hats to style. They go great with beach dresses, summer outfits, and even fall attire.
Try and coordinate your hat color-wise with your outfit and stay away from garish colors. Floppy straw hats are great for pool and beach parties as they will protect the skin of your face and neck and keep you cool on a hot summer day.
· With Swimsuits: an item of clothing designed to be worn by people engaging in a water-based activity or water sports, such as swimming, diving and surfing, or sun-orientated activities, such as sun bathing.
Overalls conjure images of loft-living creatives getting messy with pigmented palettes in romance movies. But no longer is the classic garment relegated to cinematic, artist-only ventures. Any girl can sport overalls and look super chic while doing so.
Also, don't forget our straw hats. Only invest in the more expensive caps if you know you'll wear them a lot. Go for the hats at FOREMOST HEADWEAR.
2. Adding a straw hat as a stylish accessory to a beach or poolside ensemble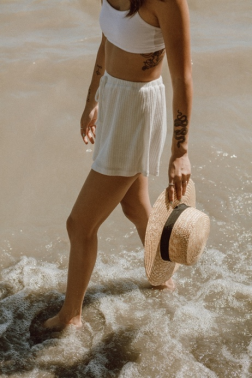 · With Mini Skirt: "There's a combination of generational desire to go back to a time in fashion when it was fun and mindless," celebrity stylist and Emmy Award-winning costume designer Zerina Akers once said.
Try wearing one straw hat with a sexy mini skirt. You can add a structured blazer as a significant power move. (It may not be office-appropriate, but it's hella chic!) You can even opt for a trendy corset top and go, full dominatrix, if you're so inclined.
If you're thinking about spending a day at the beach with your friends or family, straw hats are essential, especially ones with a wide brim that can provide sufficient shade. You can slay it with a light cotton short dress or playsuit in a chic nautical print and some sassy sunglasses.
C. Outdoor Activities and Events
Traditional examples of outdoor recreational activities include hiking, camping, mountaineering, cycling, dog walking, canoeing, caving, kayaking, rafting, rock climbing, running, sailing, skiing, sky diving and surfing. Such scenes are particularly common in daily life: a straw hat with daily dress, sun protection, and comfortable fashion.
1. Wearing a straw hat with a lightweight blouse or shorts for picnics or outdoor festivals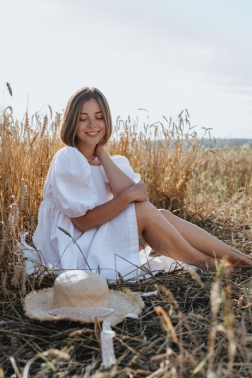 · With a Lightweight Blouse: a loose-fitting upper garment formerly worn by women, workmen, artists, and children. A blouse gathers at the waist or hips so that it hangs loosely over the body. Over time, the term has been used to refer to a shirt which has an unmistakably feminine appearance.
· With Shorts: a garment worn over the pelvic area, circling the waist and splitting to cover the upper part of the legs, sometimes extending down to the knees but not covering the entire length of the leg.
2. Styling a straw hat with a sundress or jumpsuit for garden parties or weddings
· With Jumpsuit: a one-piece item of clothing that serves the purpose of acting as a top and a bottom. Essentially, it is a top connected to a pair of women's pants. Since it has long material covering the legs instead of shorts, it can be worn during all seasons, providing it's made of the right material.
A light, calm, and soft straw hat is a stylish option for the outdoor activities because it adds a neutral touch to the brighter colors of all these events. Don't be afraid to play with different styles. Overall, this outfit is balanced and fun. Remember your straw hat when putting together your daily outfits.
IV. Straw Hat Maintenance and Care
Straw hats are a great headwear buddy for any season and occasion, but they require special care to keep them looking their best. Here are a few tips on how to maintain and care for your straw hat.
· Clean your hat regularly with a soft brush or cloth to remove dirt and sweat.
· Store your hat in a cool, dry place away from direct sunlight.
· For more stubborn stains, use a mild detergent and water to gently scrub the hat.
· When not in use, stuff the hat with a soft material like tissue paper or cloth to help it retain its shape.
· If your hat becomes misshapen, you can use steam or a hair dryer to reshape it.
· Don't forget to use a hat protector to keep your hat looking good for longer.
Make sure you follow these tips to make sure your hat still looks great even for the years to come.
V. Summary
A straw hat symbolizes a carefree and relaxed attitude. It can also be seen as a sign of good luck and prosperity.
When it comes to wearing a straw hat, think beachy, summer styles (just like we shared in this article), and avoid pairing your straw hat with formalwear.
When it comes to winter wear, straw hats aren't your best bet. They are designed to keep the head cool while providing protection from sun rays so they won't be great for keeping your head warm and toasty.
All in all, I hope this guide on how to wear a straw hat can give many outfit ideas and inspired you!
Let us know in the comments what are your favorite hat styles are and which of the many outfits with hats above is your favorite? Share your ideas about your ideal straw hat styles in the comments!