Patagonia, Inc. is an American retailer of outdoor clothing. It was founded by Yvon Chouinard in 1973 and is based in Ventura, California.
Patagonia started selling corduroy shorts and rugby shirts in the U.S. to climbers looking for sturdier fabrics for their sport. A trip to Scotland in 1970 inspired the rugby shirts of the brand's beginning which caused Patagonia's founder Yvon Chouinard to begin importing styles from the U.K. and New Zealand
1. Product
Product categories includes women's hats & accessories, men's hats & accessories, girls' hats, gloves & more, boy's hats, gloves & more.
Men's part includes Men's Microdini 1/2-Zip Fleece Pullover Men's Microdini Fleece Hoody, Men's Reversible Shelled Microdini Jacket, Men's Organic Cotton Corduroy Jeans – Regular, Men's Better Sweater® Fleece Vest, Men's Recycled Cashmere 1/4-Zip Sweater etc.
Women's part includes Women's Lightweight Synchilla® Snap-T® Fleece Pullover, Women's Los Gatos 1/4 -Zip, Women's Better Sweater Vest, Women's Retro Pile jacket, Women's R1* Air Zip-Neck etc.
Kid's & Baby part includes Baby Synchilla® Jacket, Baby Reversible Beanie, Kids' Downdrift Parka, Kids' Down Sweater, Baby Lightweight Crew Sweatshirt etc.
Also, they have other parts includes packs & gear, web special, waders, wetsuits, sleep bags, etc.
For hats, Patagonia hats for women are made out of two different materials: down and PrimaLoft. Down is a type of feathers that is taken from ducks or geese. It has a high warmth-to-weight ratio, meaning that it will keep you warm without being bulky. PrimaLoft is a synthetic insulation that is made to feel and perform like down.
Source: official website
2. Price
Most hats sell for $50
3. Where are Patagonia hats made?
Most in Vietnam and China.
4. History
Patagonia was founded in 1973 in Ventura, California, where the headquarters remains. Patagonia, the mountainous region in South America, is what inspired the brand's name.
With its origins in climbing, the brand has now expanded its focus to include other silent sports (no engine required) such as snowboarding, skiing, mountain biking, fly fishing, surfing, and trail running. Retail stores offer customers a service to recycle their old polar fleeces, including brands that are not Patagonia.
Yvon Chouinard is still the owner of the entire brand with his wife.
Patagonia's mission statement is "We're in business to save our home planet."
In 1994, the decision to switch to organic cotton was made, and the first all organic cotton line was introduced to consumers in 1996. All cotton used in the company since then has been organic.
Patagonia employees are given opportunities to be involved in environmental projects, including an annual community Salmon Run, bike-to-work-week, and a company-expensed trip to Chilean Patagonia to help develop Chile's soon-to-be newest national park by restoring a former sheep ranch.
In 1988 the company began its first environmental campaign, which encouraged the de-urbanization of Yosemite Valley and has continued every year to educate on a specific environmental issue. The brand continuously adds new environmentally friendly fabrics into its supply chain, including hemp and fabrics created from recycled plastic.
Patagonia goes a long way to providing quality eco-friendly, sustainable products, and many other major fashion labels have since adopted many of the companies principles.
5. Where to buy Patagonia hats?
You can shop on their official website: https://www.patagonia.com/home/;
Or you can shop on Amazon:
https://www.amazon.com/patagonia-hats-men/s?k=patagonia+hats+for+men
6. Data of Patagonia
Headquarter: 259 W Santa Clara St, Ventura, California, 93001, United States
Phone Number: (805)643-8616
Revenue: $1B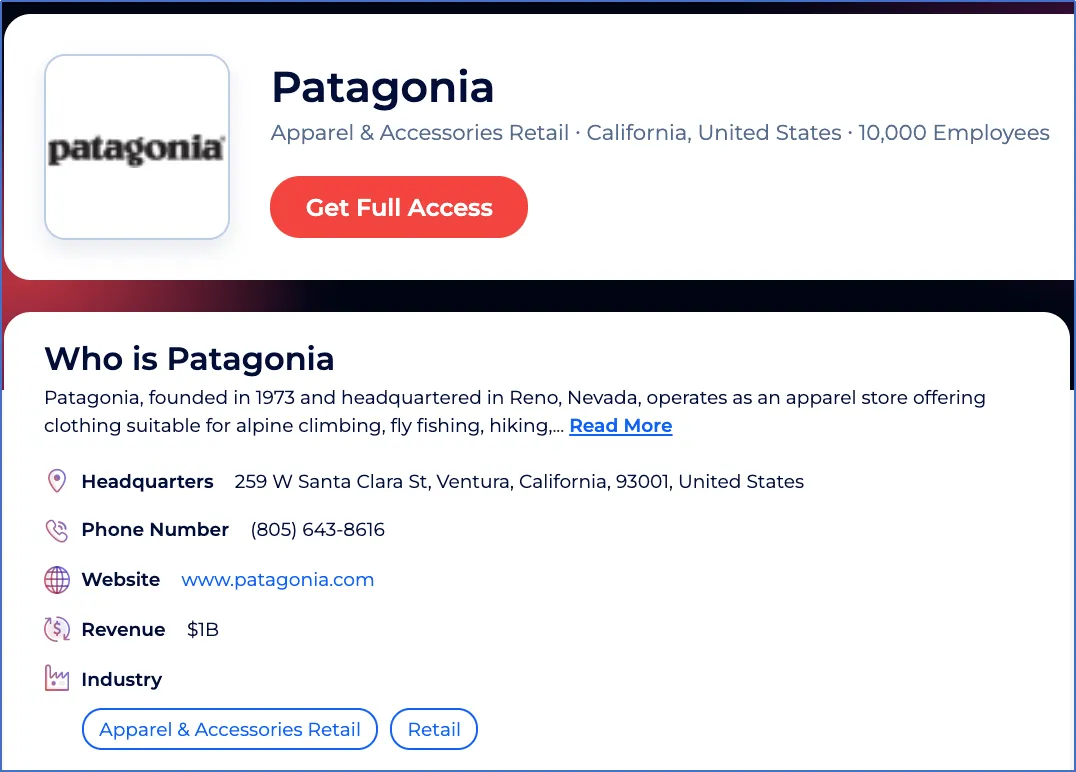 Any new ideas, let me know.