1. Introduction
Moncler, an abbreviation of Monestier-de-Clermont, a mountain village near Grenoble, was founded in 1952 by René Ramillon and Andrè Vincent.
Now renowned for their quilted jackets, the pair originally produced quilted sleeping bags and tents which took off as mountain holidays began to take hold on the public.
The Italian fashion brand announced in 2018 the establishing of the Moncler Genius collection – which sees hyped collections with new designers released on a rolling schedule.
Official Website: https://www.moncler.com/en-us/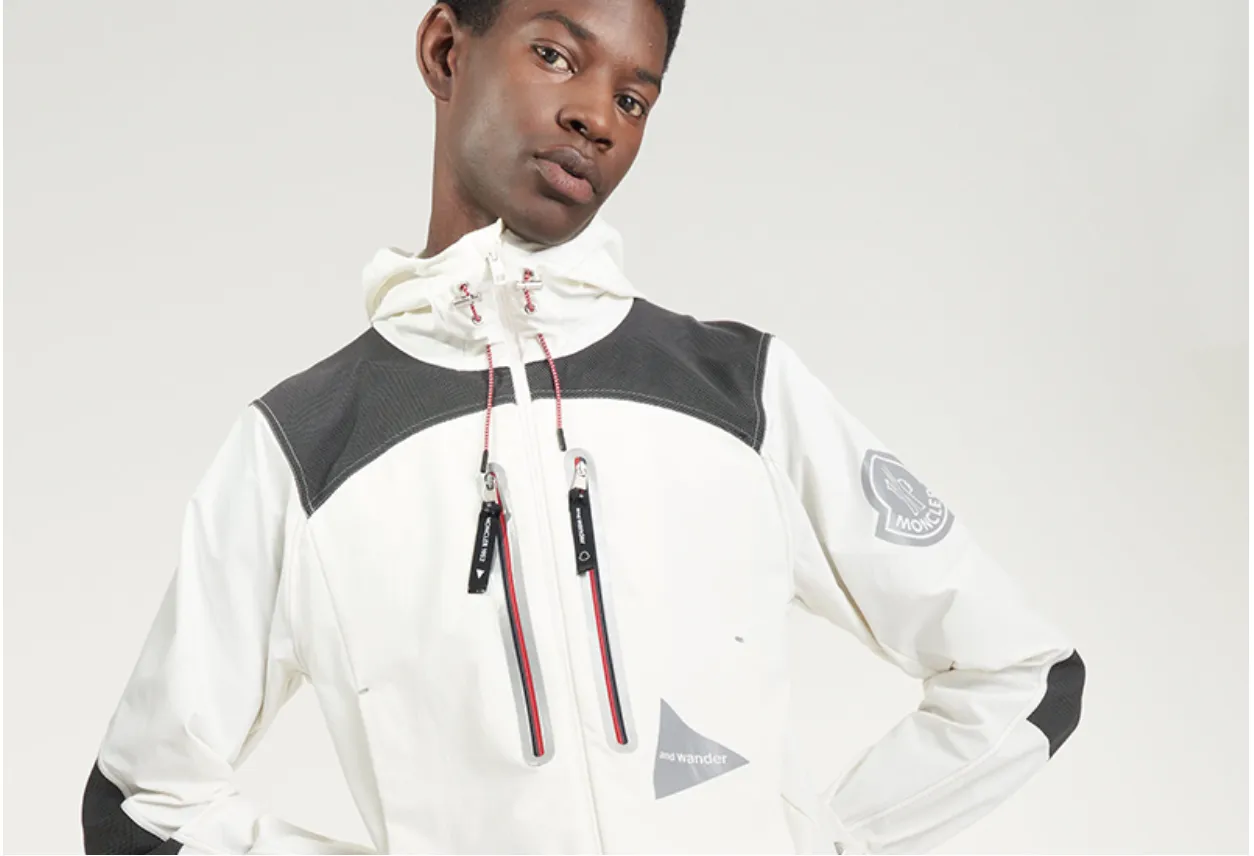 2. Product
Source: official website
Products are various. Diversified products give life multiple possibilities, adding wonderings and colors to daily life.
Basic categories are latest, men's, women's, children's, shoes, and collections.
Latest products include Just Landed (new in for him, new in for her, Moncler * Alicia Keys, Moncler by Me, Mother's Day, Born to Protect, SS23 Collection), Moncler Curators (Shaun White, Nigel Sylvester), Stories (Moncler Summer with Imruh Asha, Moncler * Alicia Keys, Moncler Grenoble SS23, TECHUNTER * Trailgrip, Moncler Grenoble), etc.
Mens products includes Outwear(all down jackets, short down jackets, lightweight down jackets, vests, windbreakers&raincoats, coats & jackets), ready-to-wear(polo & T-shirts, sweaters & cardigans, sweatshirts, pants & shorts, tracksuits, swimwear), shoes(sneakers, boots, sandals & sliders), accessories(hats & beanies, bags & trolleys, scarves & gloves, small accessories, shoes, perfumes, sunglasses, dog coats & accessories), moncler grenoble(outdoor, mid & base layers, ski jackets, ski pants, apres ski, ski & outdoor accessories), moncler genius(mocler * alicia keys, 1 moncler JW Anderson, moncler + poldo dog, couture), highlights(new in, icons, online exclusives, moncler by me, spring/summer, born to protect), etc.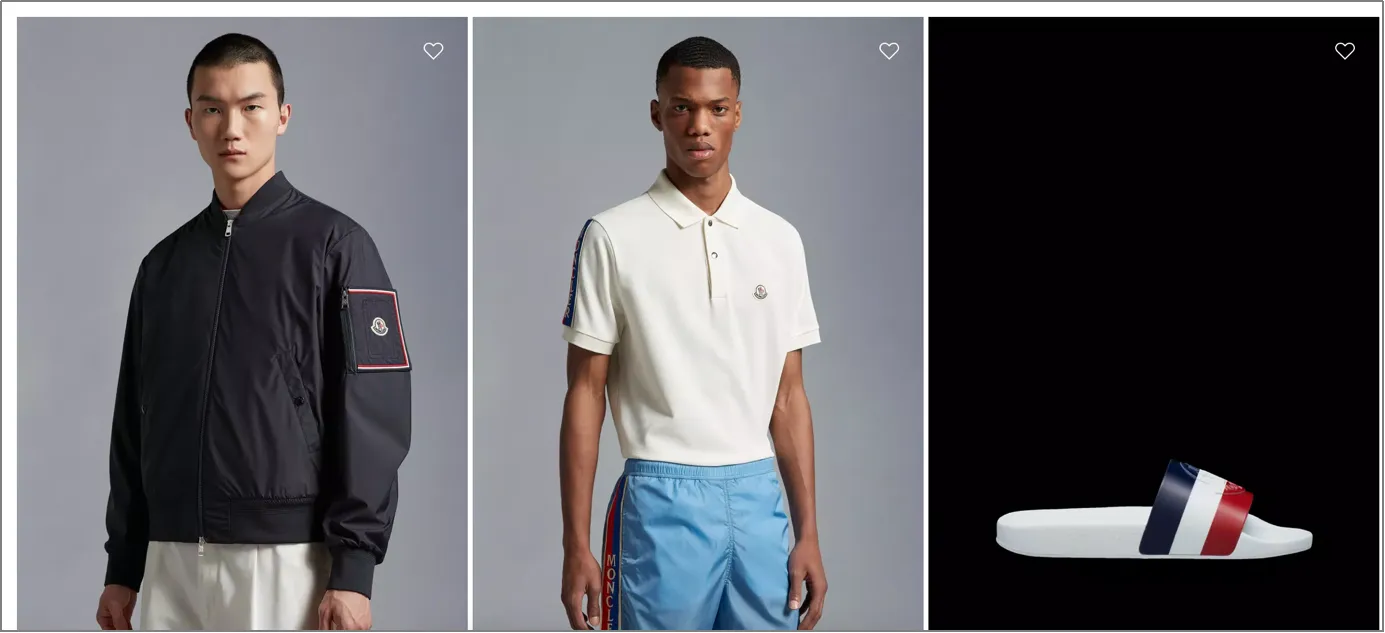 Women's products are similar.
Children's products include boys 4–14 years (down jackets & vests, jackets & raincoats, sweatshirts & knitwear, polo & T-shirts, pants & tracksuits, accessories &shoes), baby boys 3–36 months (outwear, clothing, accessories, gifts), girls 4–14 years, baby girls 3–36 months, Moncler Grenoble for children (skiwear, ski accessories), highlights (new in, icons, online exclusives), etc.
Qualified products are the hallmarks of the company, and Moncler's ability to produce quality products is a testament to the strength of this brand.
3. Product Feature
Moncler is a luxury fashion brand that specializes in high-end outerwear. The brand is known for its high-quality materials, innovative designs, and attention to detail.
Moncler jackets are made with premium down insulation, which provides exceptional warmth and comfort in cold weather. The jackets are also water-resistant and windproof, making them ideal for outdoor activities. Moncler jackets come in a range of styles, from classic puffer jackets to sleek, modern designs.

The brand also offers a range of accessories, including hats, scarves, and gloves, to complete your winter look. With its commitment to quality and style, Moncler is a top choice for anyone looking for premium outerwear.
Moncler hat is a high-quality winter accessory that is designed to keep your head warm and stylish during the cold season. It is made from premium materials such as wool, cashmere, and fur, which provide excellent insulation and comfort.
Moncler hats come in various styles, including beanies, bucket hats, and baseball caps, and are available in different colors and patterns to suit your personal style. They are also lightweight and easy to pack, making them perfect for travel. Moncler hats are a must-have for anyone who wants to stay warm and fashionable during the winter months.
4. Price
Source: official website
Most hats sell for around $ 200.
5. History
In 1954, Moncler creates its first down jackets.
French mountaineer Lionel Terry inspires the company to create a special range, Moncler pour Lionel Terry, a collection of down jackets, salopettes, gloves and sleeping bags to protect against the harsh climates. Moncler down jackets are chosen to equip Italy's expedition to K2.
In 1980, Moncler jackets as we know them enter into the scene. Designer Chantal Thomass works alongside the company to bring a reworking to the classic down jacket. The zips are replaced with buttons and exciting colors are introduced along with fur trims, satin and reversible fabrics.
In 2006, Moncler launches the Haute Couture Moncler Gamme Rouge collection fronted by Alessandra Fachinetti and later Giambattista Valli.
2017-2018. Moncler ends the Gamma Bleu and Gamma Rouge collections.
Moncler launches the Moncler Genius collection. The project has no single creative director but instead asks multiple designers to create their own individual collections released almost monthly.
2021-2022, Moncler to Phase out Animal Fur by 2024. Inter Milan Football club partners with Moncler. Moncler drops an icy cool collab with evian.
6. Where to buy Moncler hats
You can shop on their official website: https://www.moncler.com/en-us/;
Or you can shop on Amazon:
https://www.amazon.com/Moncler-Hats/s?k=Moncler+Hats
7. Data of Moncler
Moncler is renowned for being the most luxurious fashion brand in the outerwear market, which means its jackets are cut slimmer and sharper than its more functionality-focused counterparts like Canada Goose.
As for this brand, any new ideas, let me know.