If you're headed to a sunny destination, taking precautions against the sun's rays is incredibly important. You don't want to get burnt or catch a case of sunstroke.

In this case, a lifeguard straw hat can help you. I will show you the details about it in this article.
1. What is a lifeguard straw hat?
Lifeguard straw hat, its classic lifeguard design, features a cattleman crown, wide down-sloped brim, and adjustable toggle chin cord to help during high-wind conditions.
Straw lifeguard hats for men are perfect for hiking, hanging out by the beach or swimming pool, outdoor music festivals, fishing, and gardening.
1)What do male lifeguards wear?
Basic apparel for lifeguards consists of an approved lifeguard swimsuit for females and swim trunks or Bermuda shorts for males.
2)Do straw hats shrink?
Natural fibers in hats can cause gradual shrinking over time, especially if you ever have to wash them. Not to mention sweat, humidity, and weather all contribute to shrinking hat syndrome.
3)What hat does a lifeguard wear?
Our straw lifeguard hats for men draw inspiration from the East Coast surf and skate scenes. They are designed for the surf, beach, and gardening. A lifeguard straw hat provides perfect summer sun protection—a straw hat designed for adventurous people.
2. Material and Color for Lifeguard Straw Hat Manufacturing
There are three primary materials for making lifeguard straw hats: mat grass, hollow grass, and bull grass.
1)3 Kinds of Grass
Mat grass: commonly known as stone grass. The stem is erect, solitary, and thin columnar, without nodes, with degenerated leaves, and the branch is full of the white pith, rigid and elastic, suitable for matting.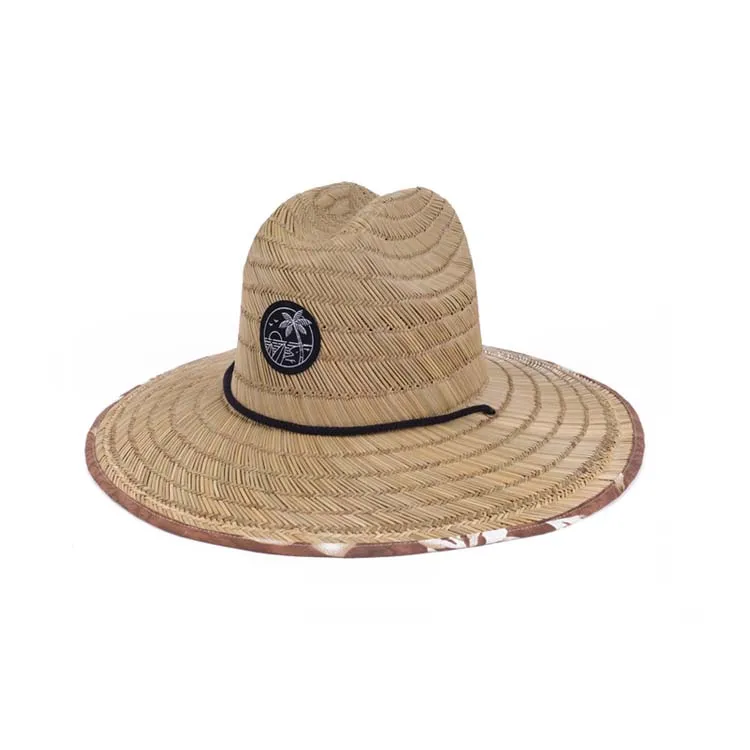 Hollow grass: Alternanthera philoxeroides, commonly referred to as alligator weed, is a native species to the temperate regions of South America; Stems are hollow. Its leaves are dark green with a distinct midrib, 2–12cm long, 0.5–4cm wide, arranged in opposite pairs along the stem.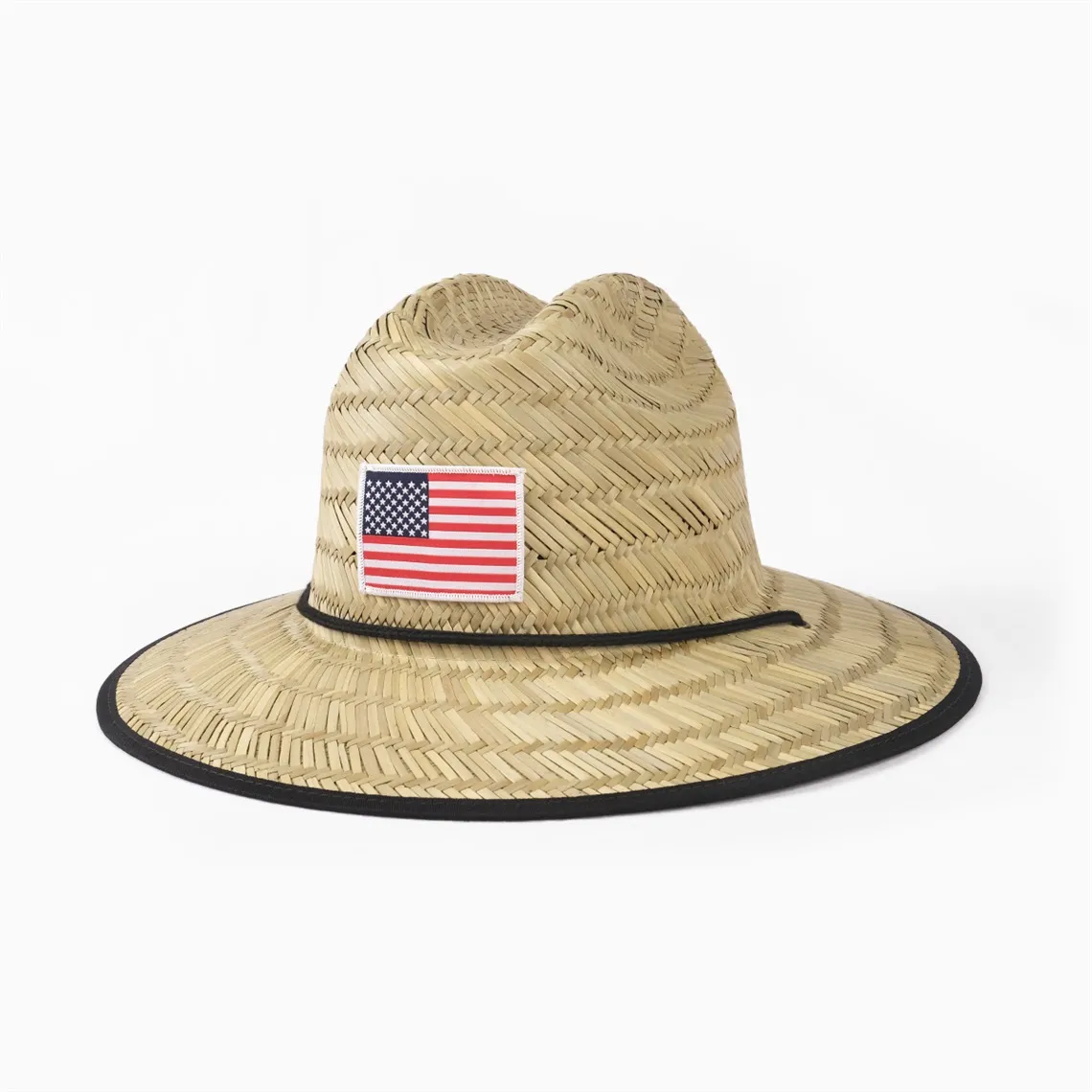 Bulrush: any of the annual or perennial grasslike plants constituting the genus Scirpus, especially S. lacustris, in the sedge family, that bear solitary or much-clustered spikelets. Bulrushes grow in wet locations, including ponds, marshes, and lakes.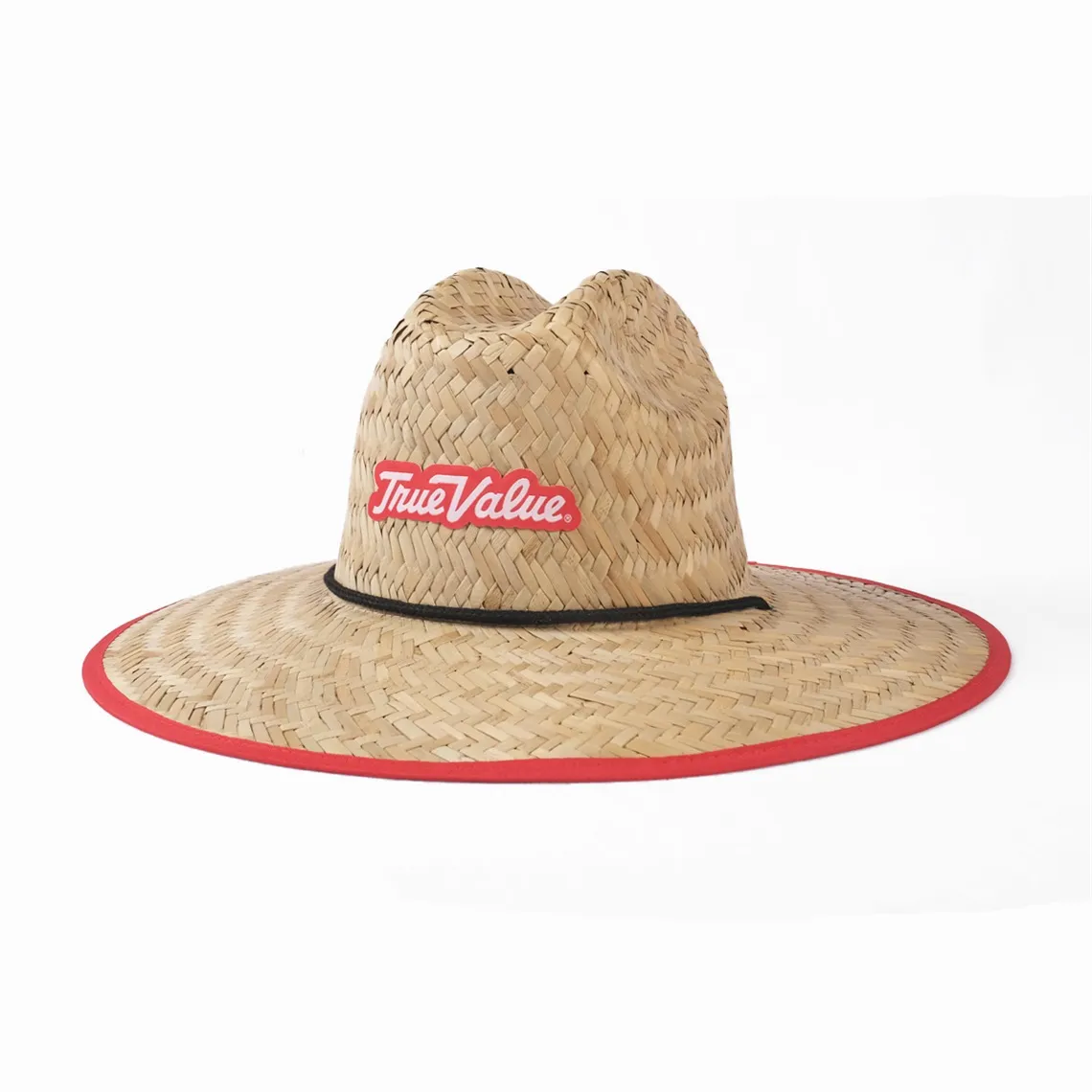 2)Color for beauty & fashion
For the lifeguard straw hat color, we mainly have three for you to choose from: beige, d.beige, and black.
Beige is light brown and often interchangeable with tan, light khaki, taupe, nude, and stone. It embodies the natural, simplistic, modern, chic, etc.
Black, in color psychology, means mystery, power, elegance, and sophistication.
The grass listed above can be dyed into coffee color and black. The problem with dyeing is that the grass is naturally dark and light, so the color is prone to have color differences after dyeing. Also, the grass will be easier to break after the dyeing procedure.
Color in art is a vast subject worthy of exploration. You've probably noticed that different colors affect your emotions consciously or subconsciously. A bright red painting will affect you differently than an excellent blue painting.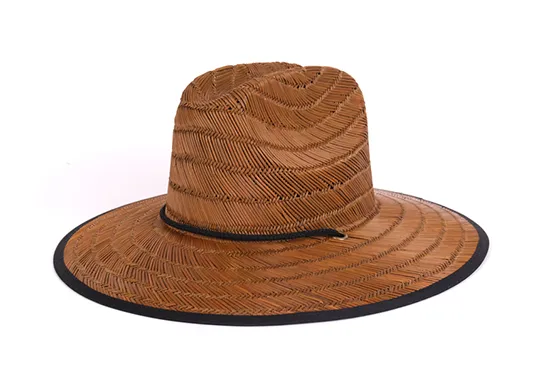 3. Why do You Need a Lifeguard Straw Hat?
"What you wear is how you present yourself to the world, especially today when human contacts are so quick. Fashion is instant language." A lifeguard straw hat is a brimmed hat woven out of straw or straw-like materials from different plants or synthetics. Not only are they stylish for fashion, but also they're protective and functional.
Benefits of a Lifeguard Hat
A proper Lifeguard Hat is one of your best tools to protect against the sun. Here are a few reasons you should buy a Lifeguard Hat today:
Protect Against Skin Cancer - Your skin is the largest organ in your body. It's also an organ that's constantly exposed to outside conditions.
Protect Against Anti-Aging - Dark spots and wrinkles can show up prematurely from too much exposure to the sun.
Protection for Your Eyes - You should always wear sunglasses as a Lifeguard to protect your eyes. However, wearing a hat gives your eyes an extra layer of shade is also essential.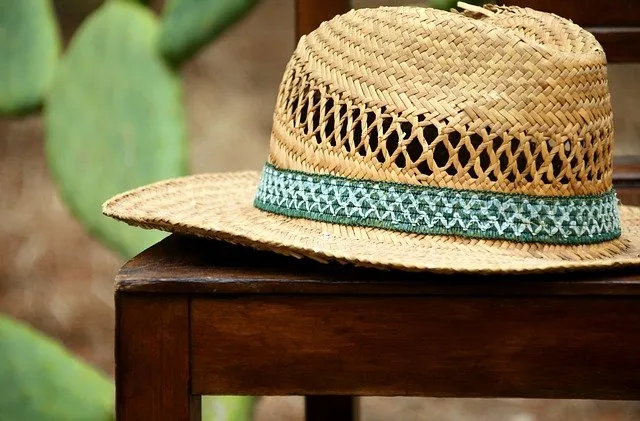 4. How to customize your style lifeguard hat?
Why choose Lifeguard Hats as your Top Hat choice? Because Men's Straw Sun Hats, Women's Summer Hats, and Floppy Sun Hats are always trending! Straw Lifeguard Hats are made with wide brims to ensure shady comfort, making this a perfect Summer Hat for any age.
The logo and under brim are the heart of what makes your straw hat unique.
You can choose different methods for the custom logo – Woven logo, Label logo, Patch logo.
For under brim, you can choose a different style: American flag, Flamingo, Pineapple, Coconut tree, Flower, Watermelon, Leopard, Camouflage, Solid color, etc.
They're also durable and comfortable to wear, making this a perfect Outdoor Hat choice when the goal is protecting one's face from the sun's harmful rays. Click to choose a more under-brim style: lifeguard straw hat under brim catalog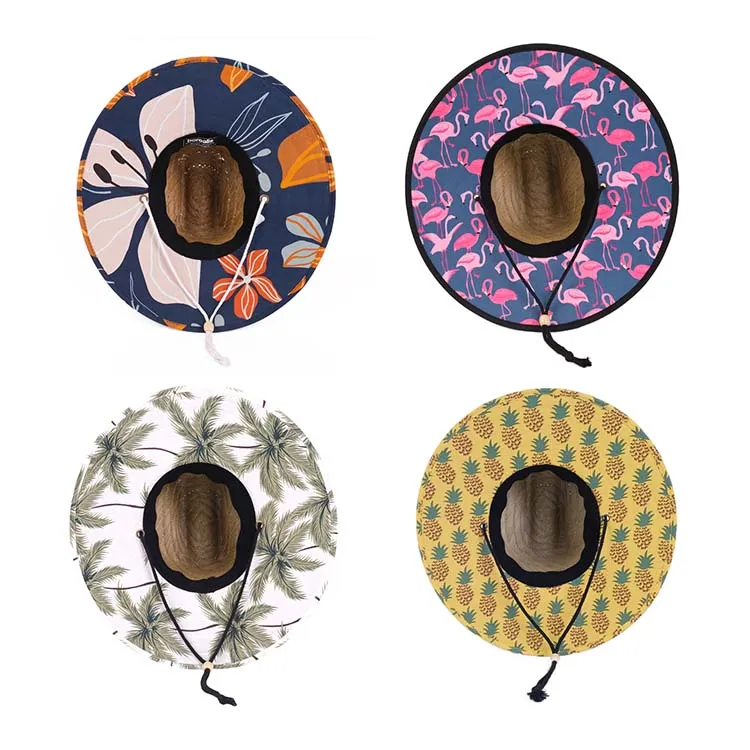 5. Tips for Straw Hat Care
STORE YOUR HAT IN A COOL, DRY PLACE - The fibers in your straw hat are vulnerable to extreme temperatures, so make sure not to leave it in hot places like your car in the summertime.
REST IT UPSIDE-DOWN - When setting your straw hat down, turn it upside down, so it rests on the crown. Placing your cap on a flat surface will cause it to bow in the front and back.
HANDLE WITH CARE - When holding your hat, do so only by the wings. If you grab it from the front or pinch the crown, this could cause the straw to break over time.
Know more about cleaning and storing straw hat: How To Clean And Store Your Straw Hat-The Ultimate Guide
6. Summary
Lifeguard Straw hats for men feature intricate braiding of 100% natural straw fibers. It has good breathability and air to flow, keeping you cooler on hot days and providing excellent facial protection, allowing you to stay comfortable in the sun.
All in all, this is the basics of a lifeguard straw hat, a necessary product for your swimming and life enjoyment.