1. Basic Introduction
Made locally in Minnesota, Coolibar was the first ethical sun-protective clothing company to receive the Skin Cancer Foundation's Seal of Recommendation.
Coolibar love living outside all year, biking, boating, running, climbing, swimming, water skiing, hiking, fishing, golfing, tennis, and snow, fearless when it comes to weather and so are UV rays. Their state ranks 4th in the nation for melanoma incidence, the deadliest form of skin cancer.
2. Products
All the products are categorized into 7 parts, new, women, men, kids & babies, UV swimwear, sun hats, and accessories.
Women's parts are tops, including tees and tops, polos, shirts, tunics, wraps, hoodies, and jackets; bottoms are pants and capris; skirts, skorts, and shorts; sun hats include buckets, caps, fedoras, flaps, floppy hats, and visors; swimwear includes swim shirts and rashguards; swimsuits, skorts, shorts, and tights; and swim hats. Also, they have scarves and bandanas, gloves and sleeves, plus size (tops, bottoms, dresses, swimwear, beach cover-ups), etc.

· Top: a piece of canvas used to cover the hammocks which are lashed to the top in action to protect the topmen.
· Bottom: an item of apparel (not an accessory) you wear on the bottom half of your trunk. Button-up shirts are tops.
· Swimwear: clothing suitable for wear while swimming or bathing.
· Swimhat: swim caps are worn for various reasons: they can be worn to keep hair out of the swimmer's face, reduce drag, protect hair from chlorine or sun damage, keep hair dry, keep the head warm, or (sometimes in combination with earplugs) to keep water out of the ears.
For accessories, they have ultimate coverage (covering the head, neck, torso, arms, and hands), kids and baby accessories, umbrellas, sun blankets and shawls, gloves and sleeves, neck garters and face masks, scarves, and bandanas.

· Umbrella: a folding canopy supported by wooden or metal ribs that are usually mounted on a wooden, metal, or plastic pole.
· Sun blanket: offers UPF 50+ sun protection, blocking over 98% of the sun's harmful UV rays.
· Shawl: a piece of fabric women wear over the shoulders or head or wrapped around a baby.
· Neck garter: neckwear, or an enlarged collar of a garment, that is worn around the neck for warmth.
· Scarf: a length or square of fabric worn around the neck or head.
· Bandana: a type of large, usually colorful square piece of cotton cloth that both men and women can wear. Bandanas are traditionally worn around the neck or head for protective or decorative purposes.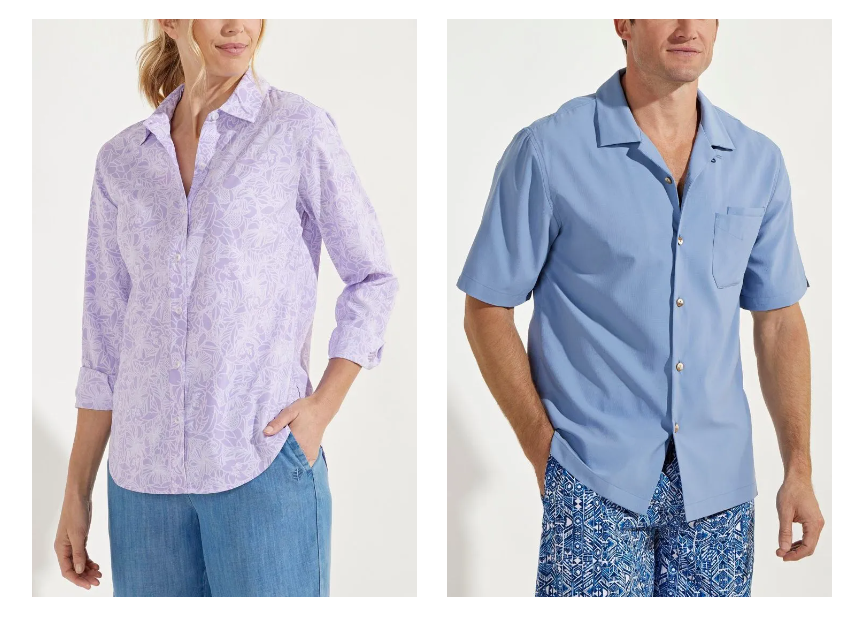 3. Product Feature
Coolibar is a renowned brand known for its exceptional sun-protective clothing and accessories. Here are some notable product features of Coolibar:
UPF 50+ Sun Protection: All Coolibar products are certified with a UPF (Ultraviolet Protection Factor) rating of 50+, which is the highest level of sun protection available. This means that the fabric used in Coolibar products blocks at least 98% of UVA and UVB rays, providing excellent protection for your skin.
Moisture-Wicking and Breathable: Coolibar designs its products with moisture-wicking properties to keep you cool and dry, even in hot and humid conditions. The fabrics used are breathable, allowing air to circulate and preventing overheating.
Lightweight and Comfortable: Coolibar products are made with lightweight materials that offer maximum comfort. They are designed to be non-restrictive, allowing for ease of movement and a comfortable fit.
Chlorine and Saltwater Resistant: Many Coolibar products are chlorine and saltwater resistant, making them perfect for activities like swimming, water sports, and beach outings. This ensures that the fabric stays in great condition even after exposure to harsh pool or ocean water.
Versatility and Style: Coolibar offers a wide range of sun-protective clothing and accessories for men, women, and children. Their products are designed with style in mind, offering a variety of colors, patterns, and trendy designs to suit different tastes and preferences.
Eco-Friendly Practices: Coolibar is committed to sustainability and eco-friendly manufacturing practices. They use fabrics made from recycled materials and follow responsible sourcing guidelines, reducing their environmental impact.
Durability: Coolibar products are designed to withstand the rigors of outdoor activities and frequent use. The high-quality construction and attention to detail ensure that the products last longer, providing excellent value for your investment. Whether you're looking for a sun-protective hat, shirt, swimwear, or accessories, Coolibar offers a range of products that combine style, comfort, and unmatched sun protection.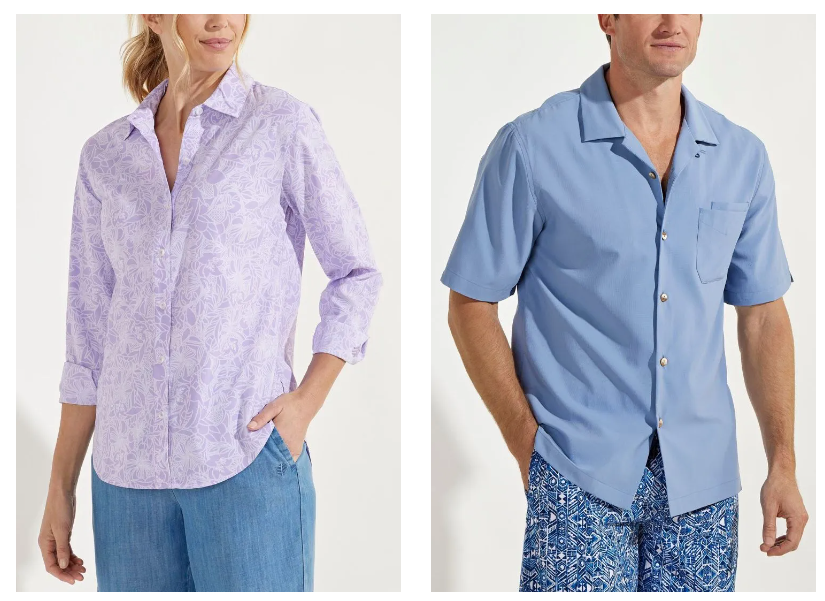 4. Mission
The mission is to keep the world safe from sun damage, protect those who suffer from sun-related medical conditions, and prevent everyone else from developing one. That's why they'll never compromise on protection. They'll never skimp on quality. They'll always test our fabrics for UPF 50+ protection like your life depends on it—because it does.
For more than 20 years they have developed the most technical, elegant sun protection. Coolibar is the first sun-protective clothing company to receive The Skin Cancer Foundation's Seal of Recommendation.
5. The world leader in UPF 50+ fabric technology
Their fabrics are rigorously tested and recommended by dermatologists worldwide. Coolibar's testing protocol combines multiple standardized tests that account for factors affecting the UPF rating of fabric during normal wear and washing including fabric weave, shrinkage, stretching, coatings, chlorine, salt water, laundry detergent, and color changes.
All the products meet or exceed regulatory law in the countries where Coolibar products are sold.
6. Why is Coolibar more expensive than other brands?
Coolibar was the first clothing company to receive The Skin Cancer Foundation's Seal of Recommendation. Their R & D team develops innovative, proprietary fabrics. We test more than any other brand and stand by their work. They infuse millions of sun-bouncing minerals at the fiber or fabric level, and they never wash out.
Coolibar also weaves the fabrics in such a manner that makes the fabric virtually impermeable to UV rays. When it comes to sun safety and sun protection, they believe saving money puts lives at risk. So, while you may spend more on our pieces, you'll be happy you did. They are designed to last and their fabrics are second to none.
· Summary
Summer is on!! One of the biggest reasons to wear a hat during the summer is to protect your face, shoulders, and upper body from the sun's harmful UV rays. Because more people spend time outdoors in the sun during this season, they also experience more exposure to ultraviolet radiation.
In addition to protecting the skin from harmful UV rays, sun hats can also help prevent other types of skin damage, such as sunburns, age spots, and uneven skin tone. By blocking the sun's rays, sun hats can help keep the skin looking youthful and healthy. And that's probably why the coolibar is important for your summer.
Hopefully, you can get some ideas from this article, and any questions, just comment below and let us know!!