In this article, we would introduce some knowledge related to Fanatics, as for its brands, products, history, price, other data as well, so let's get into it!!
Source: official website
1. Introduction
Fanatics is a leading global retailer of licensed sports merchandise, offering an extensive selection of products from all major professional sports leagues, as well as college and international teams.
With a mission to connect fans to the sports they love, Fanatics provides a seamless shopping experience through its online platform and brick-and-mortar stores. The company has partnerships with over 300 teams, leagues, and events, and is known for its innovative approach to fan engagement and customer service. Whether you're a die-hard fan or a casual spectator, Fanatics has something for everyone.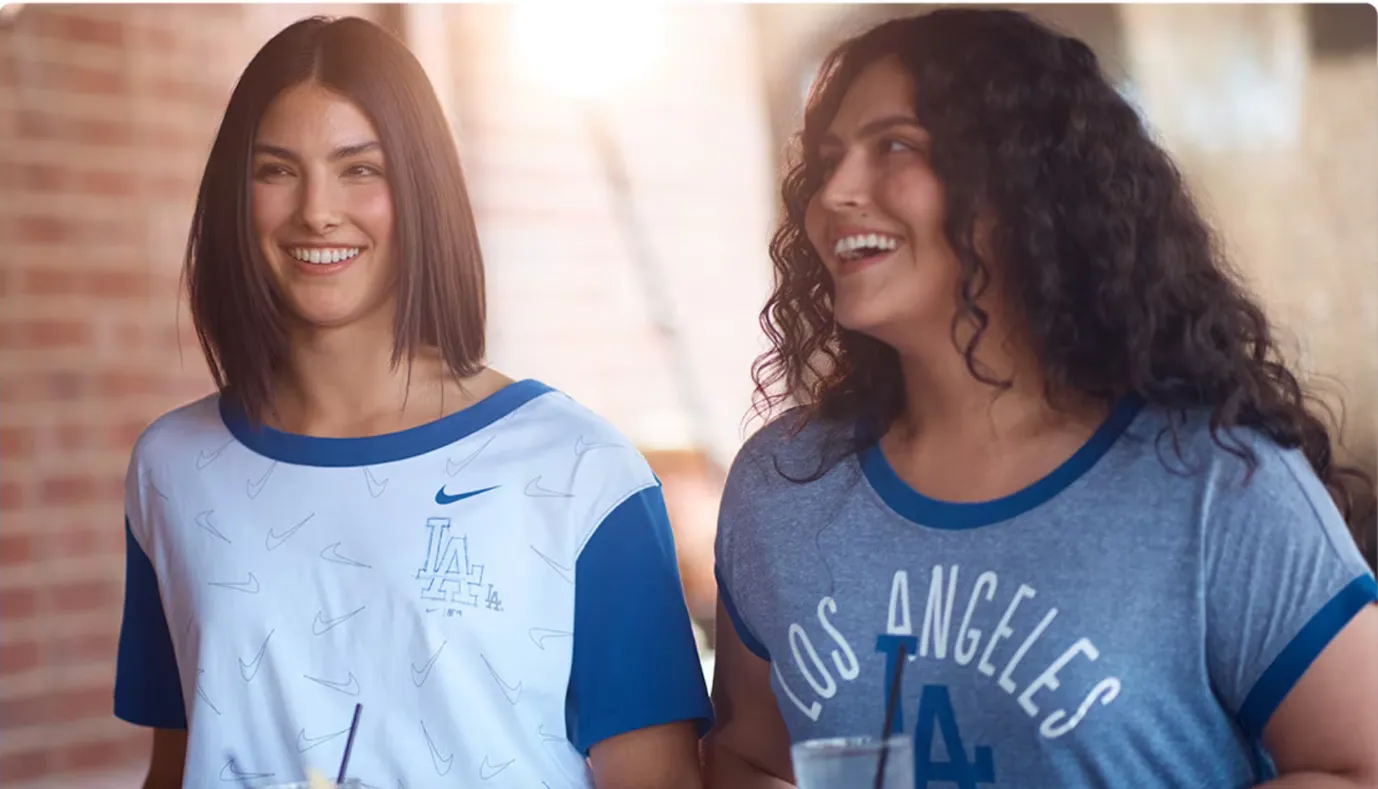 Also, Fanatics is one of the world's most transformative companies, which over the past decade has implemented a revolutionary vertical commerce model, cutting-edge tech platform and agile supply chain to morph from a North American e-commerce vendor into a new breed of mobile-first consumer brand: part tech company, part on-demand manufacturer and part logistics expert.
With more choices at the fingertips of consumers than ever before, Fanatics is building the leading global digital sports platform to create interactive, lasting fan experiences which also helps partners establish better direct-to-consumer relationships in today's highly competitive world.
2. Products
Headwear are categorized into different parts, NFL, COLLEGE, MLB, NBA, NHL, NASCAR, SOCCER, GOLF, WWE, MORE, SALE, PLAYERS.


· On NFL. There're Arizona Cardinals, Atlanta Falcons, Buffalo Bills, Chicago Bears, Green Bay Packers, etc.
· On COLLEGE. There're Air Force Falcons, Alabama Crimson Tide, Arizona Wildcats, Georgia Bulldogs, etc.
· On MLB. There're Arizona Diamondbacks, Atlanta Braves, Boston Red Sox, Los Angeles Angels, San Diego Padres, etc.
· On NBA. There're Atlanta Hawks, Indiana Pacers, LA Clippers, Orlando Magic, Phoenix Suns, Chicago Bulls, etc.
· On NHL. There're Anaheim Ducks, Arizona Coyotes, Boston Bruins, Buffalo Sabres, Los Angeles Kings, etc.
· On NASCAR. There're 23XI Racing, Akinori Ogata, Alex Bowman, Aric Almirola, Bill Elliott, Brain Scott, etc.
· On SOCCER. There're AllStarMLS, Austin FC, CF Montreal, Charlotte FC, Chicago Fire, Nashville SC, etc.
· On GOLF. There're 3M Open, Courses, Curtis Cup, TPC Jasna Polana, TPC Louisiana, LPGA, The Honda Classic, etc.
· On WWE. There're AJ Styles, Asuka, Bray Wyatt, Sami Zayn, The Miz, Logan Paul, Brock Lesnar, etc.
· On MORE. There're Arena Football, NHRA, Olympic, Tennis, Vintage Hockey, WNBA, World Baseball Classic, etc.
3. Brand History
What began as a single e-commerce deal in 2002 has grown into a full-scale global digital sports platform and globally recognized consumer brand that is focused on serving more than 90 million fans and over 900 leading sports properties.

In 2002, Michael Rubin's GSI Commerce secured its first e-commerce deal with NASCAR. Nine years later – with e-commerce rights from all North American sports leagues now within GSI – Rubin acquired Fanatics, a Florida-based sports retailer which had an e-commerce presence across college and professional teams, and merged these new assets into GSI in 2011.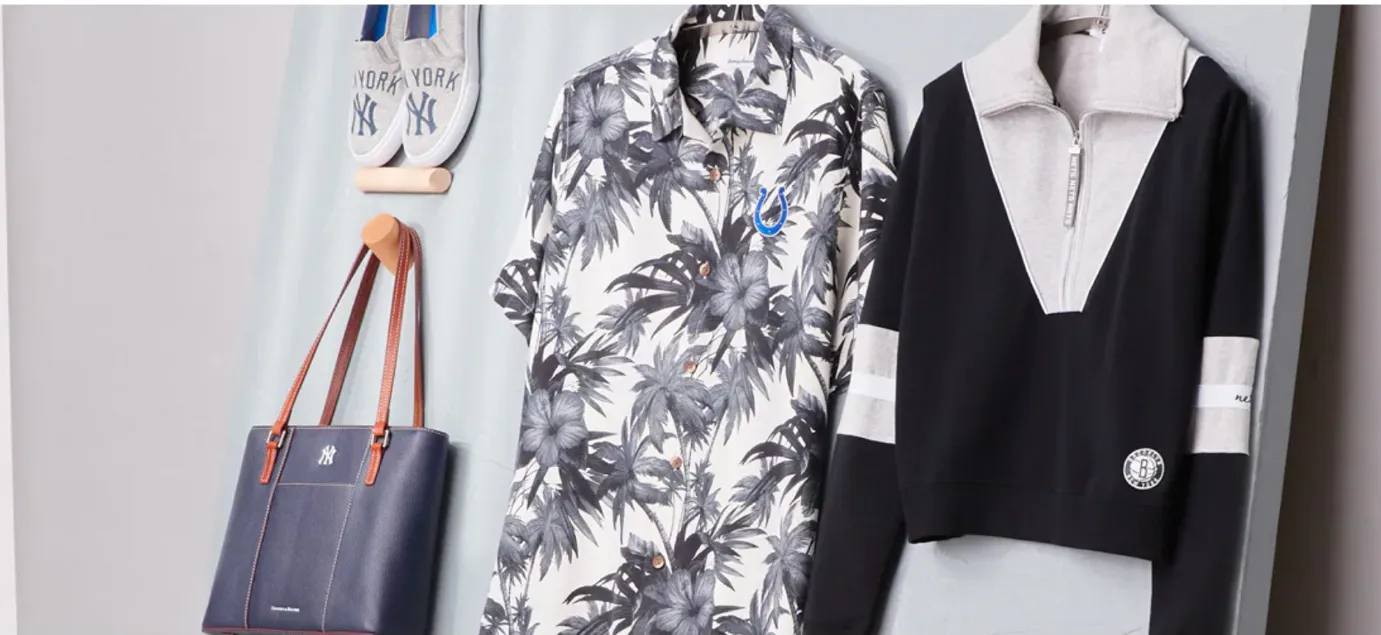 Additionally, Fanatics has prioritized growing the overall share of closet and 7-days-a-week style options by pioneering a robust "Better Brands" merchandise strategy. These include fashion-forward and lifestyle-driven partnerships with the likes of Vineyard Vines, WEAR by Erin Andrews, Tommy Hilfiger, Darius Rucker, DKNY Sport, and more.
In 2020, Fanatics tapped further into the rich college landscape through a breakthrough deal with Barnes & Noble Education (BNED) and Lids, a leading brick-and-mortar sports retailer which is partly owned by Fanatics. Through this unique arrangement, the scale of Fanatics' network grew as the company acquired rights to power the fan apparel experience across more than 750 BNED online bookstores.
As for its mission, Fanatics fosters an environment where everyone experiences a sense of belonging and connection, where they are seen, heard, and valued.
4. Data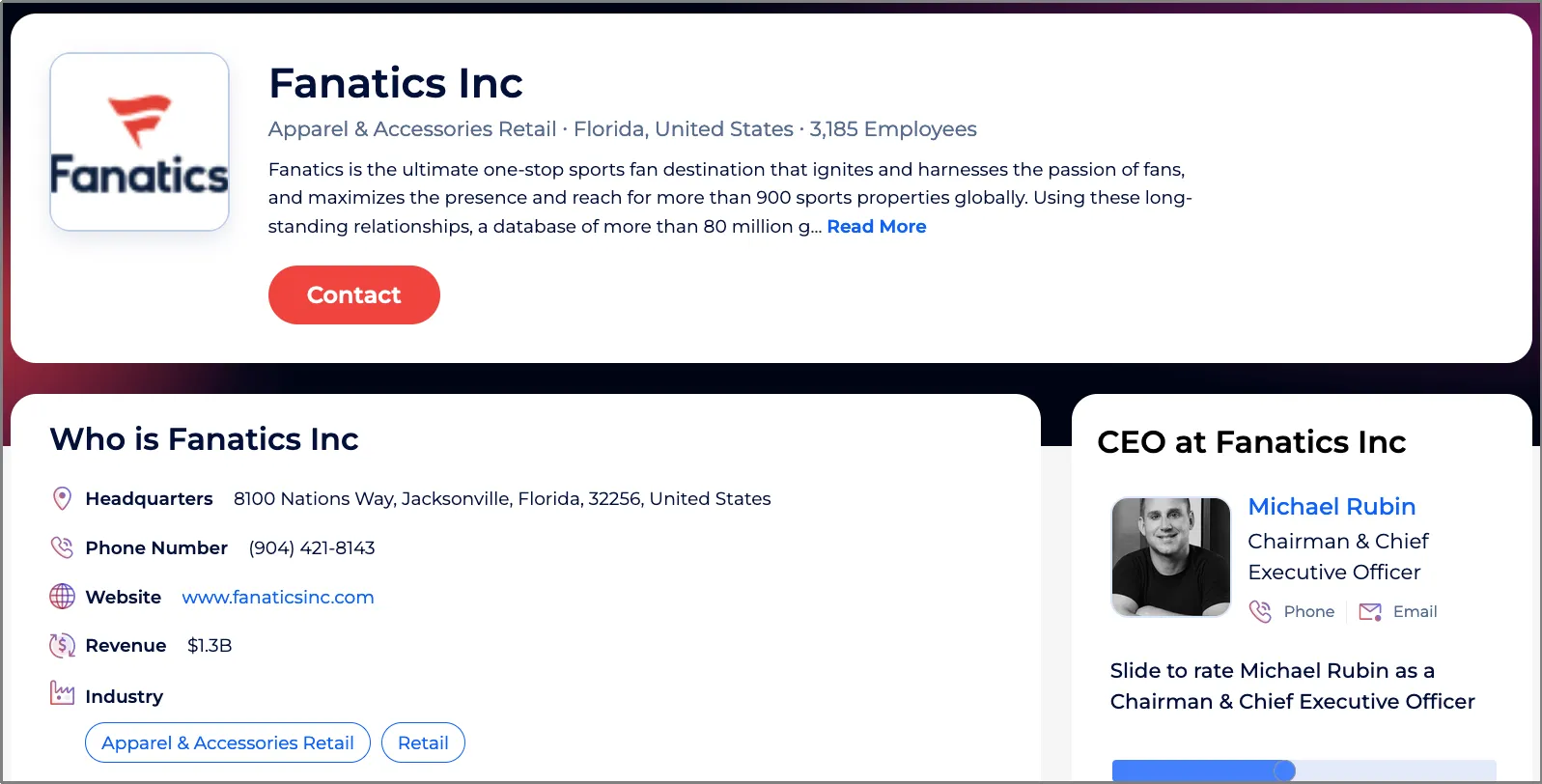 Source: zoominfo
Headquarters: 8100 Nations Way, Jacksonville, Florida, 32256, United States
Phone Number: (904) 421-8143
Website: www.fanaticsinc.com
Revenue: $1.3B
That's all for today's article. Do you like it?