As we all know, fashion is always predicted in advance. PANTONE, the world's most authoritative color agency, recently released its representative color for 2023. For 2023, Pantone picked "Viva Magenta" as the year's color.

For today's article, we will introduce knowledge related to Viva Magenta and how to use it to design hats.
1. What is Viva Magenta?
Viva Magenta 18-1750 vibrates with vim and vigor. It is a shade rooted in nature descending from the red family and expressive of a new signal of strength. The Pantone Executive Director stated that the color of the year 2023 expresses strength, fearlessness, and bravery and promotes "a joyous and optimistic celebration."

According to the official Pantone Colour Institute website, Viva Magenta is 'brave and fearless, a pulsating color whose exuberance promotes optimism and joy.' PANTONE 18-1750 Viva Magenta welcomes anyone and everyone with the same verve for life and rebellious spirit. It is a color that is audacious, full of wit, and inclusive of all.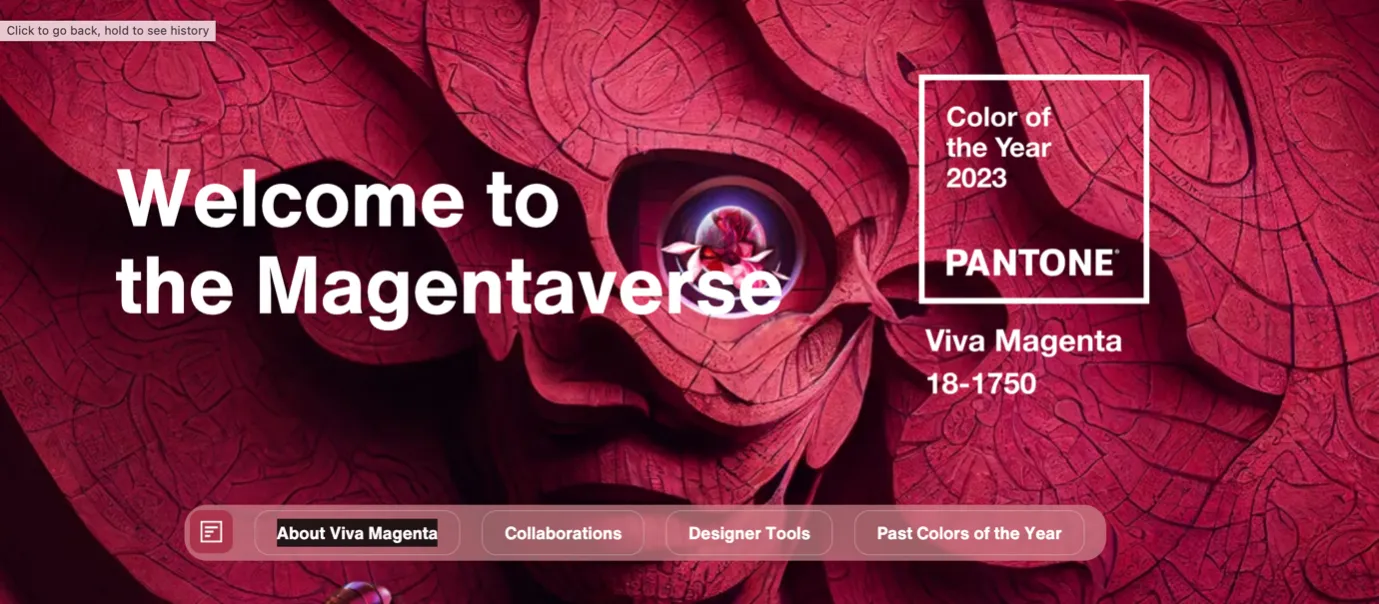 Color Hex Code
Viva Magenta color hex code is #BB2649 with RGB equivalent (187, 38, 73). It can be applied to web pages with its hex, RGB, or HSL values. The CMYK values of this color are not available on the Pantone website, and the ones listed on this page have been calculated from the hexadecimal code.
Differentiation
What distinguishes this year's Color of the Year from last year's — PANTONE 17-3938 Veri Peri, which also married the technical with nature — is Viva Magenta's ability to answer our collective need for strength.
Color Meaning
Viva Magenta offers us the assurance and motivation to weather long-term disruptive events. We need to heal three years deep into a pandemic, facing a war, an unstable economy, social unrest, supply chain breakdowns, and mounting climate change. And still, we need to find the motivation to continue. Here, Viva Magenta cloaks us in power and grace and sends us out into the world with the verve we've yearned for.

2. Product Examples
Color needs to be combined with products to achieve reasonable application and show its energy. Viva Magenta is a red that strikes a balance between warm and cool; it's not too harsh for the body. Instead, it brings a fun, celebratory element. In the beauty industry, Pantone sees the Color of the Year worn in the hair, especially on tips, a bold look that can transform hair into an accessory. Viva Magenta also shines on lips, cheeks, and nails. This versatile shade is flattering across ages, genders, and skin tones.


Source: Pantone official website
Viva Magenta in Home and Interiors
Daring designers can harness the full power of the Color of the Year as a velvet couch or lacquered wall. Those who desire a more neutral home can use it as a pop of color. As a sculptural Murano glass lighting fixture, a unique ikebana floral arrangement punctuating an all-neutral dining room, or a glowing abstract canvas or NFT projection in a white entryway, Viva Magenta packs a lot of drama in a small dose.
Viva Magenta in Graphic Design
Today's consumers spend large portions of their days looking at a screen where the visuals tend towards pale and neutral. Designers looking for a color that cuts through this space will find the Color of the Year 2023 a captivating solution. A brand using Viva Magenta expresses that it's fearless, engaging, and looks at the world unconventionally to bring about new solutions.
Viva Magenta in Packaging and Plastics
Brands wanting to appear animated and passionate can use Viva Magenta to elicit a strong consumer reaction. Because reds are advancing colors, they draw the eye and muscle out the colors surrounding them. Whether consumers are scrolling on their phones or browsing the aisles, tapping into the Color of the Year 2023 will ensure you stand out.
3. What is Pantone Color?
Pantone provides a universal language of color that enables color-critical decisions through every stage of the workflow for brands and manufacturers.
Over 10 million designers and producers worldwide rely on Pantone products and services to help define, communicate and control color from inspiration to realization – across various materials and finishes for graphics, fashion, and product design.
Pantone's annual color choice is not created out of thin air but based on color psychology, industry research, extensive data analysis, and other comprehensive consideration of the final decision.
Pantone's general manager Portsky said: 'The company's color research experts will also pay special attention to the social function of color, as well as the impact of color on a global scale. '
Pantone's annual color, as the direction of the trend and the representative of the social mood, has a vital topic and social attributes, but also many brand marketing color pointers.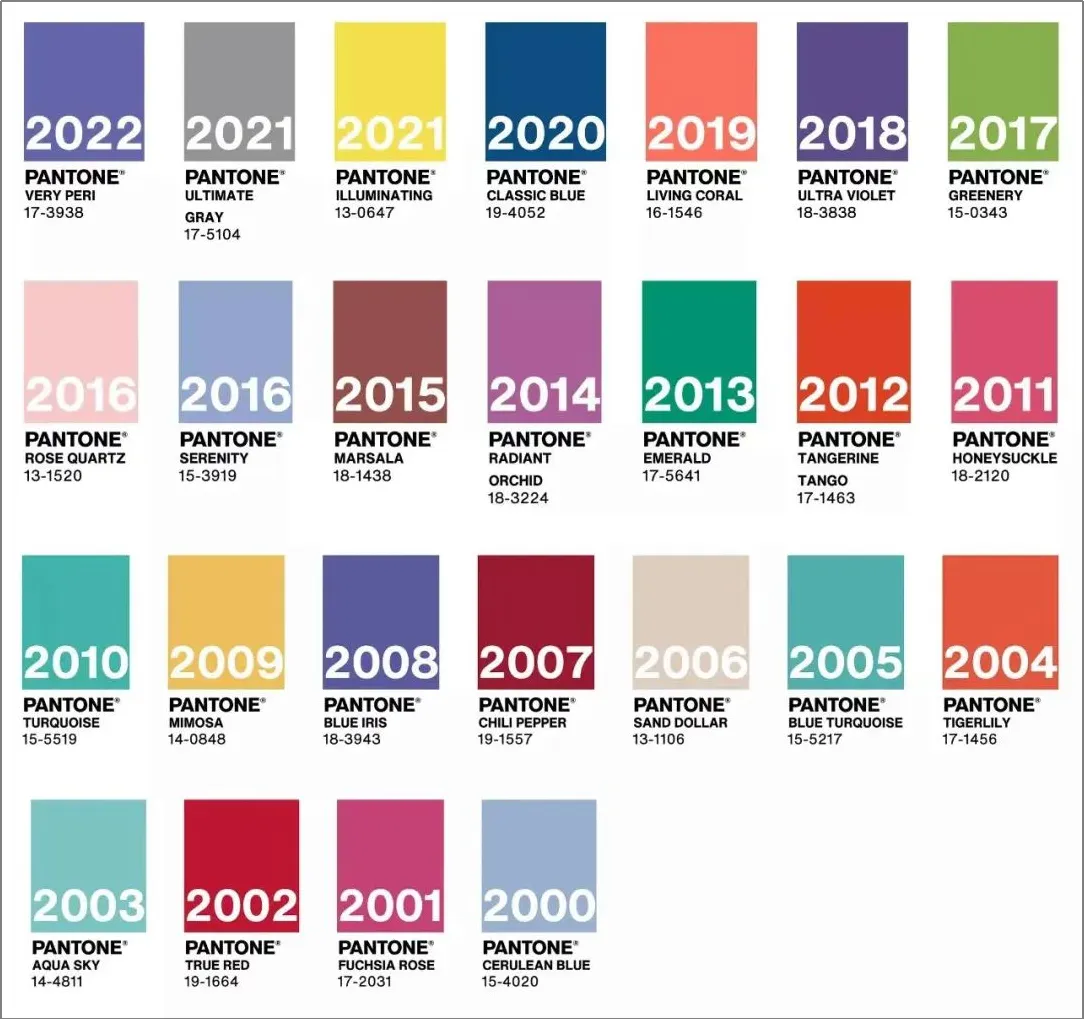 Since the publication of the first popular color in 2000, Pantong has not only achieved extreme color marketing. Pantone also maximizes the commercial value of color.
For example, Pantone had a joint name with the brand. In collaboration with INTIMINA, a Swiss women's care brand, a new color designation, Period, was designed and launched.
Menstrual red ( Period ) is a bright red representing healthy menstruation, full of confidence, vitality and adventurous spirit, advocating people to treat this natural physiological phenomenon usually. After a popular color is released, consumers will be more or less influenced by color preferences under the joint action of brands and institutions. Behind the annual color is successful color marketing.
However, the influence of Pantone's annual color in the past 20 years has indeed crossed the design community and has become the focus of many fields in various industries.
However, Panton's prediction may mean something other than that the color will be popular as Panton predicted before 2021. The popular color is yellow and gray, but 2021 Klein blue and lavender purple flame.
4. Which Hat is Suitable for This Color?
Viva Magenta is more suitable for sports hats, felt hats, beanies, and berets. Supplement the beanie content.
Felt caps, flakes made of animal hair or chemical fibers, can be used as cold-proof supplies and industrial padding materials.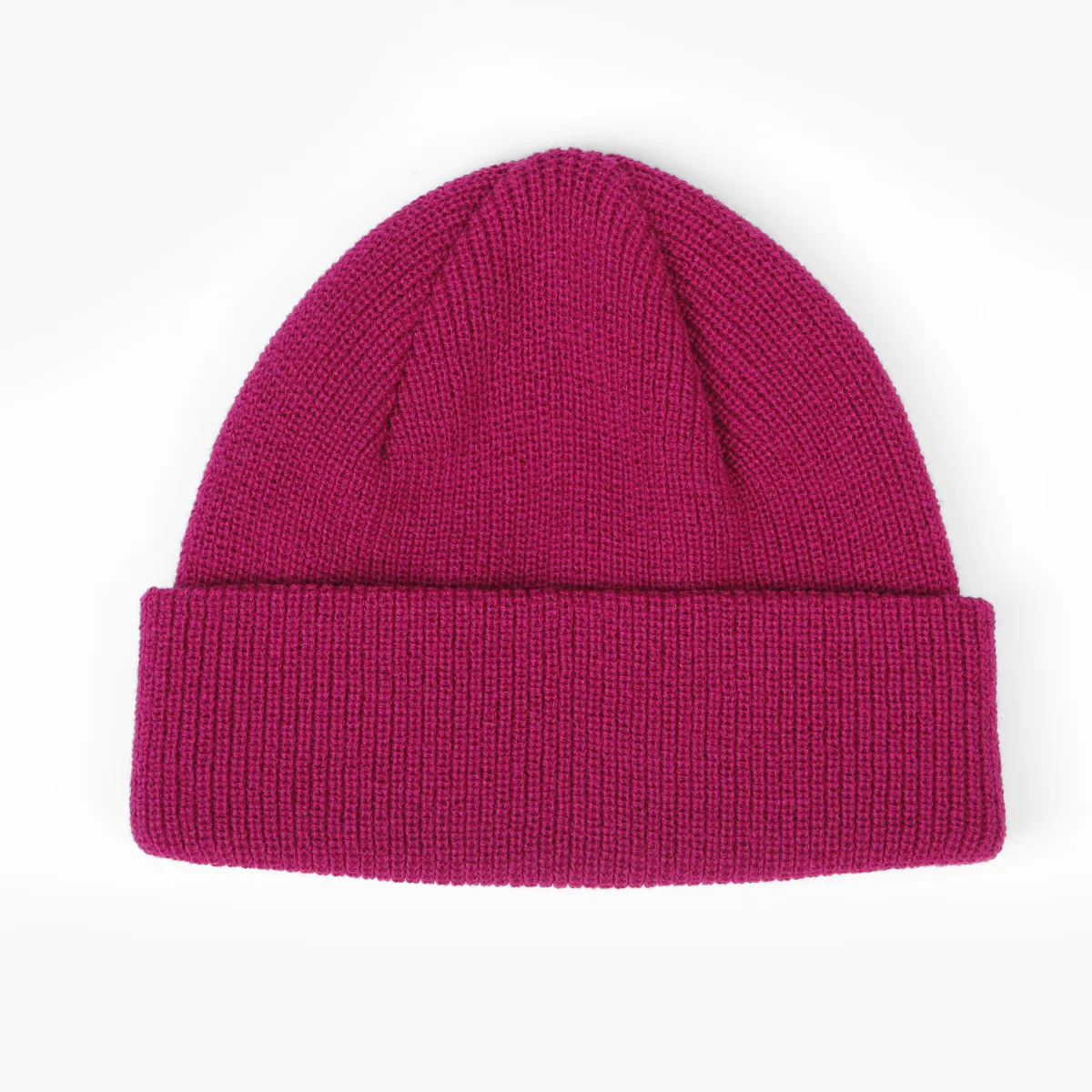 Baseball caps were developed with baseball and are very popular in the United States. Most of the players on the defensive team in the game wear a baseball cap, so many fans will also wear their favorite hats. Custom fitted baseball hats can be a good choice.
The beret, transliterated from the English Beret, may have originated from a circular rimless bonnet worn by shepherds in the Pyrenees of southwestern France in the 15th century.
Color, combined with various hats, will likely stimulate unlimited market vitality.
Do you think magenta looks good? Will this color be popular this year?