In this article, we would introduce some knowledge related to Brixton, as for its brands, history, sustainability & technology as well. A mash up of colors and prints, inspired by traditional aloha patterns and military surplus. Elevated materials and bold colors. So let's get into it!!
1. Introduction
Founded in 2004, Brixton is the collaboration of three friends who wanted to convey their lifestyle through unique products. Based in Oceanside, CA, Brixton manufactures a full line of apparel, headwear and accessories and is distributed in over 30 countries.
Products includes featured, new arrivals, Brixton X Fender, Hats for baby, sustainable snapbacks, hats accessories. Also, mens products, full brim & fedoras, snapbacks, caps, straw hats, bucket hats, beanies, etc. What's more, womens products, as well.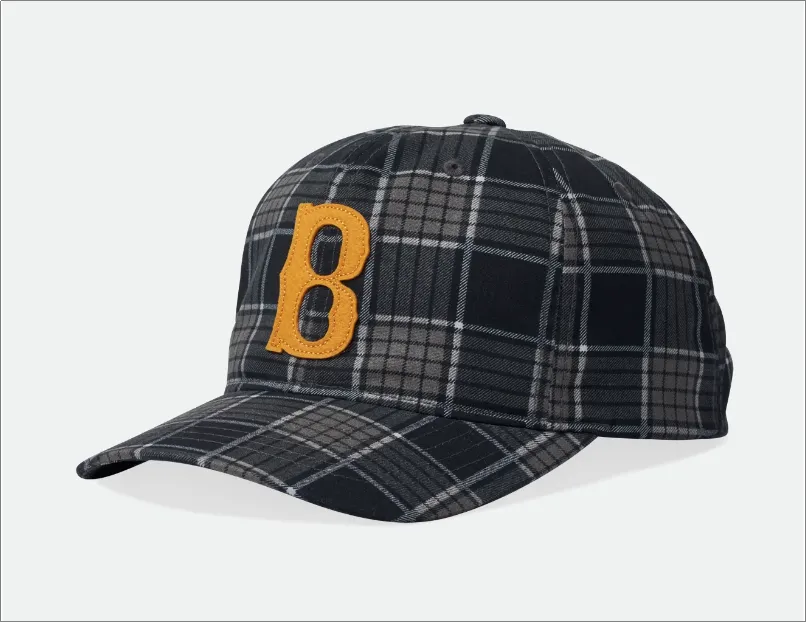 2. History


· IT STARTED WITH A HAT
Out of a garage in Oceanside CA, Brixton began with a group of friends who discovered their inspiration from the diversity of cultures that surrounded them. The Hooligan, a vintage-inspired newsboy cap, was the first step of the journey.
· RINGING PEOPLE TOGETHER
Discovery through Art, Music, Exploration and Adventure. We wanted to unite people from a variety of lifestyles. Creators and Builders: the musicians, artists, craftspeople, travelers - they are Brixton's inspiration. While the brand was forged in Southern California, we are inspired by the world around us and bring that inspiration to everything we do.
· INSPIRED BY THE PAST, BUILT TO LIVE IN THE PRESENT
Brixton's approach begins with classic silhouettes reinterpreted to meet the needs of modern living. Products derive their inspiration from workwear through several generations - from mariners and aviators, to cowboys and laborers, and beyond.
Simply put, Brixton's apparel and headwear is inspired by the past, built to live in the present.
3. Sustainability for a Better World
Brixton's sustainability commitment is put to practice though a variety of initiatives that minimize our carbon footprint. In building timeless style with durability in mind, they seek to outlast trends to keep our products out of landfills by extending the lifecycle.

Their sustainability commitment is that their products are built as renewably as possible from the outset. By utilizing certified Cruelty Wool in all our felt headwear, up-cycling the ocean's cruelest enemy - discarded fishing nets – in their snapback hats, and using recycled synthetic fibers, their strive to build every product we create with a sustainable approach.
The commitment continues. After products are manufactured, they ship them in biodegradable bags and 100% recycled boxes to ensure every part of their process takes the planet into account.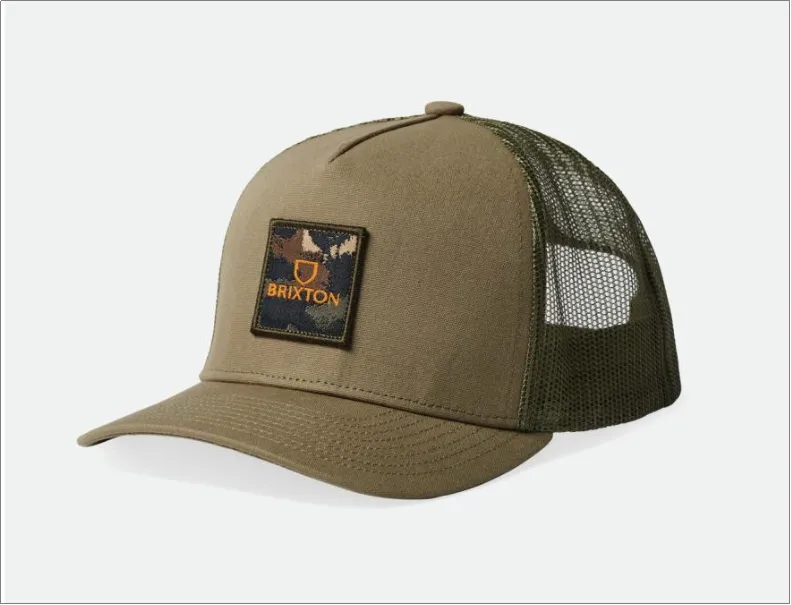 · TIMELESS STYLE, BUILT TO LAST.
Clothes are built to last. Products designed with timeless style and durability in mind, they seek to outlast trends and keep products out of landfills. Pieces built to last decades, not seasons.
· ONLY MAKE THE FELT HATS WITH CRUELTY-FREE WOOL
Wool is a naturally biodegradable textile with temperature-regulating properties. They use cruelty-free wool that ensures animal welfare and fair handling.
· RESPONSIBLE WOOL STANDARDS
The material they use has been officially recognized by the Textile Exchange for Responsible Wool Standards, a voluntary standard that ensures the ethical treatment of the animals from which it is sourced.
· SNAPBACKS ARE MADE WITH RECYCLED FISHING NETS
NetPlus® is a recycled material derived from ocean-strewn plastic fishing nets. By using NetPlus® in visors, they're helping to clean up one of world's most precious resources.
· TACKLING PLASTIC POLLUTION HEAD-ON
Partnering with NetPlus® with the combined mission to re-use existing waste and reduce the need for new plastics.
· 35% OF APPAREL IS MADE WITH SUSTAINABLE FIBERS
One of thesustainable material partners is REPREVE® who recycle discarded consumer plastics to create functional and durable material with moisture-wicking and adaptive qualities. And they are just one example the continual strides they're taking to make a positive impact on the environment.
· CUSTOM TRI-BLEND VEGAN FLANNEL
Brixton's iconic Bowery flannel is made from a tri-blend construction that is entirely wool-free. The result is a soft and comfortable flannel that's as durable as one of traditional milled wool.
· BIODEGRADABLE PLASTIC BAGS
Unlike what's in it, this bag won't last forever. It's made with a technology that breaks down the plastic used in it. So with a little help from light, air, and heat, this bag will become non-toxic soil.
4. Price

Brixton Unixes Snap Newsie Cap Price is $ $44.59 - $69.99.
5. Data of Brixton
Source: Zoominfo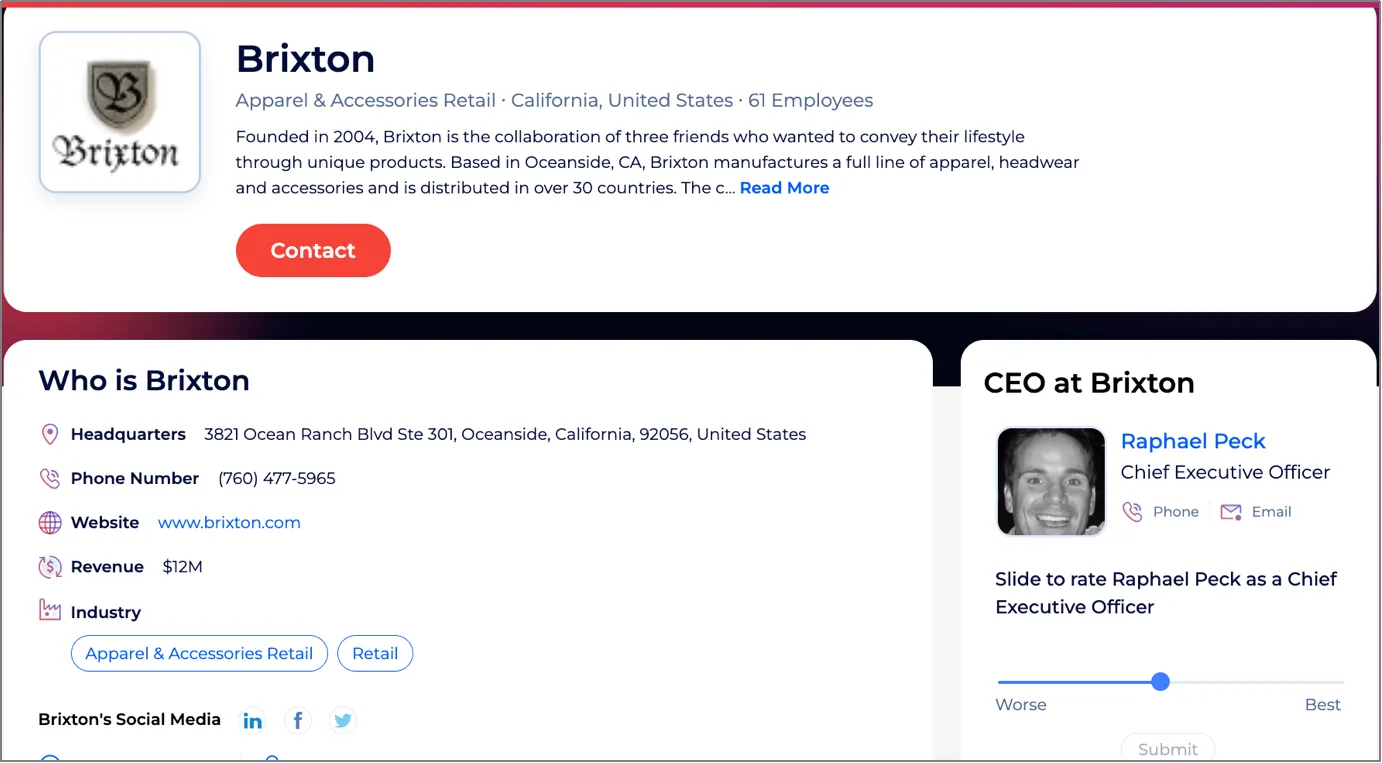 Headquarter: 3821 Ocean Ranch Blvd Ste 301, Oceanside, California, 92056, United States
Revenue: $12M
Phone Number: (760) 477-5965
Any new ideas, let me know.