1. Introduction
BPS Direct, L.L.C, doing business as Bass Pro Shops, is an American privately held retailer which specializes in hunting, fishing, camping, and other related outdoor recreation merchandise. With headquarters in Springfield, Missouri, Bass Pro Shops has a workforce of about 40,000. Bass Pro also owns Cabela's, another retailer that specializes in similar categories.
Website: https://www.basspro.com/shop/en
2. Product
Products are available with categories such as fishing, boating, shooting, hunting, camping, clothing, footwear, ride, etc.

For its fishing part. Products includes fishing reels, lures, tackle boxes, fly fishing, fishing rods, fishing line, hooks, saltwater fishing etc.
For its boating part. Products includes marine electronics, boat covers & biminis, outboard motor accessories, trolling motors, kayaks & canoes, etc.
For its camping part. Products includes dome tents, camp essentials, sleeping bags, lighting, packs and bags, etc.
For its clothing part. Products includes men's clothing, women's clothing, kids clothing, jackets, coats, shirts, pants, fishing clothing, rain gear, etc.
For its footwear part. Products includes hiking boots, work boots, boat & deck shoes, western boots, duty boots, winter pac boots, etc.
For its ride part. Products includes mountain bikes, electric bikes, cruiser bikes, bike helmets, camper & RV, etc.
Their most famous hats are trucker hat and dad hat. The company logo is added to the hats through embroidery or printing to make their hats attract more people's attention. Prices are around $5 to $10.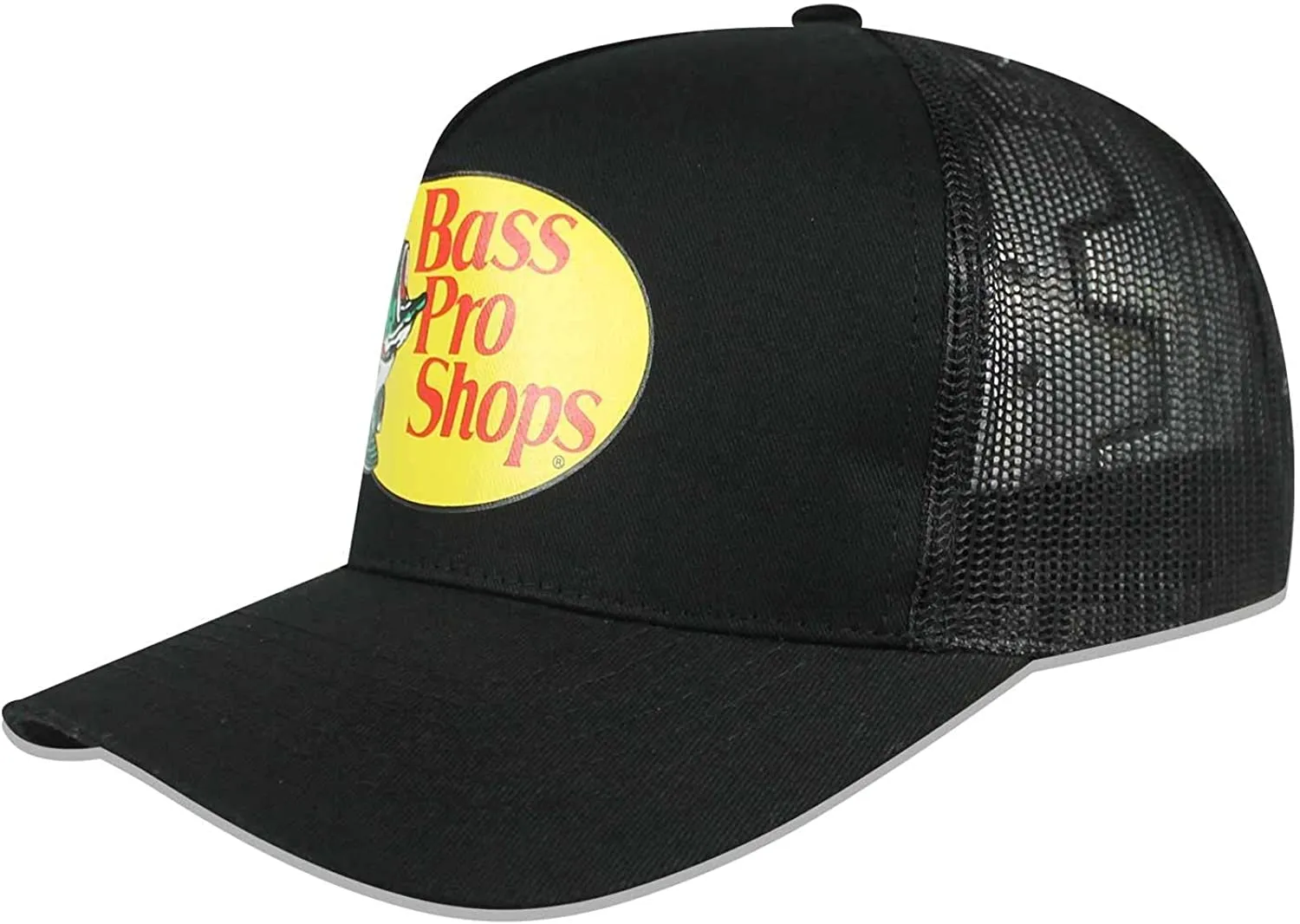 Source: official website
3. Price
Most hats sell for $5 to $10.
4. History
Bass Pro Shops started in 1972 when Johnny Morris started selling fishing tackle out of his dad's Brown Derby Liquor Store in Springfield, Missouri. His father, John A. Morris, was a World War II veteran and often took the family hunting and fishing. Johnny Morris has said his parents, Genny Morris and John A. Morris, taught him to love fishing, hunting, and the outdoors.
For its acquisitions. In September 2017, Bass Pro Shops paid $5.5 billion to acquire Cabela's. The deal was financed via preferred equity financing from Goldman Sachs and Pamplona. Goldman Sachs contributed $1.8 billion towards financing and Pamplona contributed the remainder for a total commitment of $2.4 billion.
For its operation divisions. Bass Pro Shops and Cabela's operates retail locations in the United States, as well as in Canada. The most common stores are known as Outdoor World stores. The largest store currently is the Pyramid in Memphis, Tennessee. As of June 2022, the company operates 159 Bass Pro Shops and Cabela's stores combined.
For its store types. At every Bass Pro location, there are names on the front of the buildings to represent their theme and location. As of 2022, there are five types of stores: Outdoor World, Outpost, Stick Marsh Outpost, Sportsman's Center, and White River Outpost. All locations contain a 34,000-gallon freshwater aquarium with animal statues, waterfalls, etc.
For generations, the brand has been able to adapt to societal changes in lifestyle and art. It has been opening new stores around the world, with the most stores in the United States.
5. Where to buy Bass Pro hats
You can shop on their official website:https://www.basspro.com/shop/en
Or you can shop on Amazon:
https://www.amazon.com/bass-pro-hats-men/s?k=bass+pro+hats+for+men
6. Data of Bass Pro

Employee: 33,515
Revenue: $5B
Headquarters: 2500 E Kearney St, Springfield, Missouri, 65803, United States
Any new ideas, let me know.