Website link: https://akubra.com.au/
Source: official website
1. Basic Introduction
In 1874 Benjamin Dunkerley arrived in Tasmania from England and decided to start a hat-making business in Hobart. His skills as a hatter were backed by his ability to invent machinery, and soon after his arrival, he developed a mechanical method of removing the hair tip from rabbit fur so the under-fur could be used in felt hat making. Previously this task had to be done by hand.
In 1956, Akubra supplies the Panama straw hats worn by the Australian team at the Melbourne Olympics.
By the early 1990's 7800 hats are being produced each week. The "Olympian" style is released for the Barcelona and Albertville Olympics.
The "Spirit of Australia" style is released for the 2000 Sydney Olympics.
In 1998, Strand Hatters is purchased by the company.
By 2015 Akubra has produced two million hats for the military.
Akubra Hats are still proudly Australian-made in Kempsey NSW.
2. Products
All the products are categorized into 4 parts, hats, accessories, bags, and belts. Hats include country, lifestyle, special & heritage, straw, urban and western. Accessories include the Akubra flag, handcrafted history, chin straps, hat brush, hat stretcher, clips-hat clip, presentation gift box, and stubby holder.
· Country style: a trendy style that exudes confidence, charm, and a touch of rustic allure. It's extremely popular with people of all ages and backgrounds. Western wear and country fashion continue to influence today's fashion scene, from rodeo-inspired outfits to classic denim ensembles.
· Urban style: Urban Fashion is edgy and reflects lifestyle, attitudes, and individuality. Unlike mainstream fashion, anything goes in the urban fashion world and designers are not pressured into conforming to trends.
· Western style: cowboy core or western wear is a fashion aesthetic inspired by the American West or Americana: Cowboys in denim jeans and leather vests, prairie dresses, fringe jackets, and, of course, the cowboy boot.
· Chin strap: a strap attached to a hat, helmet, or other headgear, designed to hold it in place by fitting under the wearer's chin.
· Hat brush: perfect for taking care of the hat. Remove dust and debris with ease. Featuring a curved head for easy brushing and boar hair bristles. 24cm in length.

3. Product Feature
High quality Products: higher quality products typically last much longer which means that there is far less waste in our landfills. High-Quality products are far more likely to be serviceable too. That means they can be repaired multiple times instead of just getting thrown out.
Protection from the Elements: Western felt hats provide excellent protection from the elements, making them an essential accessory for outdoor pursuits. The dense felt material offers insulation, keeping you warm in cold weather, while also providing shade and shielding your face from the sun's harmful rays.
Various styles and designs: Hats include country, lifestyle, special & heritage, straw, urban and western styles, whereas multiple styles allow customers to quickly change the appearance of a document. You can use styles to quickly prepare a document consistently and professionally. Your documents will have a uniform format and appearance due to their styles.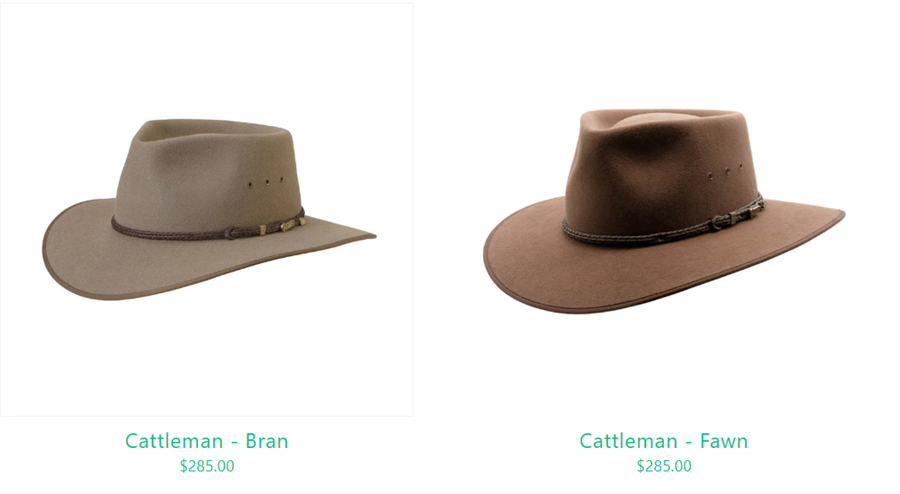 4. How do Akura Make Hats
STEP 1: First, the rabbit fur is blended and cleaned, and then the hat manufacturing process can begin.
The fur is placed in an 8-section blowing machine which mixes it, removing any clotted hair, felt, or dirt. When the fur leaves the machine, it's like a sheet of soft, downy cotton.
STEP 2: Here, the fur is sucked onto a large revolving cone and, as it rotates, hot water is sprayed onto the skin. This interlocks the fibers in each direction.
STEP 3: The fragile felt is then wrapped in cloth and placed between rollers for shrinking.
STEP 4: The dyeing is carried out in large vats, each holding about 200 hats.
This is the end of the body-making process. The part of the hat which will be the brim is now impregnated with a shellac mixture to make it more durable (referred to as Proofing.) Proofing helps the crown retain its shape and gives the brim greater durability.
STEP 5: Now the body is complete, and the hats are tip-stretched and blocked.
The hat changes shape, from a cone to a hat with a definite crown.
STEP 6: After the blocking and brimming, the hats come to the last of the wet processes, called Stoving.
STEP 7: Pouncing is the first of the finishing processes.
Hats have their fluffy appearance cut down evenly, using sandpaper on a fast wheel to give a smooth, proper finish. Hats are placed on a fast wheel to brush off surplus dust. Once the hats are pounced, they are quality inspected for imperfections against the specification, including welts, holes, and proofing marks.
STEP 8: 80% of the hats leave the factory pre-creased - the crown is already shaped.
The hat is pulled onto a rubber mold, placed in an aluminum dish, and left to set. The hats are then steamed on a block of the correct size and shape.
This is the last chance to check the hat's dimensions, so the blocks (made of huon pine) are kept in top condition and regularly maintained.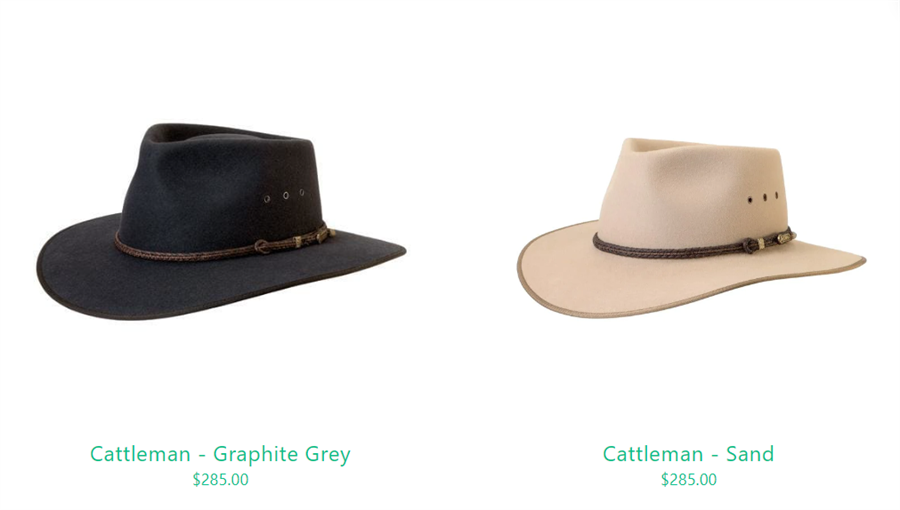 5. Why are Akubra hats popular?
They're an enduring and iconic symbol of the Australian people. Akubra is a name that's synonymous with good old-fashioned Australian quality with the company itself standing behind every product they make. The business is still kept in the original family that founded it.
The word "Akubra" is thought to have been derived from an Aboriginal word meaning "head covering." In some ways, the factory floor looks very similar to the Texas manufacturing plant which makes Stetson hats.
Handcrafting hats from the premium rabbit fur felt, is how Akubra insures their hats are made to the highest standard. The choice of material results in an exceptional-looking hat whose durable design holds up in rain, hail, or shine.
· Summary
Manufactured in Australia by a fifth-generation family business, Akubra hats offer rugged durability and unmatched style to the wearer. These hats are famous for their material quality and intricate design to this day.
Why are Akubra hats so popular? Well, Akubra is known for its well-made hats and quality fur felt. It holds its shape extremely well. This is a hat that, unless you lose it, will be with you for a long time and will continue to look good as well.
Hopefully, you can get some knowledge from it and any questions, just comment below and let us know!!