Life is a series of adventures. In this article, we would introduce some knowledge related to Von Dutch, its brands, history, and knowledge related to trucker hats as well, so let's get into it!!
1. Introduction
Von Dutch is a fashion brand that was created in the early 2000s led by famed French designer, Christian Audigier. The iconic Hollywood brand has been a staple in the pop culture and music scene for over 15 years. Since the launch, Von Dutch exploded into the fashion world and became one of the most desired and recognizable brands of its time. Von Dutch continues to be one of the most influential brands that have stood the test of time. Currently, executive director of design Earl Pickens continues to drive the future of Von Dutch to a place where street culture meets luxury fashion.
One of the most influential fashion designers of his time, Earl Pickens graduated from the Art Institute of Chicago followed by a successful career as artistic director for ready-to-wear high-end brands including Charles Jourdan, Marlboro International Sportswear (Valentino Groupe), and more. Pickens's work was honored as the winner of the Lazarus (Designer of Tomorrow) Award and the coveted Perry Ellis Award.
The beloved designer has dressed some of the most high-profile celebrities, politicians, and musicians including Barack Obama, Gwyneth Paltrow, Kate Hudson, Lady Gaga, Cindy Crawford, and the British Olympic team, … His work has been featured across global fashion books such as Vogue, Harper's Bazaar, Elle, Official, etc.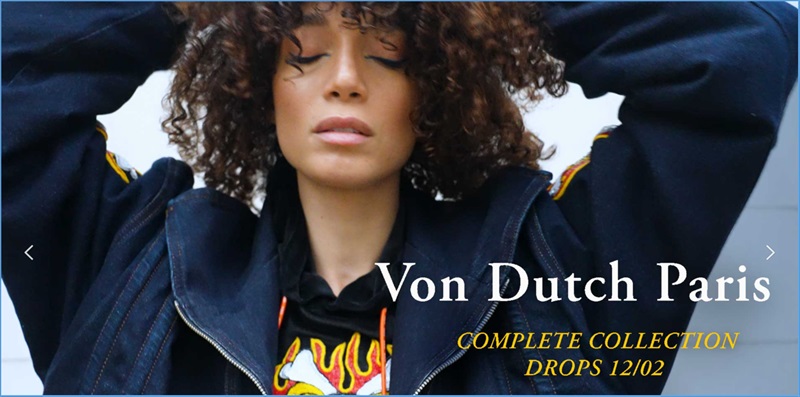 Source: Official Website
2. Collections and Products
For its collections and products, examples are as follows:

For the Von Dutch Paris part, products include Von Dutch Paris unisex libido hooded long coat, Von Dutch Paris women's lala leather pants, Von Dutch Paris unisex liston leather hat, Von Dutch Paris men's big Scotty denim pants, etc.
For the fall special part, products include Men's Jax slides black, a pink polka dot bag small, a barbershop bowling bag small, a barbershop blunt box, etc.
For the new arrivals part, products include Von Dutch flame oval logo black, Von Dutch * Popeye denim trucker, Red Viper trucker, Lime Cheetah bowling bag small, etc.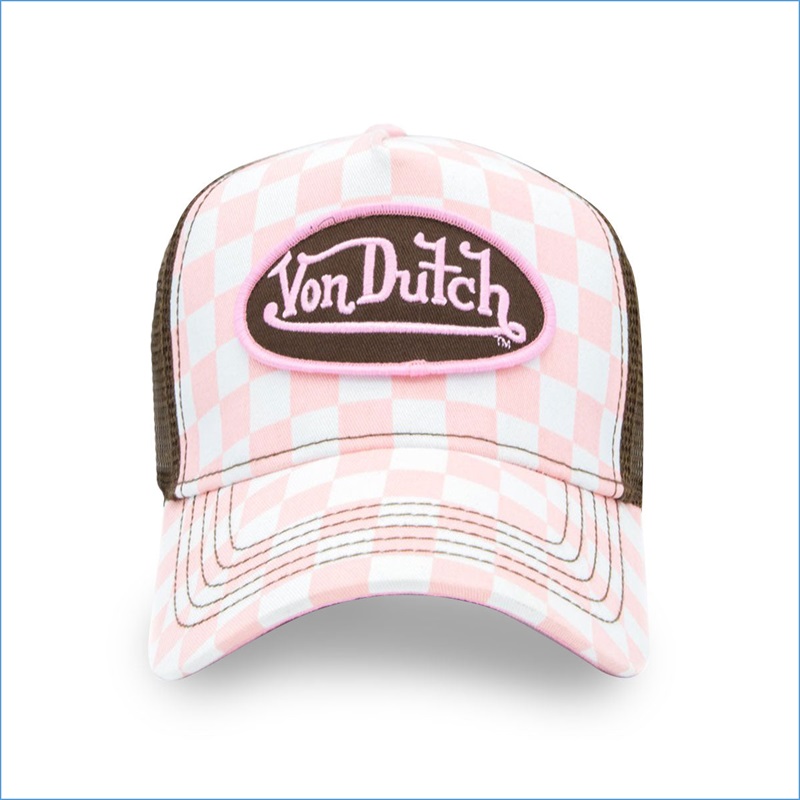 For the world-famous trucker part, products include Von Dutch * Spinach logo trucker, Black &White graffiti trucker, red viper trucker, bumblebee trucker, etc.
For the bowling bags part, products include a vegan hot pink furry small bowling bag, a silver foil reflective bag small, a rose gold reflective overnight bag, a Jax bowling bag small pink, etc.
For the part of the collection, products include Jax overnight bag pink, jax black with the pink jogger, jag black with the blue jogger, jax overnight bag black, etc.
Also, they have the ready-to-wear series and slides series for options.
3. On Trucker Hat

o Basic Introduction. A trucker cap is technically a type of baseball cap. Its design includes a brim or bill, but also a foam front section that stands up tall and straight (making it taller than most other hats or caps). The rest of the hat is constructed of plastic mesh with a snap closure in the back for one-size-fits-all adaptability. The signature features of the trucker cap are the breathable mesh and the snapback closure.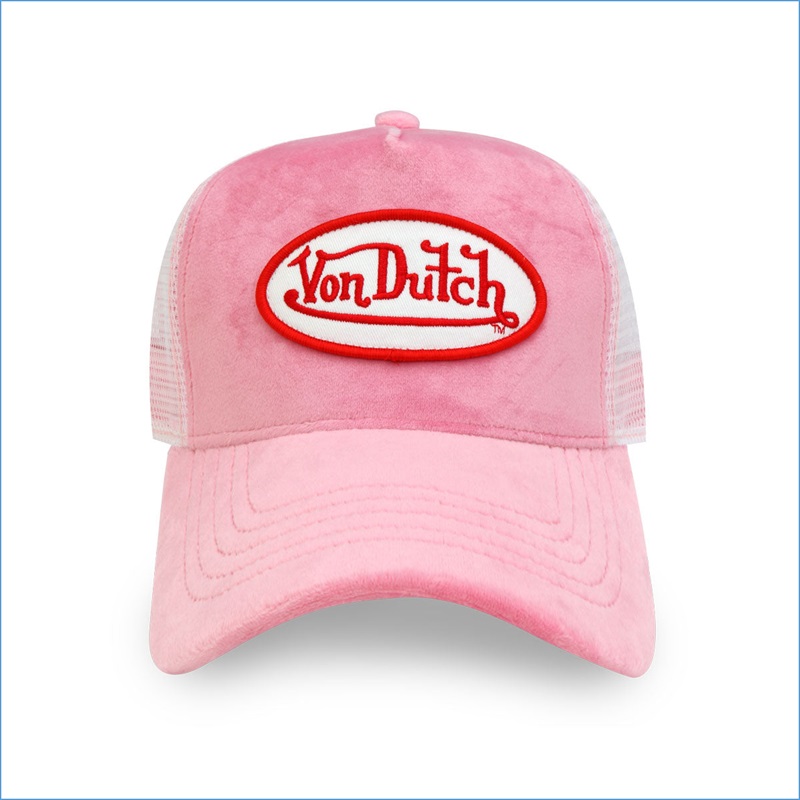 o On its history. The trucker cap originated in the early 1980s as a promotional giveaway item from feed stores and farming supply companies. Less expensive to make than baseball caps, and adjustable enough to fit almost anyone, the high front foam panel above the brim was the perfect place for companies like John Deere to place their logo. The companies would give the breathable mesh hats away to truck drivers, farmers, and other rural workers. While sometimes called a "gimme cap" or a "feed cap," the name "trucker hat" stuck.
o How To Wear. On one hand, wear it front-facing. Show your allegiance to your sports team, hip-hop artist, or skater community by wearing your heart on your cap. If you want to keep it simple and casual, wear your trucker cap front-facing. On the other hand, wear it backward. Let the rebel in you take center stage by wearing the trucker cap backward. Here, the brim goes to the back and the mesh to the front. It is a look favored by youngsters at the beginning of their fashion life.
4. Price
Normal White Classic Von Dutch Trucker Hat Price is $89.00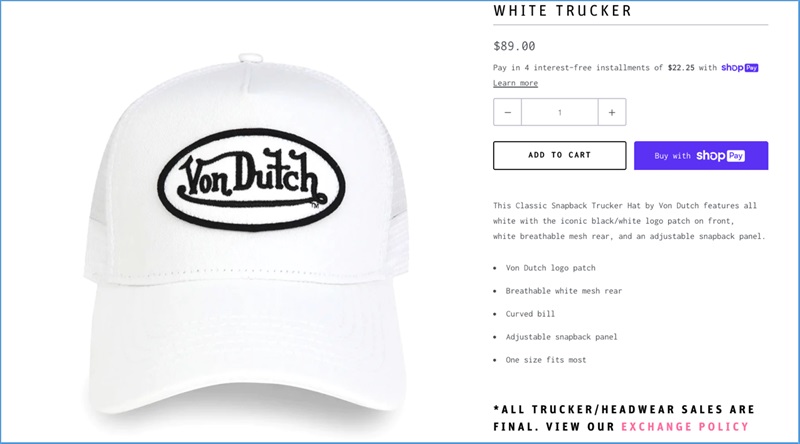 5. Data of Von Dutch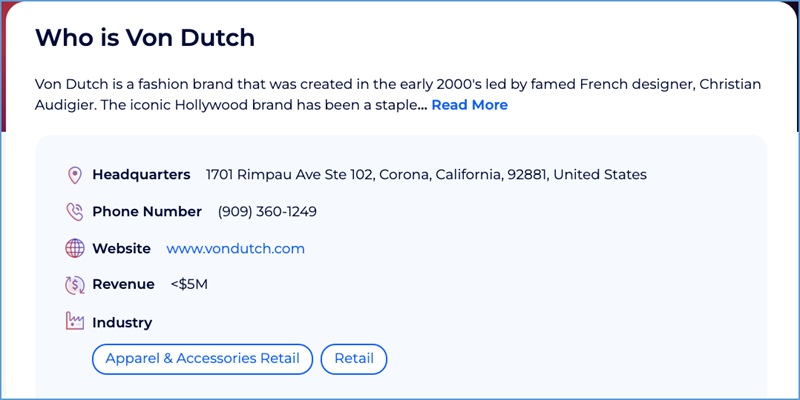 Source: Official Website
Headquarter: 1701 Rimpau Ave Ste 102, Corona, California, 92881, United States
Revenue: < $5M
Phone Number: (909)360-1249
Any new ideas, let me know.