Undoubtedly hats are the quintessential gentleman's necessary item, a Panama or a fedora is a must-have for anyone interested in classic style. But how much do you know about these two? In this article, you'll learn what the two hats are, the history of the two, the comparison, and how to wear them today.

Differences between a Panama Hat and a Fedora
Fundamental differences between Panama hats vs. Fedoras include:
| | | |
| --- | --- | --- |
| | Panama | Fedora |
| MATERIAL | Straw from the Toquilla palm | Felt, wool or leather, and other fabrics. |
| PRODUCTION TECHNIQUE | Woven | By pressing a piece of felt over a mold and using some sealant or warmth to help the felt maintain its shape. |
| POPULARITY | Famous outdoor hat because it's cool to wear and practical to travel with; also versatile as an outdoors hat as it is cool and lightweight and functional. | Famous fashion trend setter because it can be made in a variety of colors and fabrics. smart and classy, worn with a suit or with classic clothing. |
| PRICE | $50 to $300 | High-Quality Fedora Hat (JYH-22121) US$ 2.55-2.85 / Piece |
| How to Choose | Consider a grading system that measures the WPI or weave per inch. | Keep your body proportions in mind, your shoulders especially. Petite for medium to small-scaled hats. Smaller for big hats. Plus-sized for more enormous hats. |
| HISTORY | Traditionally from Ecuador. Though thought to be from Panama. | No real place of origin but made famous through dramatic arts. |
| WHY POPULAR | Entered the marketplace as a handcrafted item. | More widely manufactured as a fashion item. |
| PRODUCTION & PRICE | Handmade items become unique, expensive options to buy. | More of a mass-produced factory item that is affordable. |
| ICONIC STYLE | It is known for its high crown and brim around. A projection of about three inches in width. It has a bond or ribbon around the base of the height and a taper in front. | A very stylish accessory for the trend-setting man as it compliments suits and coats and has a classical but trendy look. |
Material: The main difference between a Panama hat and a fedora is material. The Panama straw hat is made from Toquila grass produced in Ecuador; the fedora is usually made of straw, felt, polyester, paper, etc., with more diverse materials.
Color: While Panama straw hats are usually beige and white, fedoras' most popular colors are black, gray, dark brown, and tan.
Occasion: A Panama hat is lighter in color, weight, and breathable, making it ideal for summer wear and silk fabrics. Now it is very popular among men, women, and children. The fedora made of grass is suitable for summer wear, and the fedora made of felt is suitable for spring, autumn, and winter wear. Wearable for both formal and casual occasions, and suitable for a wide range of clothing, including leather jackets, suits, shirts, skirts, and so on.
Processing technology: Panama straw hats still use the traditional hand-woven process, but many are still handmade in Central and South America. Fedora is mostly manufactured in modern factories using modern machine processing stereotypes and, depending on the material, manual and machine combination production methods. The traditional hat making method is used to shape and splice a felted soft woolen hat. Like other straw hats, tweed hats are woven, spliced, and decorated.
Popularity: Panama and shallow-topped soft woolen hats are very popular, but the situation is different. Panama is popular for its versatility because it's cool, light, and very practical, so it's an outdoor hat. Popular fashion leaders are shallow-topped soft woolen hats.With suits or classic clothing, both are elegant. Both men and women like to wear these hats.
Fashion trends: Shallow-topped soft hats could be trend setters. made of different fabrics and worn on different occasions. Shallow, soft woolen hats appear as dramatic accessories in the film and music industries. Panama sets the trend as an outdoor adventure hat.
What is a Panama Hat?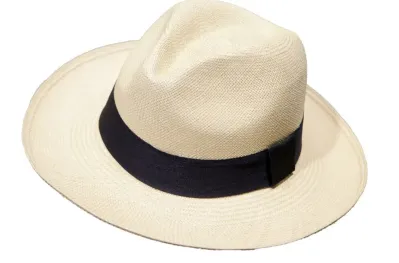 A "Panama hat" refers to a lightly-colored, finely woven hat made from the straw of the South American toquilla palm plant.
The Panama straw hat is not from Panama but is made from woven palm leaves, or Toquilla palms, of the Ecuadorian Jipijapa plant. The early gold miners used the name of the Panama hat when they brought the hat into the Panama Canal when they entered California. The Panama straw hat is cool and comfortable, can be worn at high temperatures, and can also be used as a fashion accessory for summer vacations, barbecues, or outdoor activities.
What is a Fedora?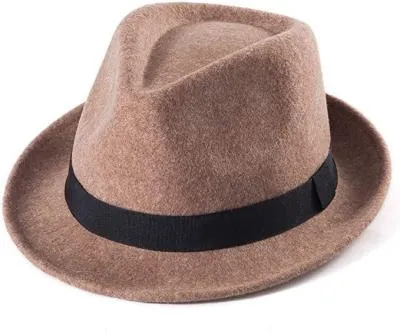 The fedora is considered a "soft hat," which is usually constructed from felt, fur, or animal hides.
A fedora is a structured hat usually made of different materials, such as straw, felt, polyester, etc. And there are different colors. Although women can wear a light-topped soft hat to make a statement, it is a popular trend for men to wear suits and coats. The hat is always fashionable, elegant, and classic, and has also been worn by film stars and royals.


How to Wear a Panama Hat?

Today, the Panama hat remains a handsome and timeless accessory, especially in warmer months when its lightweight construction and light color complement summer or tropical wear. It's an attractive choice for summer barbecues, boating excursions, and adventures near or far from home.
With SEMI-FORMAL COAT and PANTS. Just make sure that you wear a brighter-colored coat and pants so that they will harmoniously blend with the light-colored Panama hat.
With CHINOS, BROGUES, and CASHMERE POLO. This combination is not only perfect when the sun is at its highest peak but can also be the look of the day when the moon shines. Its fantastic style is even more evident when you're on the beach and have the waves as your background.
With LOAFERS and LINEN. The Panama hat does not only fit in beach settings. You can achieve a laid-back aura if you pair it with linens and loafers.
Other tips include:
Ladies and gentlemen should remove their Panama hats in homes, offices, places of worship, and in dining establishments where there is table service.
It is ideal for removing your hat anywhere it may block someone's view e.g. cinema or the tre.
In some countries, removing your hat during the national anthem is appropriate.
How to Wear a Fedora Hat?
The versatile fedora has a neat way of adapting to what you're wearing. It adds an elegant finishing touch to suits and winter coats while giving casual looks a refined edge. Though typically a cold-weather hat, fedoras in a lightweight felt easily span the seasons. The key to wearing a fedora hat well is wearing it with confidence.
With MAXI DRESS. The traditional look of a little black dress meets the hipster vibe of a fedora in this simple and chic outfit. Head to the next summer gathering in a maxi dress with your best friend rocking her vintage American Hustle style from head to toe.
With SHORTS. Exuding style and confidence, this outfit is perfect for a night out or for those warmer days that call for something strapless and airy.
With KNITTED SWEATERS. Pair it with knitted sweaters for a modern look that will keep you warm during the colder months.
Conclusion
So We've covered the basics of the fedora and Panama hats, the primary difference between the caps, how to wear and where to wear them, etc.
Have you ever experienced wearing any of the items explained in this article? Are you going to a party or any special occasion with the two things? What are your ideas on fashion? Learn how to custom straw hats.