1. Introduction
With a dream to create THE JEAN that was missing from the western world, Matt and Amanda sourced every element of their production-finding the best team of cutters, sewers, and washers until their product was undeniably the best fit and quality. They created a jean versatile enough to crossover from western to everyday wear, with a medium waist line for women that allowed high enough coverage while riding but low enough rise to mimic a fashionable street jean.
Their men's jean took on details that others had not considered, like a knife pocket and a more attractive back pocket placement.
The brands catchy logo and even more attractive company culture and customer service have brought them a cult-like following amongst their western consumers. The classically inspired line of jeans, have been featured in magazines including American Cowboy, Horse & Rider, Cowboys and Indians and Chrome Magazine.
2. Product
Kimes Ranch offer hundreds of different products including jeans, shirts, caps, hoodies, outerwear and dress shirts. Men's and women's apparel at Kimes Ranch offers an impressive selection of stylish Kimes Ranch clothing.
Men's products includes semana trucker, the distance trucker, shielded trucker, manzano plald, taos plaid, moterey el paso trucker, mulligans cap, player cap etc.
Women's products includes betty, weekly trucker, sarah, lola soho fade, holene, banner ventilated, two scoops fleece hood, replay trucker, all mesh trucker etc.
Caps includes weekly trucker, American trucker, banner ventilated, replay trucker, all mesh trucker, ATG cap, cody trucker, diamond cap etc.
Yellowstone part includes marshall jacket, Jennifer, skink jacket, canvas marshall jacket, replay trucker, raw Dillon, players cap etc.
Also, they offer clearance part, nonreturnable, with size chart, fit guide, ordering information, returns portal etc.
Source: official website
3. Price
Most hats sell for $30
4. The Best Kimes Ranch Hats for Sale
That said, if you feel more attuned to that classic Western style rather than the hip-hop scene, Kimes Ranch trucker caps are most definitely a suitable brand to look up and purchase from.
5. History
Matt and Amanda Kimes are the owners and founders of Kimes Ranch, a western apparel company out of Scottsdale, Arizona. Matt and Amanda were married in 2009 and during the plight of a recessed economy, Matt's insurance business was slow. The couple had talked at length about starting a jean company but had felt that timing wasn't right and money was always too tight to start such a risky venture.
They knew there was a strong need for a better quality jean in the market but had no experience in production or design, and no funding. With all of these barriers in front of them, they still pursued their dream. Despite nay-sayers, banks not lending to start-ups, consumers purchasing at an all time low, and unemployment at an all time high, they went for it.
Originally their orders were small as they had a limited amount of capital to work with. With each sale they put the money back into the company to grow the next order. They were a two-man show working trade shows, designing and selling. They worked from their horse ranch, which still houses their head office, storage and shipping. Although the jeans were an immediate hit, their road was not without bumps.
Originally named Longhorn Jean Company, and then LJC Apparel, they finally have found their home with Kimes Ranch.
6. Where to buy Kimes Ranch hats
You can shop on their official website:https://kimesranch.com/;
Or you can shop on Amazon:
https://www.amazon.com/Clothing-Shoes-Jewelry-Kimes-Ranch/s?rh=n%3A7141123011%2Cp_4%3AKimes+Ranch
7. Data of Kimes Ranch
Headquarter: 27817 N 160th St, Scottsdale, Arizona, 85262, United States
Phone Number: (480) 471-7457
Revenue: <$5Million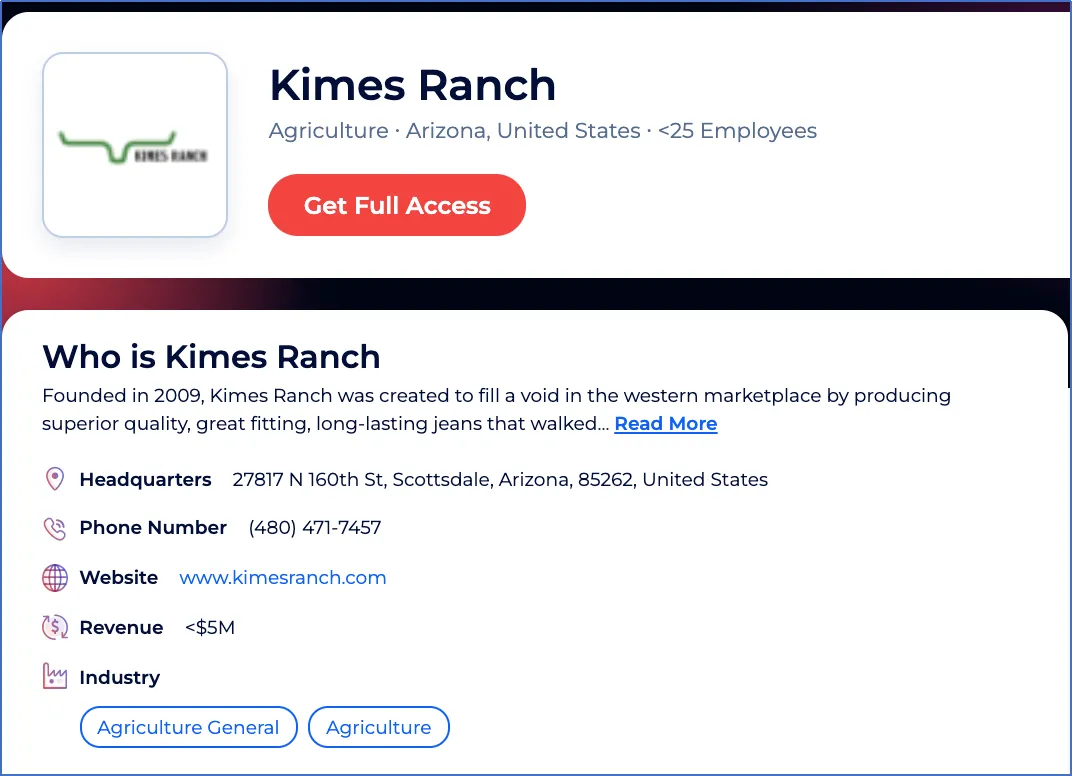 Any new ideas, let me know.