1. Introduction
Fashion never dies, the general term for how people dress, and the styles and designs that are popular during a specific period. It can also refer to the creation of clothing, footwear, accessories, cosmetics, and jewelry.
As part of the fashion world, the fitted hat is a type of baseball cap that fits snugly on the wearer's head and doesn't have an adjustable closure. Fitted hats are made with six fabric panels sewn together, forming a round crown and topped with a button. They have a flat brim and a closed back panel.
For today's article, we will introduce some basics related to the fitted hat, let's dive in!!
2. Understanding Fitted Hats
Fitted hats are a type of baseball hat that comes with a closed-back panel. It comes in a fixed size and does not give you the option to change the fit with an adjustable closure. As these hats are designed to fit snugly on your head, you will have to find your head size and choose the right size for the best comfort.
Fitted hats are called "fitted" because they're designed to fit the wearer's head snugly without adjustable snaps or straps. That means these hats are sized specifically to the wearer's head, ensuring a natural fit. This modern-day baseball cap comes in 20 sizes to fit nearly any head shape or size.
The main difference between fitted hats and snapbacks lies in how they fit your head. Fitted hats are designed to fit snugly on your head without adjustability. Snapbacks feature an adjustable closure at the back of the cap. Most snapbacks have plastic snaps allowing you to make adjustments.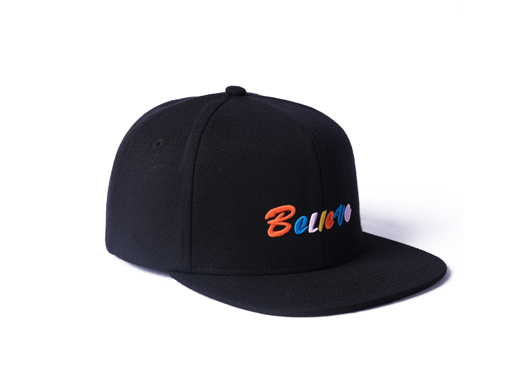 3. Features of Fitted Hats
A. Structured crown and brim for a clean and tailored appearance
B. Seamless and fitted design, without any adjustable straps or closures
C. Variety of materials used, including wool, poly-blends, or performance fabrics
The crown of a baseball hat can have a buckram or stiff fabric behind the front two panels of the crown giving it structure therefore it is called a structured hat. An unstructured cap has no additional support behind those front two panels and it is the same around the crown.
Unlike traditional hats, these hats are sized specifically to the wearer's head, ensuring a perfect fit without adjustable snaps or straps.
Fitted hats are typically made of thicker materials like wool or cotton, while snapbacks include lighter materials like mesh or nylon. Also, fitted hats can have both a flat or curved brim, while snapbacks only use a flat brim.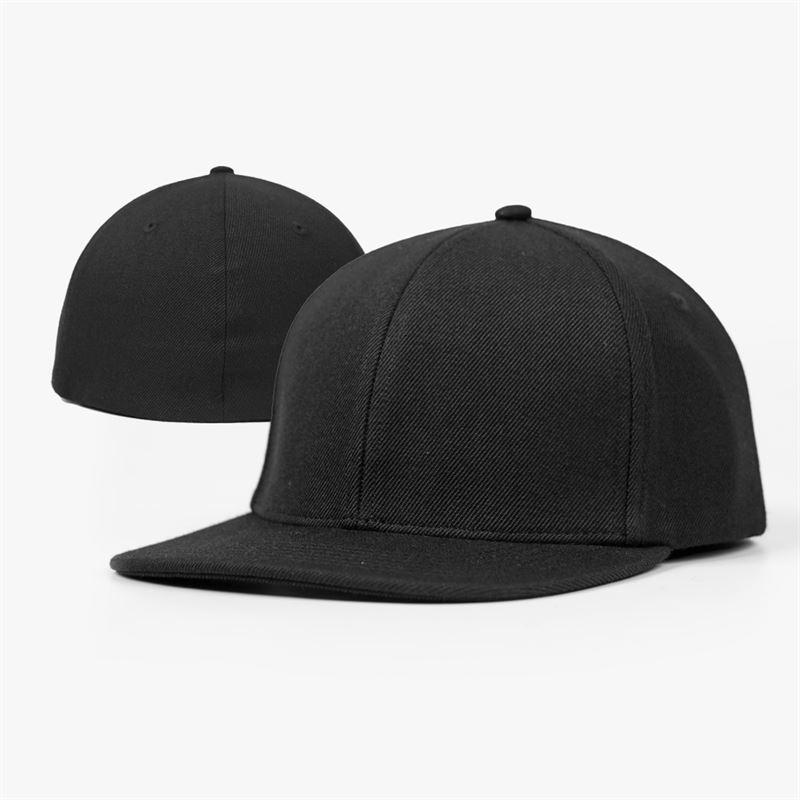 4. History of Fitted Hats
The origins of fitted hats can be traced back to the 1800s as a stylish alternative to the caps worn by baseball players. The fitted hat first appeared in the 1950s and quickly became popular among baseball players and fans. They were typically made of wool with a team logo embroidered on the front.
In 1954, the 59FIFTY fitted silhouette was born, giving the classic baseball cap a more contemporary look. It was also known more informally as the "Brooklyn Style" cap. By the year 1965, New Era was supplying caps for ten Major League Baseball teams.
During the 1980s, Tom Selleck popularized the 59FIFTY when he wore a Detroit Tigers cap in Magnum P.I. Its first major craze came in 1996, when film director Spike Lee requested a custom red New York Yankees cap to wear to the third game of the World Series.
5. Popularity of Fitted Hats
Fitted hats are more popular than ever.
In 2019, the term "fitted hats" had an average of 14,000 Google searches per month. By the end of 2021, that number had increased to 165,000.
In 2020, sales of fitted caps in New York City increased by 257% year-on-year, topping 900,000 units.
Fitted hats are a staple in hip-hop fashion. They are worn by rockers, hip-hop artists, rappers, and other celebrities. The hip-hop look is one of the trendiest looks in existence.
Fitted hats are generally more expensive than standard baseball caps. They are made from higher-quality materials such as corduroy or fleece and require more precise sizing.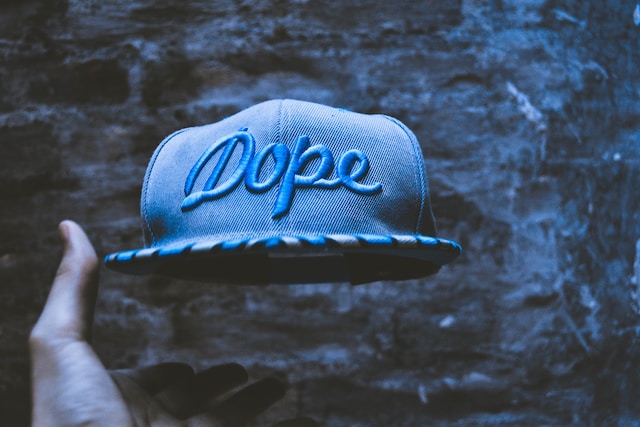 6. Major Brands and Collaborations
In the 1980s and 1990s, the hip-hop community began wearing the 59FIFTY as a fashion statement. Jay-Z, Eazy-E, Dr. Dre, Beastie Boys, and Aaliyah were among those who popularized it. New Era's CEO credits Spike Lee with bringing the 59FIFTY into the fashion world, which later fed into streetwear.
Here are some collaborations between fashion brands for fitted hats:
New Era: Has collaborated with many brands, including:
BoTT
Concepts
Yohji Yamamoto
nanamica
Pendleton
Alpha Industries
Pendleton: A US-based wool brand that collaborated with New Era to create a collection featuring New Era's best-selling fitted hat in Pendleton's classic Native American-inspired patterns
Hat Club: Collaborated with STAPLE on an exclusive streetwear collection
Varsity Headwear: Collaborated with DHL on a black DHL-branded cap
Chrome Hearts: Offered their take on the custom-fitted
Virgil Abloh: Added his trademark quotation marks and Swiss cheese cut-out detail to the White Sox's classic black and white cap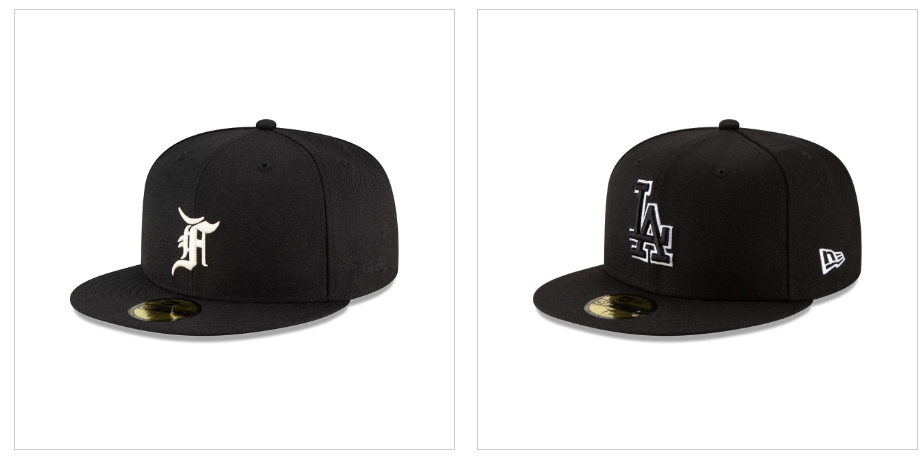 7 . Fitted Hat Sizing and Proper Fit
To measure your head circumference, take a sewing measuring tape or even a string, and wrap it around above the ears and across your eyebrows. Please stick your finger under the tape so there is a little room and there you have head circumference! If you fall between measurements go for the next size up.
To determine the proper fit of a fitted hat, you can:
Measure your head: Use a tape measure to measure your head about one-half inch above your eyebrows.
Consult a size chart: Use a size chart to find your hat size.
Aim for a snug fit: Your hat should feel comfortably snug, but not too tight.
Allow space: Allow about a finger of space between your hat and your head.
Consider the fit: Your hat should sit above your eyebrows and not obstruct your sight.
Adjust the fit: You can bend the visor slightly to adjust your fit. You can also purchase sizing tape to adjust the fit of your hat.
Comfort is important for well-being and can help people focus on tasks and enjoy their day. Wearing hats that are too tight can lead to health issues like:
Poor circulation, Skin irritation, Difficulty breathing, Abdominal pain, Tingling thigh syndrome, and Back pain.
Hats that are too loose can be hazardous as they can easily get caught on things. Tight clothing can also restrict movement and prevent you from performing exercises properly or comfortably, which can increase the risk of injury.
8. Care and Maintenance of Fitted Hats
To prevent the hat from getting dusty, store your hat in its box. You can purchase the box separately. Otherwise store the hat in a breathable bag made from natural materials, for example, cotton. We recommend never storing a hat in a plastic bag because it can cause discoloration and promote mildew.
Resting a hat on the brim will flatten out the brim. Dust your hat with a soft bristled brush to keep it clean. Heat will shrink the interior sweatband - avoid exposure to stoves, radiators, lamps, and car windows. Store your hat in a cool dry place to help it to retain its shape and stay clean.
9. Conclusion
Fitted hats first became popular in the 1950s. They were created for baseball players and fans as an essential part of a player's uniform. Fitted hats were typically made of wool with a team logo embroidered on the front.
In 1954, the fitted hat was redesigned and named the 59Fifty, also known as the "Brooklyn Style" cap. The 59Fifty gave the classic baseball cap a more contemporary look. Cloth sweatbands were also introduced at this time.
Fitted hats have gone in and out of style, with snapback designs being the preferred choice in the mainstream fashion scene. However, the New York Yankees fitted hat gained widespread recognition in the hip-hop community in the 1990s when artists like Jay-Z, Nas, and The Notorious B.I.G. popularized the look.
That's all for today, if you have any questions, please comment below and let us know!!