Life is a series of adventures In this article, we would introduce some knowledge related to Dorfmanmilano, as for its basic history, its brands, its product manufacture, its strategic process and the rest as well, so let's get into it!!
1. Introduction

Founded in 1921 by Jack Dorfman and Arthur Hyman, Dorfman Milano was born to support the growing headwear industry. The original formula was straightforward, Jack manufactured the hats and Arthur sold them. In the beginning all hats and caps were crafted by hand from our first headquarters in Oakland, California. Their business expanded rapidly in the 1950's as demand for headwear matured and more of their hats were featured in department stores and neighborhood shops.
Dorfman Milano has launched several projects such as saving our forests with our eCatalogs, conserving energy with their solar powered distribution facility and saving water by installing a waterless restroom system in their facility.

2. On Dorfman Milano Brands
Dorfman Milano contains many brands such as Biltmore, Cappelli Straworld, Dorfman Hat, Justin, Larry Mahan, Makai, Panama Jack, Stetson, Scala, Tommy Bahama, etc. Basic information would be listed as follows:
· On Biltmore. The Biltmore brand has come a long way since it was established in 1917. The company first started in Guelph, Canada and became known for its luxurious hats. By 1950, the brand had achieved a dominant role in the Canadian hat Industry. After 95 years in Canada, the Biltmore brand moved to the United States after Dorfman Pacific purchased the company in 2011.
· On Cappelli Straworld. Cappelli Straworld, Inc is synonymous with quality and exquisite attention to detail. Women's handbags and hats designed for the resort lifestyle. As the waves broke on the shores of Miami Beach a little girl picked up a few sea shells from the sand. She strung them with a string.
A tourist bought the necklace from the little girl and Cappelli Straworld, Inc. was born. The Cappelli Straworld, Inc. story continues to this day with our creative design staff, providing the highest level of customer service with the wonderful support of the Dorfman Milano team. We hope you will be a part of this marvelous enduring story.
· On Dorfman Hat Co. Classic plus practical, the perfect summer headwear. Classic styles like Outback, Safaris and boonies. Practical too with features like Supplex® nylon fabric, Coolmax® sweats, and UPF50+ sun protection. It all adds up to great performance headwear whether gardening, hiking or just plain fun.
· On Makai. In the 1800s, Hawaiians combined the words "ma" and "kai" to mean "toward the sea". Today, Makai brings the spirit of the sea to you. Our lifeguard style hats are constructed from quality materials, and are designed for any type of lifestyle. Whether hiking through the verdant mountains, kayaking along peaceful rivers, lounging beachside, or paddling past the breakers – Makai will have you made in the shade.
· On Stetson. Stetson is an American iconic brand. Associated with the Cowboy and the west, it was also the dress hat of the East and Midwest fashion/style of a well-dressed man. Although mostly viewed as a western cowboy hat, Stetson is a hat company throughout its history manufacturing and offering men's dress and and western hats.
Today everything that carries the Stetson brand, from contemporary streetwear to rugged action wear, stays true to these American values; make things right and the best they can be. Stetson's popularity first rose with the advent of its "Boss of the Plains" hats — the rounded, wide-brimmed hats that are so prevalent among western movies. In the early 20th century, many, especially celebrities, were drawn to the "10 Gallon" model, the almost comically tall versions of his iconic hat we often see in dated cartoons.
· On Scala. Scala is a brand that has established itself as a trendsetting sartorial maven. Their hats may even be so delicately created as to be considered an inspiration. For men, Scala invokes the long-forgotten hap tip, the holding car doors open and the extended forearm for a companion stepping out of a car. For women, Scala helps every wearer exude beauty and showcase her unique fashion sense with aplomb. Since 1988, Scala has combined style with function, to keep wearers' fashion identities well ahead of the coming trends.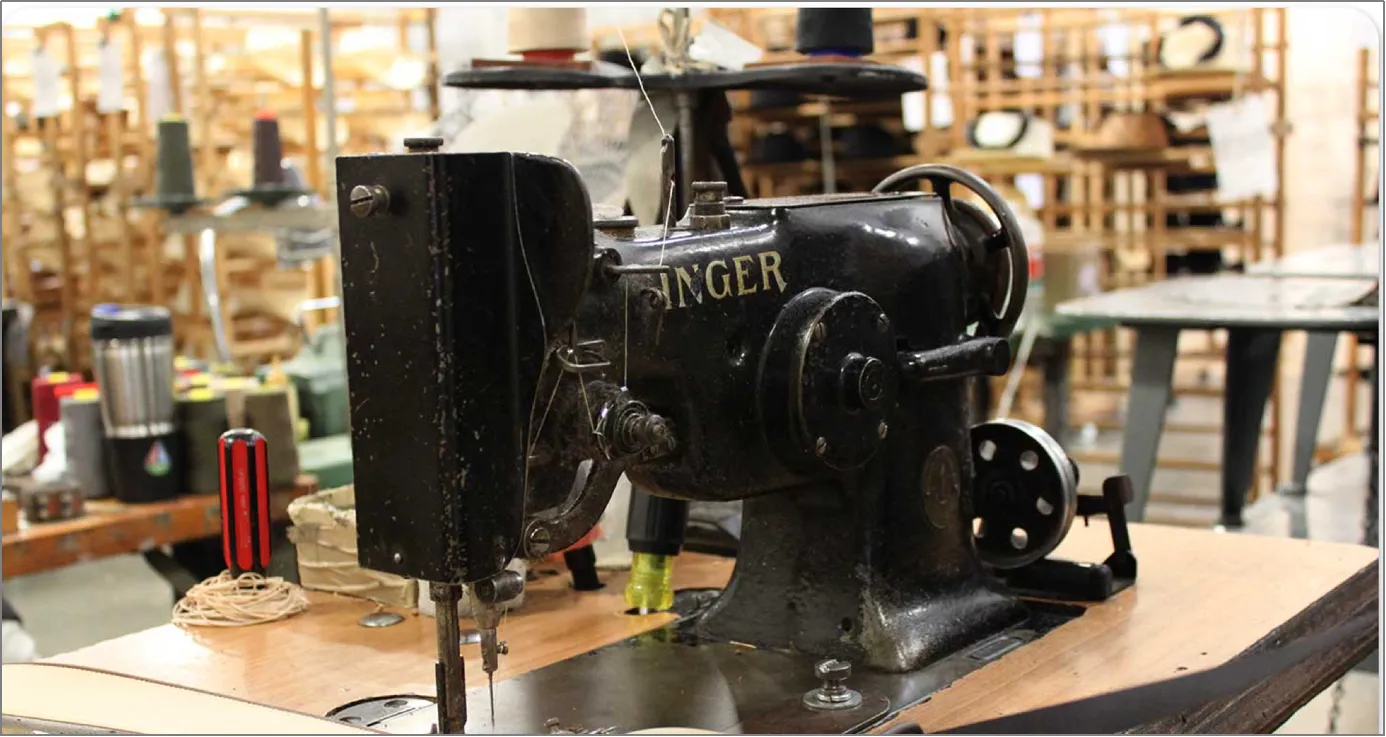 · On Tommy Bahama. In the 1980s, Tony Margolis, Bob Emfield and their wives mused about never leaving the beach. This led to the invention of a character named Tommy Bahama. By asking "What would Tommy wear?" and imagining the details of his life, they unwittingly created the springboard for a new brand and the Tommy Bahama Group, Inc.
In 1991, Tony and Bob discussed their concept with Lucio Dalla Gasperina. From the outset, the three envisioned the kind of upscale casual apparel Tommy would wear: printed silk shirts and tailored pants for refined island living. They soon launched a collection of menswear that transported people to an island state of mind and celebrated the best part of the week - the weekend.
· On Panama Jack. Since 1974, Panama Jack has helped the customers chase new horizons. It's a time and a place – the way life was meant to be lived. Made with love, care, and pride since 1974, our products bring this lifestyle to people's everyday lives.
3. On Hats Manufacture
Their hats are shaped by artisans using handmade craftsmanship techniques passed down over 100 years ago.
· Manufacturing Center in Garland, Texas. They have been handmaking premium headwear since 1983 in Garland, Texas factory. Techniques inspired by Italian craftsmanship, passed down over generations make hats produced in this factory the standard of quality headwear. All hats are fabricated from rich materials with classic styling ensuring they always look good. Company uses exclusive hat blocks, weave patterns, genuine leather bands, and special finishes on all products manufactured in this heritage facility.
They manufacture hats for a range of brands from luxury to core price points across the globe.
· Luxury craftsman. Hats manufactured in our USA facility in Garland, Texas are produced at the highest caliber from globally sourced materials. We proudly transform the finest fur felts and marino wools into exquisite designer hats.
· Featured Materials. We craft our handmade headwear from three main fibers: straw, felt, and cotton. Each material offers unique advantages such as packability, warmth, durability, and style.

4. On Strategic Process
· Ideation. One of their product designers will collaborate with you to curate a headwear collection that fits customers' brand story.
· Design. Their designers will compile notes from the onboarding meeting and begin drawing digital designs.
· Sample. After exchanging several digital drawings their product development team will craft product samples for your team to review.
· Cut & Block. After you approve samples, production teams will begin cutting the materials and steaming the fabric on their custom hat blocks.
· Finish. Once blocking is complete, our production team will sew in branded labels and finish the trim.
· Delivery. Depending on the location of their factory it will take between 14-45 days for finished product to be shipped to the store or DC.
5. Price
Brand Indiana Jones DR. WALTON price is $56.
6. Data of Dorfman Milano
Headquarters: 2615 Boeing Way, Stockton, California, 95206, United States

Revenue: $16M
Phone Number: (800) 367-3626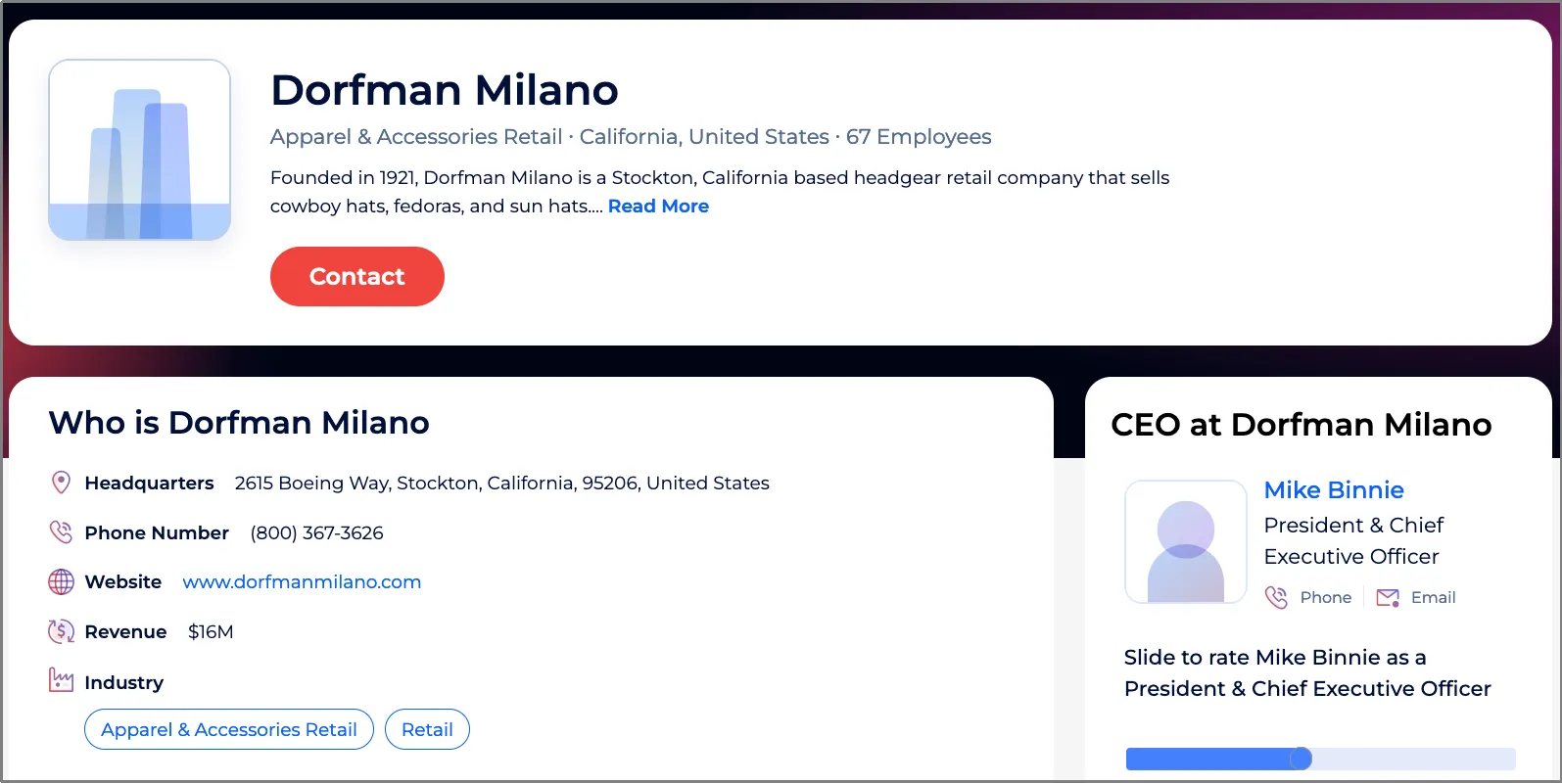 Any new ideas, let me know.