1. Introduction
Borsalino is the oldest Italian company specializing in the manufacture of luxury hats. Since 1857, the manufacture has been based in Alessandria, Piedmont. The founder, Giuseppe Borsalino, is remembered for creating a particular model of felt hat characterized by the registered trademark Borsalino.
website: https://www.borsalino.com/en
2. Product
Borsalino's most famous hat is the Fedora, which was worn in numerous early films. blessed by many celebrities. Some hat companies directly name their own company, Fedora, as Borsalino.
Borsalino hats became famous in 1970 when Alan Draper and Jean Paul Belmondo starred in the film "Borsalino," and the sequel "Borsalino & Co." was released in 1974. Borsalino's hat is fashionable, has excellent fabric, is mellow and brightly colored, and has a colorful ribbon. It is deeply loved by fashion people. Only this brand now takes the luxury route, and the price is expensive.
On its hats. Select from the array of felt and straw models exclusively handcrafted in the Maison's Alessandria manufacture. Symbols of an Italian lifestyle, Borsalino hats enhance any outfit with personality and unmistakable style. They have trilby hats, felt hats, fedora hats, straw hats, rollable hats, panama hats, wool felt hats, etc.
On its caps. A trendy alternative to the felt and straw models, the caps represent the perfect synthesis between designed inspiration and craftsmanship. They have baseball caps, beanies, waterproof caps, caps with visor, sailor caps, bucket caps, flat caps, etc.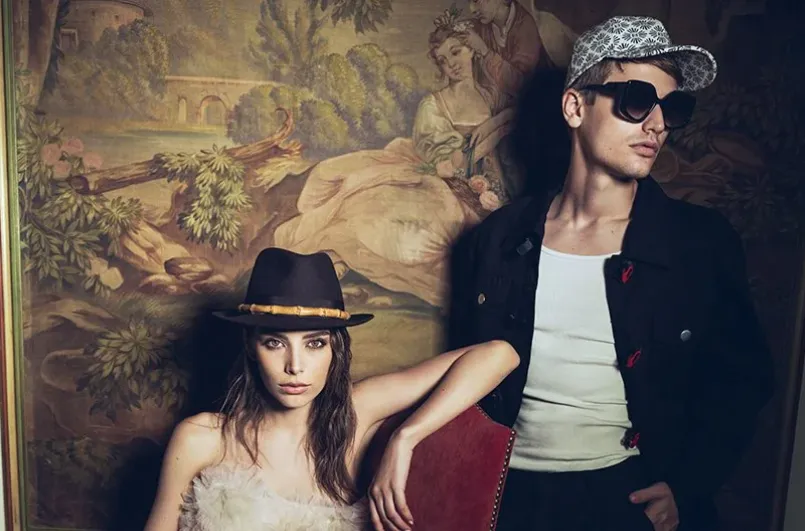 They also have accessories, capsule collection, as a huge hat world, "During my travels around the world I found myself fascinated by people who were eclectic, men and women who directed their creativity." Said Giuseppe Borsalino.
3. Characteristics of Borsalino
Good workmanship.
Borsalino hats continue to carry the quality of a century-old brand, and the best Panama hat top is a work of art. The factory still continues to use antique machines from 1857. Although the efficiency of the machine is not comparable to the speed of modern flow processing, the excellence of manual inheritance has always followed the original intention of the founders : the production of each hat requires craftsmen to go through more than 70 procedures, and the working hours are often as long as 3 months. All craftsmen are veterans with more than 20 years of working experience, and some even inherit their father's business.
Finely selected superior materials.
The raw materials used by Borsalino to make hats are the most excellent straw stems obtained after many careful selections. Unlike other hat brands, Borsalino uses emery and shark skin as tools in the grinding stage of the production process to achieve flawless results.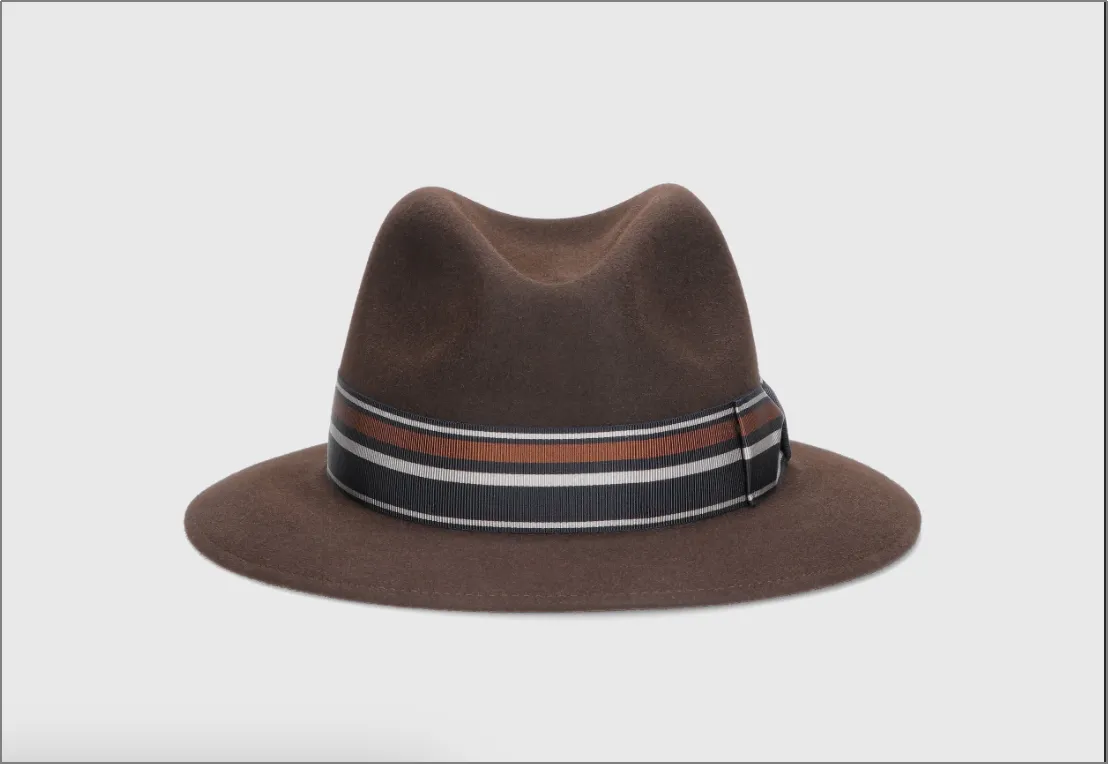 Create interaction that includes user participation.
The hat sent to the store for the first time, like most traditional Italian handicraft workshops, is only a bare, semi-finished conical product that is not fully formed and does not have any ornaments. In fact, the final design of the hat, such as the main product, the Panama straw hat, is completed in the store. The ribbon can be selected according to the buyer's personal preferences. The results highlight the brand's humanized characteristics and increase customer interaction.
The characteristics of these high-quality products are also an important factor in our distinction between Borsalino and other brand hats.
4. Price
Most hats sell for around from $ 129.50 to $ 2400.00.
5. History
Borsalino is a family hat brand with a long history. Founded by Giuseppe Borsalino in 1857 in Alessandria, northwest Italy, It has been recognized as one of the best hat manufacturers in the world for many years.
In 1850, at the age of 16, Giuseppe apprenticed at the local hat factory in Alessandria, praised by his master for his humble attitude, extraordinary talent, and lean craftsmanship. After that, he went to work at a hat company named Berteil on the oldest street in the Marais district. Six years of working experience allowed him to gain more knowledge and skills in hat making.
After returning to his hometown, he and his brother Lazzaro co-founded Borsalino Giuseppe E. Fratello S.A. After 15 years of development, the small workshop has become a large factory with hundreds of employees that can complete 1500 hats by hand every week. With his unique design inspiration, he has led the fashion trend and changed the entire industry.
After Giuseppe's death, the family business was taken over by his son. Today, in addition to hats, he is involved in fashion, ties, watches, perfume, and other fields, with branches in Europe and the United States.
6. Where to buy Borsalino hats
You can shop on their official website:https://www.borsalino.com/en/hats;
7. Data of Borsalino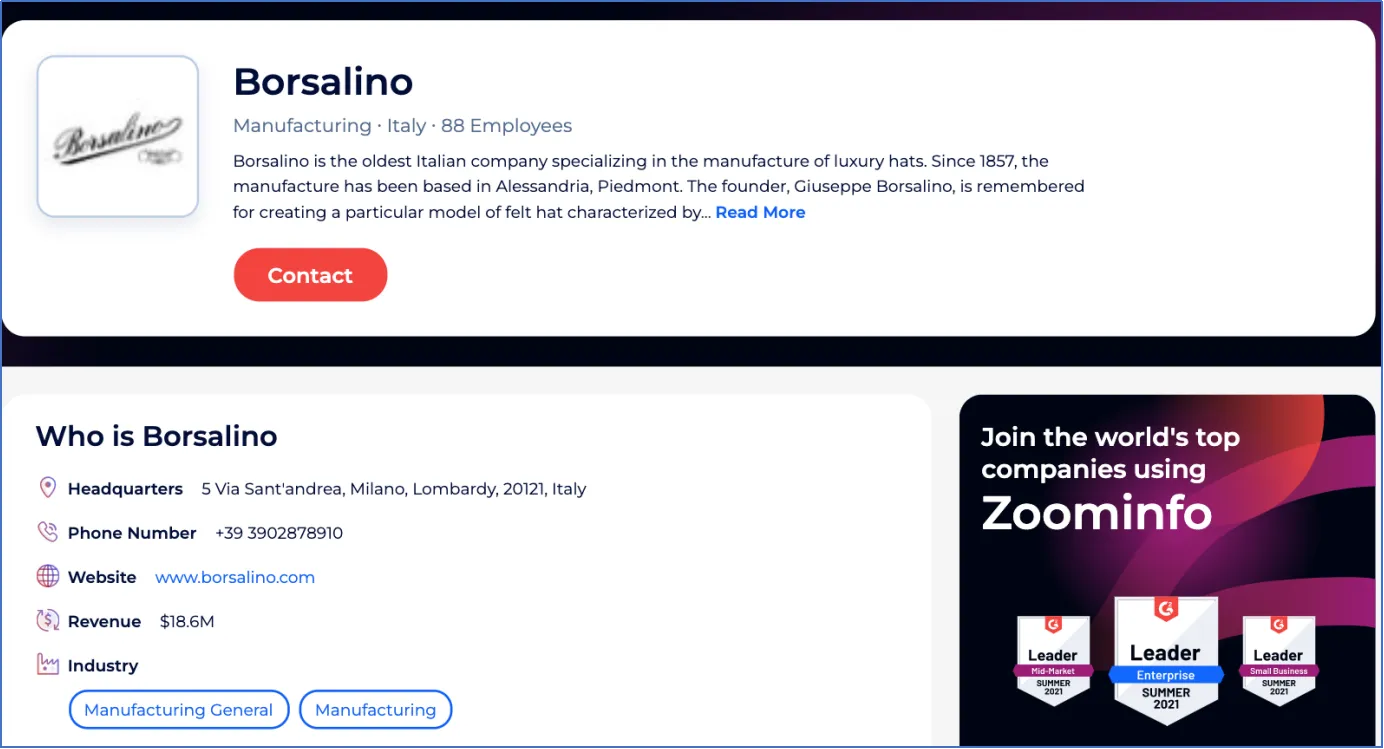 Employee: 88
Revenue: $18.6M
Headquarters: 5 Via Sant'andrea, Milano, Lombardy, 20121, Italy
Any new ideas, let me know.