website: https://www.artistshot.com/
1. Introduction
Artistshot is an online platform that allows artists and designers to showcase and sell their artwork on various products, such as clothing, accessories, home decor, and more. It provides a platform for artists to connect with potential customers and monetize their creative work.
The platform allows artists to upload their designs and customize them on a wide range of products, including clothing, accessories, home decor, and more. The purpose of Artistshot is to provide artists with a platform to connect with a larger audience, monetize their creative work, and establish their brand identity. Through a print-on-demand model, artists can sell their designs without the need for inventory or fulfillment management.
Artistshot also offers various tools and features to support artists in creating and promoting their artwork. Overall, Artistshot aims to empower artists by providing them with a platform to showcase their talent, generate passive income, and reach a wider customer base.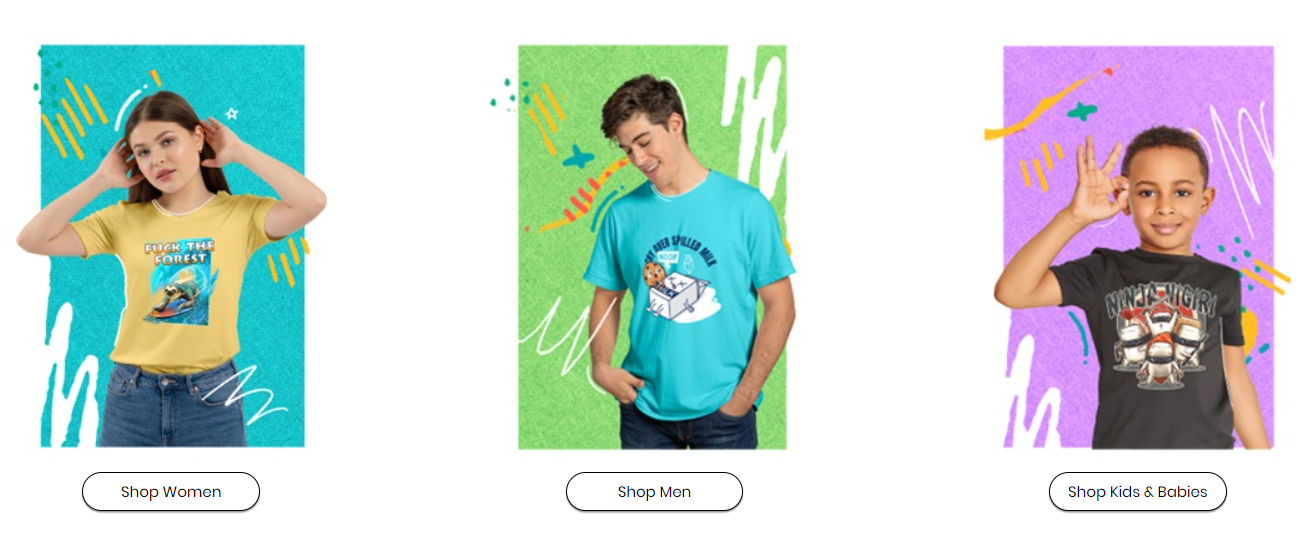 2. Feature Products
Products can be categorized into 8 parts, men's products, women's products—kids' products, cases, home decorations, hats, bags, and hobbies.
For the men's part, there are T-shirts, hoodies, joggers, jackets, shorts, aprons, socks, sandals, and shirts. For home decoration, there are mugs, wall art, license plates, mousepads, tumblers, water bottles, throw pillows, ornaments, car mats, stockings, rugs, and chairs.
For the hats part, there are caps, snapbacks, bucket hats, and adjustable caps. For bags, there are backpacks and fanny packs. For hobbies, there are patches, stickers, watch bands, buttons, and keychains. Some of the detailed descriptions are listed as follows:
· T-shirt: a T-shirt, or tee shirt, was originally worn only by men as an undershirt. Now it is defined as a short-sleeved, collarless undershirt or any outer shirt of a similar design.
· Hoodies: a sweatshirt (= cotton clothing for the upper body) that has a hood to cover the head
· Leggings: a covering (as of leather or cloth) for the legs worn over pants for protection.
· Jacket: Jackets are a must for everyone's wardrobe. You need to have at least two to three varieties of jackets with you which you can wear during the winter months.
· Apron: a garment usually of cloth, plastic, or leather tied around the waist and used to protect clothing or adorn a costume.
· Cap: A cap is just a brimless hat. The prominent and distinctive feature of a cap is its peak and visor combination at the front. Today, caps come in a variety of designs, the more popular of which include the trucker cap, the snapback, and the baseball cap.
· Snapback: a type of hat with a snapback strap at the rear. The adjustable closure allows you to fit it perfectly on any head size making the cap a one-size-fits-most headgear. This hat style has a rich history dating back to the 90s.
· Bucket hat: a fisherman's hat or a pail hat, is a type of hat with a wide brim and a rounded crown. The name "bucket hat" is derived from its similarity to a water bucket.
· Adjustable cap: Adjustable caps have a mechanism on the back to adjust the cap's size and fit and an opening in the fabric above the mechanism. Most adjustable caps are "one size fits most." Adjustable caps are usually cheaper than fitted caps.

3. Product Feature
Artistshot offers a wide range of product features to artists and customers. Here are some key features of Artistshot's products:
Customization: Artists can upload their designs and customize them on various products, allowing for a personalized and unique final product. Customers can choose from different design options, colors, and text to create a product that suits their preferences.
Product Variety: Artistshot offers a diverse range of products for artists to showcase their designs, including clothing items such as t-shirts, hoodies, tank tops, and sweatshirts. Additionally, there are accessories like hats, bags, phone cases, and home decor items like pillows and blankets.
Quality Printing: Artistshot ensures high-quality printing techniques, using state-of-the-art equipment to accurately reproduce the artwork on the chosen products. The printing process results in vibrant colors and sharp details, providing customers with a visually appealing final product.
Durability: The products offered by Artistshot are made from durable materials, ensuring longevity and resistance to wear and tear. This ensures that the designs remain vibrant and intact even after multiple washes or regular use.
Product Mockups: Artistshot provides high-quality product mockups to artists, allowing them to visualize how their designs will look on various products before making them available for purchase. This feature helps artists ensure that their artwork is well-suited for the chosen product.
Size and Fit Options: Clothing items offered by Artistshot come in a range of sizes and fits, catering to different body types and preferences. This ensures that customers can find a product that fits them comfortably and flatters their physique.
Print-on-Demand: Artistshot operates on a print-on-demand model, meaning that products are only manufactured and shipped when an order is placed. This eliminates the need for artists to manage inventory and fulfillment logistics, allowing them to focus on creating and promoting their designs.
Customer Reviews and Ratings: Customers have the option to leave reviews and ratings for products they have purchased, enabling others to make informed decisions based on the experiences and feedback shared by previous buyers. Overall, Artistshot's product features provide artists with the opportunity to showcase their creativity on a diverse range of high-quality products while offering customers the ability to personalize and customize their purchases.

4. Summary
Fashion is the dynamic and ever-changing expression of style, encompassing clothing, accessories, and trends that reflect a society's collective imagination and cultural identity, serving as a powerful means of self-expression and creativity, influencing how individuals present themselves to the world, and shaping.
Hats were a fashion accessory AND a status symbol. During early history, hats told a person's story: What class they belonged to, their economic status, religion, style, everything! The highest of society could showcase their wealth through their choice of hat.
That's why we have this article, combining Artistshot with hat fashion itself, and hopefully, you can feel the passion behind this brand. If you have any new questions, comment below and let us know!!