Life is a series of great things. In this article, we would introduce some knowledge related to 47Brand, as for its brands, products, characteristics, history, and price as well, so let's get into it!!
Source: official website
1. Introduction
47 Brand is an American sporting goods brand founded in 1947 and headquartered in Boston, Massachusetts, USA. The brand mainly produces and sells sporting goods and clothing, including sports caps, T-shirts, sweatshirts, jackets, etc. 47 Brand's products are known for their high quality, durability, and comfort and are especially popular among fans of the American professional sports leagues (NFL, NBA, MLB, etc.). The logo of 47 Brand is a badge with the word "47", which represents the year the brand was created.
They have a 200,000 sq.ft. warehouse in Brockton, MA. In 2015, '47 created headwear, accessories and apparel for the Black Fives Foundation, a 501 (c)3 organization that preserves the history of basketball pre-racial integration.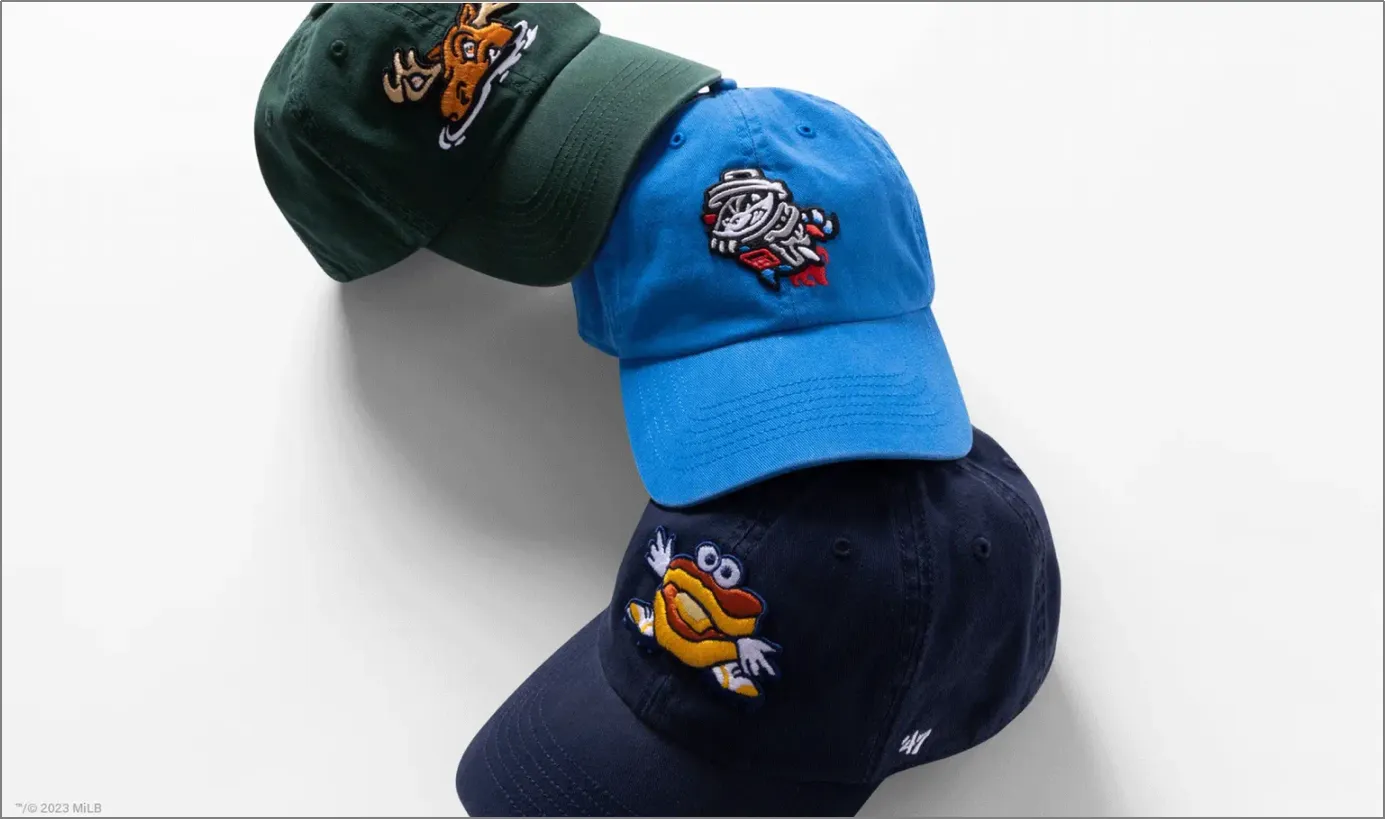 2. Products
Different categories are listed as follows:
On Headwear. Style includes Clean Up, Franchise, Hitch, Trucker, MVP, Captain, trophy. Type includes relaxed adjustable, relaxed fittd, meshback, snapback, bucket, knit. League includes MLB, NFL, NHL, NBA. Trending includes Brrr, classics, dogs, MLB Two tone franchise, overhand script.
On Apparel. Style includes Franklin, scrum, lace, shortstop pullover, tubular, frankie, harper. Type includes T-shirt, long sleeve, crewneck, hoodie, ¼ zip, jogger, track jacket. Trending includes classics, harris collection, NCAA past champs tubular, MLB shortstop hood.
Also, there're MLB, NFL, NBA, NCAA, MILB, CLASSICS, and FEATURED.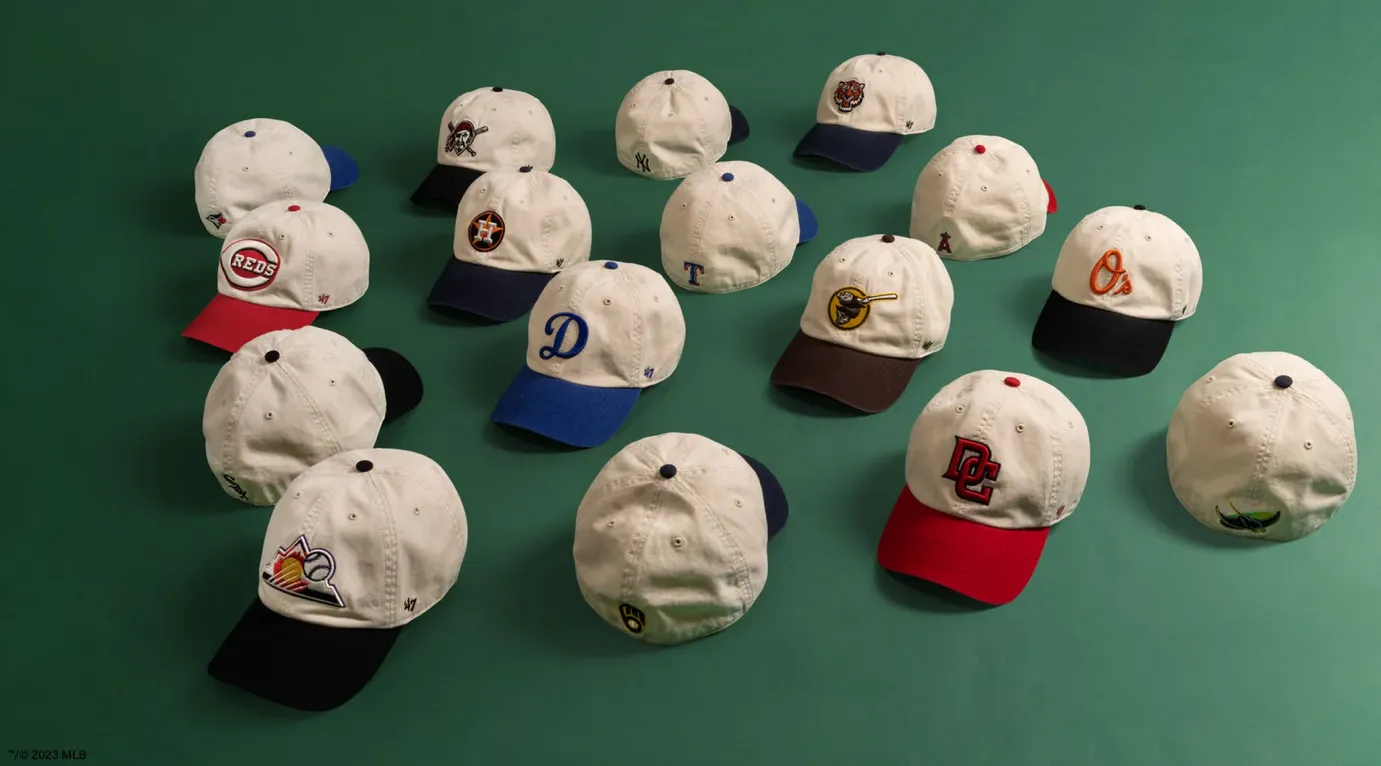 3. Price
ARIZONA DIAMONDBACKS COOPERSTOWN FONTANA '47 HITCH $38
The '47 Hitch is a structured and curved adjustable with flat embroidery on the front and a plastic snapback closure. Made from garment washed cotton twill.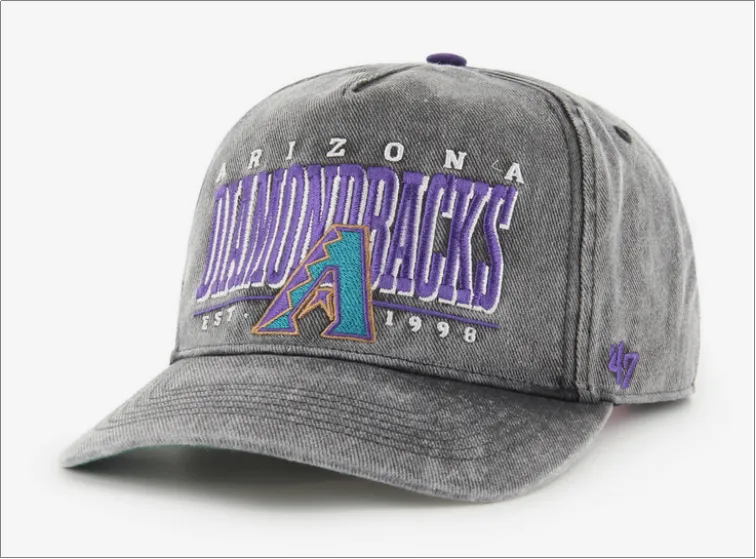 4. Hat Characteristics
The characteristics of 47 Brand hats are mainly as follows:
4.1. High quality: 47brand hats are made of high-quality fabrics and craftsmanship that have undergone strict quality inspection to ensure the comfort and durability of the hat.
4.2. Diversified styles: 47brand hats come in a variety of styles, including baseball caps, caps, fisherman hats, etc., as well as different colors and patterns to meet the needs of different consumers.
4.3. Detail design: 47brand hats are very careful in their detail design, including embroidery, labels, trim, etc., reflecting the brand's fine production and unique style in the details.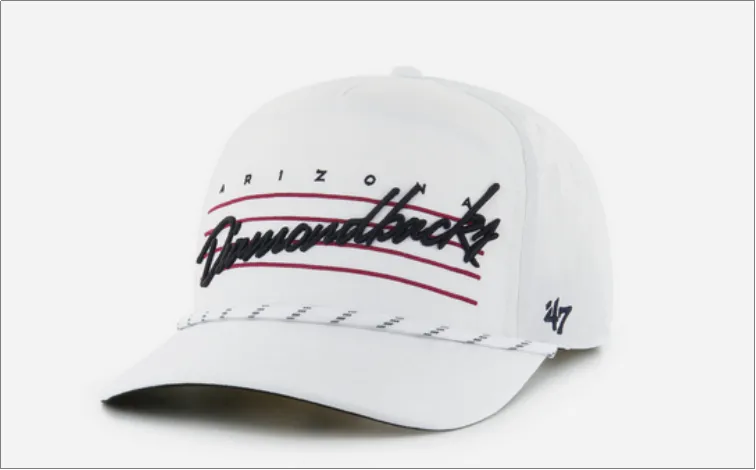 4.4. Fan culture: As an American sporting goods brand, 47brand hats emphasize fan culture and design many exclusive styles based on the theme of teams in the American professional sports league (NFL, NBA, MLB, etc.), which are deeply loved by fans.
4.5. Comfort: 47brand hat with breathable fabric and a suitable size design to ensure the comfort and fit of the hat, even in sports to maintain stability.
In short, 47 Brand hats are known for their high quality, variety, detailed design, and comfort, making them the best sporting goods brands and loved by fans and fashionistas.
5. History
1947 – CHAPTER 1: THE HUSTLE

Two words ⁠— two cents. The first English that twin Italian brothers Henry and Arthur D'Angelo would learn when they immigrated to America. The energy of local fandom encouraged them to start peddling sports memorabilia on the streets of Boston at the mere age of 12.
1967 – CHAPTER 2: FAMILY
Some kids get their education in a classroom; others (very few others, probably) get it at Fenway Park. Much like baseball itself, the family business taught Arthur's four sons, now co-owners of '47, invaluable lessons in teamwork — and err, competition at every turn.
2004 – CHAPTER 3: PASSION
That same tenacious spirit that started in 1947 has infused the brand culture we enjoy today. As a second generation moves '47 forward, we will never forget where it started – rooted in family values, genuine relationships and the simple belief that the future is what we create.
6. Data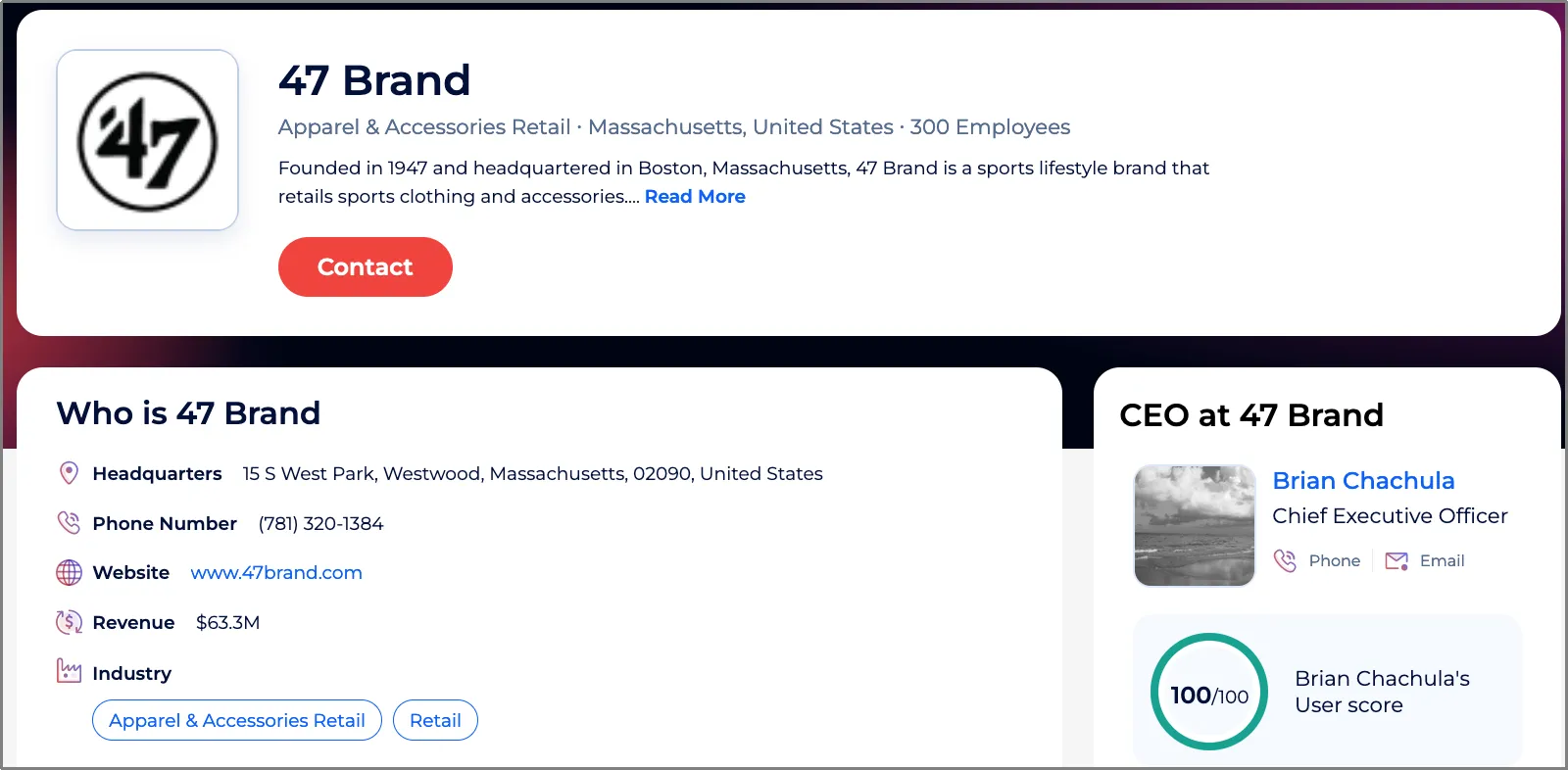 Source: zoominfo
Introduction: Founded in 1947 and headquartered in Boston, Massachusetts, 47 Brand is a sports lifestyle brand that retails sports clothing and accessories
Headquarters: 15 S West Park, Westwood, Massachusetts, 02090, United States
Phone Number: (781) 320-1384
That's all for today's article, any new ideas, please let us know!!