1. Introduction

The North Face is a US-based company that produces outdoor recreational products. It was founded in 1966 or 1968 by Tompkins and Klopp, who werehiking or mountaineering enthusiasts.
The name was chosen because thenorth face of a mountain is the most difficult to climb.
For more than 55 years, The North Face has become a brand recognized for creating rugged gear that lasts. Over the years, the North Face has also continued to be at the forefront of sustainability and innovation — from sponsoring numerous climbs, creating new technology that allows climbers to go against the elements, and continuing to use recycled materials in its clothing.
Official Website: https://www.thenorthface.com/en-us
2. Product


Source: official website
Products are various. Diversified products give life multiple possibilities, adding wonderings and colors to daily life.
Basic categories are men's, women's, kids', bags and gear, and also renewed wearing.
Men's products include featured featured(new arrivals & best sellers), jackets & vests (rain, insulated, windbreakers, softshell, vests), fleece (full zip, pullover), tops (T-shirts, hoodies & sweatshirts, shirts & polos, active), bottoms (shorts, pants, sweatpants & joggers, active), footwear (hike, trail run, boots, sneakers, slippers, sandals), accessories (hats, beanies, brimmers & buckets, gloves, smartwool socks), collections (summit series, icons, trailwears), andWomen's and kids products are similar.
Bags & Gear products include featured (new arrivals, base camp duffel, trail lite), backpacks (women's, men's, school, commuter, kids', fanny packs & bags), technical packs (hike, trail run, backpacking, climb), luggage and duffels (duffel bags, rolling luggage, carry-on, travel accessories), gear (tents, tent accessories, sleeping bags, blankets), etc.

3. Product Feature:
The North Face (The North Face) is an American outdoor sports brand. Its clothing features mainly include the following points:
1. High Quality: North Face garments are made of high quality fabrics and workmanship to ensure their durability and comfort.
2. Functionality: The clothing design of the North focuses on functionality, which can meet the needs of outdoor sports enthusiasts in different environments, such as windproof, waterproof, breathable and so on.
3. Diversity: North face has a variety of clothing styles, including jackets, pants, shirts, T-shirts, etc., suitable for different seasons and different outdoor sports scenes.
4. Fashionability: The clothing design of the north side is fashionable and simple, which meets the aesthetic needs of modern people, and also has the unique style of the brand.
5. Environmental protection: The North is committed to environmental protection, adopting sustainable materials and production processes to reduce the impact on the environment.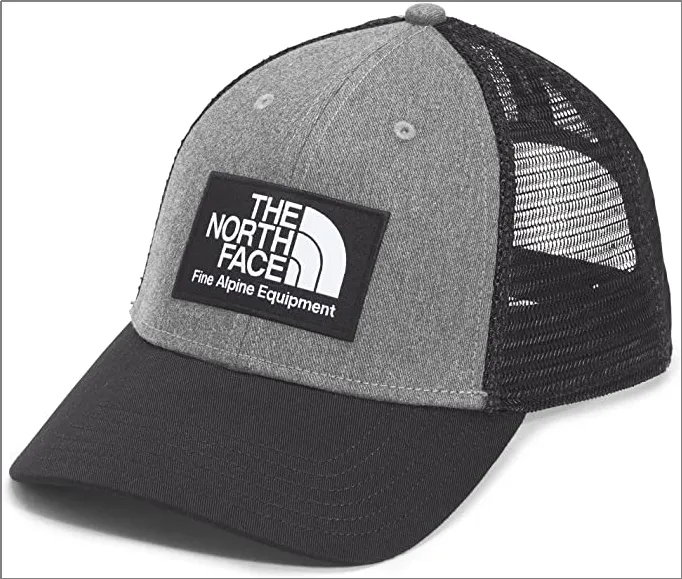 4. thenorthface LOGO
Source: official website
In the early days, the brand did not have its famous logo. The logo today first appeared in 1971. It was created by David Alcorn and was inspired by the unusual Half Dome summit at Yosemite National Park. The 70s was also the period when the brand started using Vietnam-era surplus materials in its products to promote sustainability.
5. Price
Source: Amazon
Most hats sell for around $ 40.
6. History
1966-1969. Named for the most challenging side of the mountain, The North Face has equipped explorers since 1966 to reach their dreams. Driven by the mantra of Never Stop Exploring™, their expeditions inspire us to test the outer limits of performance and possibility.
1970–1979. Since day one, they've done business differently. From repurposing surplus Vietnam-era materials, to advocating for wilderness preservation, our choices are aimed at protecting the places that they love. This commitment drives them forward.
1980-1989. Their gear has crossed hemispheres and cultures, becoming a symbol on trails, sidewalks and the highest places on earth. Wherever it shows up, our iconic Half Dome logo is a reminder to celebrate where you've been and get inspired by what lies ahead.
1990-1999. By making things a lot lighter and more functional, we were freeing people up to go much farther.
– Jack Gilbert, VP of Sales and Marketing, 1968 – 1988
2000-2009. It's not about the distance, but what there is to discover right in front of me.
– Alex Honnold, Team Athlete
2010-2019. Perhaps God can save the queen, but only man can save the wilderness.
– The North Face Catalog, 1968
2021
Their most innovative trail footwear technology to date is introduced with VECTIV™, an athlete-tested, lab-proven technology system, designed to maximize energy ou further.
7. Where to buy thenorthface hats
You can shop on their official website: https://www.thenorthface.com;
Or you can shop on Amazon:
https://www.amazon.com/north-face-hat/s?k=the+north+face+hat
8. Data of thenorthface
Are you ready to bring home some stylish outerwear from The North Face? Take a look at its official website, and let's move on!